San Francisco's North Beach is home to City Lights Bookstore, the Beat Museum, ample coffee and pastry shops, and Italian eateries. It also has Cobb's, the revered comedy club where "Crazy Funny Asians vs. Desi Comedy Night" comes to the stage three times this month.
"It's special because it's going to be at Cobb's, which is a nice, massive venue. I think Cobb's is actually the biggest comedy club in the Bay Area, so it's a pretty big deal for us to get into there," says K. Cheng, the show's producer and a San Leandro resident.
The idea for "Crazy Funny Asians" came from the film "Crazy Rich Asians," he says, and that standup comedy show has been going strong for five years.
"Crazy Funny Asians" and "Desi Comedy Night," Cheng explains, used to be two different shows, but were "mashed" together.
"I'm not exactly sure when we started doing that. … [When] we came out of the pandemic and started doing live shows again was probably when we combined them. We also did the combo mostly because—you'd be surprised—there's not that many Desi or Asian comics," he adds. The mash-up has become a regular feature at Neck of the Woods in the Richmond District on Saturdays, with occasional shows in other San Francisco hotspots, including Chinatown's Chi Lounge, where they recently wrapped up a Friday night gig.
The Cobb's shows on Tuesdays — April 11, April 18, and April 25 — have different lineups, with the exception of Cheng, who will perform at each one. 
"Crazy Funny Asians vs. Desi Comedy Night" is part of HellaFunny, a Bay Area company producing standup shows that feature a mix of established comedians and up-and-comers at venues across the Bay Area. The collective was created by Oakland-based comedian and actor Stroy Moyd, with the inaugural show at San Francisco's Purple Onion in 2010.
A-listers who regularly play major comedy clubs in the Bay Area and at SF Sketchfest, including Aurora Singh, Janesh Rahlan, Shanti Charan, Jeen Yee, Shawn Felipe, and Samson Koletkar are slated to appear in the upcoming Cobb's shows.
Koletkar, in the April 11 lineup, says, "I have done a bunch of his [Cheng's] shows—and so for this one, he reached out, it's a Tuesday night, and I'm available."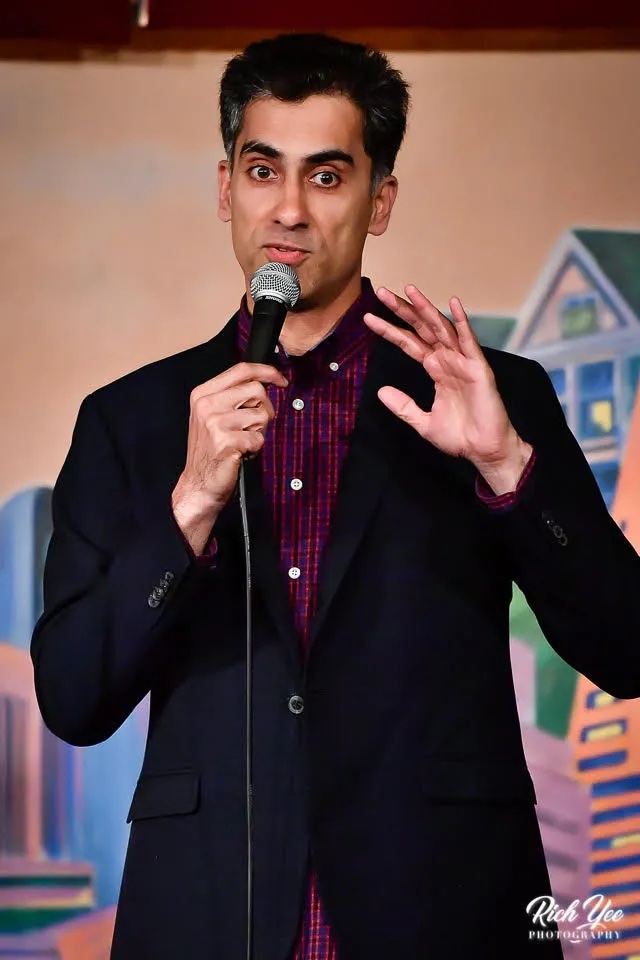 Koletkar is the founder of Comedy Oakland and co-founder of the Desi Comedy Festival, a yearly event that began in 2014 that brings together Indian, Pakistani, Bangladeshi, Sri Lankan, Nepali, and other performers from the South Asian diaspora.
"We do an annual run in the San Francisco Bay Area, and we bring comedians from all over the world. We've touched all habitable continents so far but haven't found a comic in Antarctica. … We're keeping an eye out, but so far none of the penguins have qualified either," he says.
Koletkar and fellow Crazy Funny Asians vs. Desi comedians' jokes, stories and observations aren't just for laughs; they celebrate and spotlight Desi and Asian culture and heritage.
"I think comedy has mostly been divided into Black rooms or white rooms, and there hasn't really been an Asian room. And as far as I know, there's not an 'Asian room' in the whole country. We're the only ones that do a weekly Asian showcase, which is now looking at three to five times a week…. It's good to have this for all of us to get a lot of stage time," says Cheng.
Getting stage time and having a good time onstage surely are relatable objectives for all of the comics appearing in "Crazy Funny Asians vs. Desi Comedy Night."
Koletkar looks forward to making people laugh and sees Cobb's as a great place to fulfill that aim. He says, "It's usually a fun show. And I'm hoping people show up. Otherwise, it's not going to be fun."
"Crazy Funny Asians vs. Desi Comedy Night" is at 8 p.m. April 11, April 18 and April 25 at Cobb's Comedy Club, 915 Columbus Ave., San Francisco. Free tickets are offered via Funcheap SF, with an RSVP here by 5 p.m. day of show. Otherwise, tickets are $20 and higher at Livenation.com.