Why does the name Cyrano universally ring bells? Because "Cyrano de Bergerac," Edmund Rostand's timeless 1897 play about love in wartime, is never far from a stage or movie set, and with good reason. José Ferrer is the most famous film Cyrano, followed by Gérard Depardieu, Steve Martin, and most recently Peter Dinklage. 
It is a role to die for. Cyrano of the long nose is possessed of passion and joy and lofty thinking, with a high sense of what is just, heroic and conducive to love. With each new staging comes a change for modern audiences; the current Olivier-award winning London adapt adds rap, beatbox and choreography.
Rostand wrote the play in verse so poetic, though, that it needs no trappings. The words fly to every corner of the theater and remain there.
Aurora Theatre Company's new production puts Rostand's poetry front and center, as it should be.
Director Josh Costello's reshaping of the classic reduces the text and the sizable cast of characters to five in order to fit on the small Aurora stage. We get the language in living color, but the grand dramatic flourish so important to the work is a more difficult call. 
Poet and swordsman Cyrano (William Thomas Hodgson) loves Roxane (sweet-voiced Leontyne-Mbele Mbong), but is so haunted by his outsize nose that he can't bring himself to woo her. She in turn loves Christian (Steven Flores), who is so dull-witted he isn't able to woo her. Cyrano devises a fit: he speaks to her of love, hidden under her balcony, while Christian fronts the scene as valiant lover. 
 
In the title role, Hodgson delivers powerfully. The "nose" scene is hilarious; the rhyming lines while dueling with Count de Guiche (the arrogant and boisterous Ron Campbell) are poignant.   
The cast, including Adrian Roberts as Cyrano's fiery sidekick Le Bret, is excellent.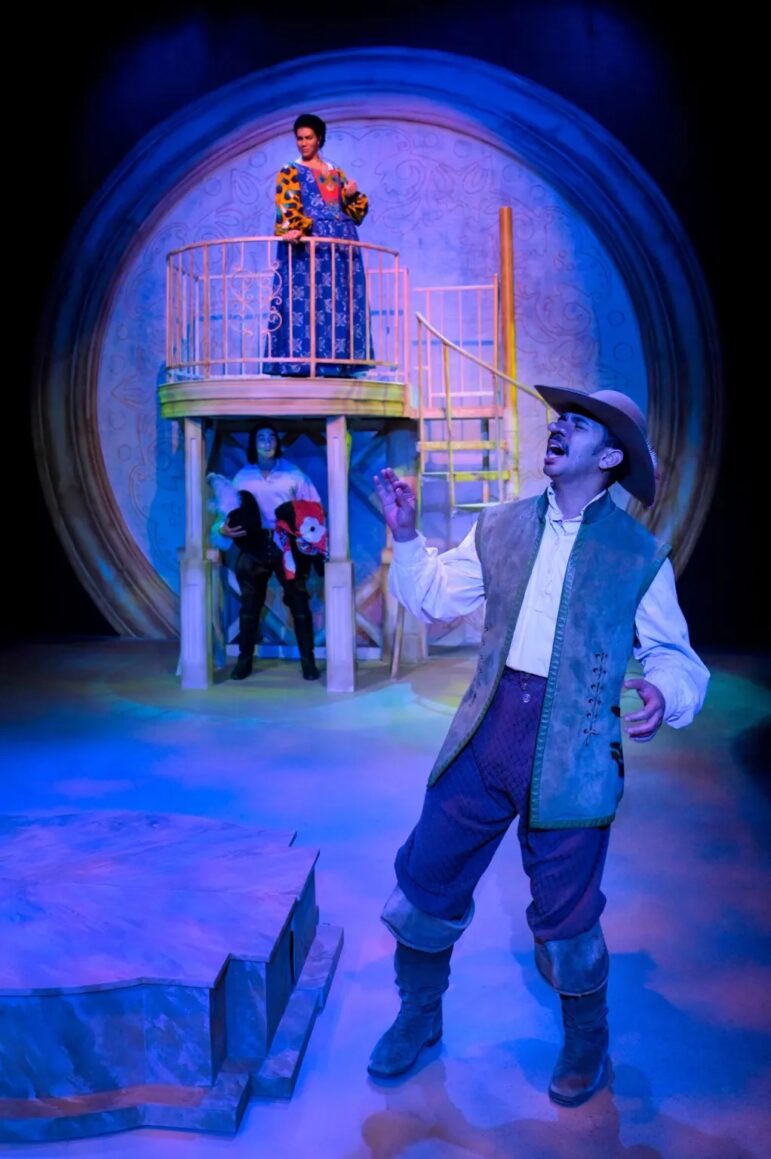 Yet while the poetry comes to life, there could be more support: some lager louts to cheer the love match and man the front, and more dramatic breathing space for the action.
Roxane eventually falls for Cyrano's soul; and if the lack of theatrical panache makes for an uneven production, there was enough electricity on opening night to command the attention of and applause from the full-house audience.
"Cyrano" runs through May 7 at the Aurora Theatre Company, 2081 Addison St., Berkeley. Tickets are $40-$78 with various discounts available. Call (510) 843-4822 or visit auroratheatre.org.