One thing that allowed Piedmont public works personnel to get through the cleanup work amidst the fallen trees and downed power lines caused by the furious March 21 wind and rain storm was a generator, owned by the Alameda County Sheriff's Department, that kept the city's corporation yard humming while most of the city stayed in the dark.
"Needless to say, having power greatly assisted us during cleanup and post storm activities," said Daniel Gonzales, Piedmont's public works director. "This power source allowed Public Works to fully operate during the critical days, and greatly enhanced our crew's operational efficiency and effectiveness."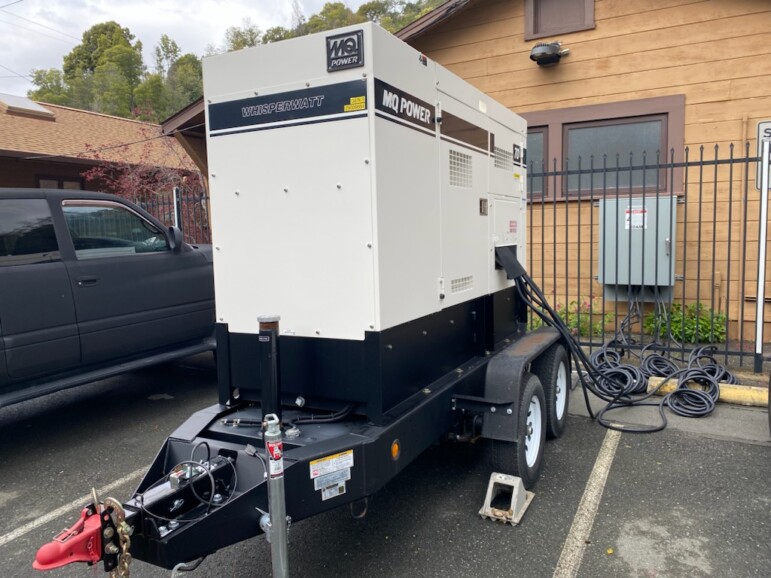 In early 2022, the city applied for a grant from the Alameda County Sheriff's Department to install an emergency generator plug-in hardware at the city's corporation yard off Moraga Avenue, allowing the diesel-powered generator to connect to the corp yard's electrical system. Piedmont spokeswoman Echa Schneider said the $34,975 grant, came to the city via a program through the Alameda County Office of Emergency Services (part of the Sheriff's office) to help cities cope with public safety power shutoff (PSPS) events scheduled by PG&E to cut power to transmission lines where the lines could prevent a fire hazard.
With a separate grant, OES bought seven generators mounted on trailers, stored at various sites throughout the county, available for free, as needed, to area cities with the proper plug-in hardware to use them.
The Piedmont corp yard generator plug-in equipment installation was completed in late July, Schneider said, paid for entirely by the OES grant to the city. "We were the first city to get the grant for the hookups, and we got that notification in May (2022)," Schneider said.
The coupling system pioneered at the Piedmont corp yard was designed so, in an emergency situation, a generator could be plugged in without the help of an electrician in case none was available in a crisis setting, said Lt. Richard Macintire of the Alameda County Sheriff's Office, who oversees use of these seven generators. Other Alameda County cities are expected to follow.
The generators are also handy to have in some unplanned crises, including wind/rain storms, wildfires, earthquakes, floods or other weather-related event. Gonzales said the generator was delivered on March 22, the day after the big rain and wind storm, and remained in place until power was restored on March 24.
"Simple tasks like re-fueling and accessing tools and equipment that are stored behind powered gates and garage doors could be performed without special accommodations," Gonzales said..
While as much notice as possible is desired for any municipality to borrow a generator ahead of a planned power shutoff, no notice is required for use during a weather-related event. OES staff will deliver a generator as quickly as possible on a first-requested, first- served basis, Macintire said. How long that would take, he added, would depend on area road conditions.
In Piedmont's case on March 22, the generator brought in to keep the corp yard operating arrived less than an hour after the call was made to request it, Schneider said.
Contact Sam Richards at sam.richards4344@gmail.com