A highlight of the University of California, Berkeley and Cal Performances' six-month residency of South African artist William Kentridge — whose work encompasses drawings in ink and charcoal, illustration, printmaking, film, theater and opera — was the U.S. premiere over the weekend of the multi-disciplinary "SIBYL" in Berkeley's Zellerbach Hall. The visually and aurally stunning production explores life's fundamental questions, including issues of chaos and coherence, the need and impossibility of knowing the future, and considerations of life's choices (sometimes tongue-in-cheek).
On opening night March 17, the program began with "The Moment Has Gone," Kentridge's short film which shows him in his studio working, sometimes accompanied by a juxtaposed second William Kentridge. An apparent investigation of the artist's creative process, the film includes images and echoes that recur in "Waiting for the Sibyl," the chamber opera that's the second portion of the program.
Commissioned by Teatro Dell'Opera di Roma in Italy, where it premiered in 2019, the work centers around the Cumaean sibyl, an ancient priestess reputed to have the power to prophesize the future. She lived in a cave near Naples, where people would submit to her questions about their fate. She wrote her answers on oak leaves, which she piled up at the front of her cave, where supplicants would come to receive answers to their queries. Strong winds invariably blew the leaves around, so it was never clear if the information seekers got were prophesies referring to their fates or to those intended for others. In seeking the prophecy, the urge for coherence dissolves into chaos.
To Kentridge, the image of the sibyl is an apt metaphor for uncertainty and the inability to foresee the future. The narrative heart of "SIBYL" are scenes in and around the cave, where, at times, she's in a frenzy, dancing in a brilliant cape, as if possessed, singing her prophesies.
Interspersed are distinctive images of abstract black shapes that rotate, showing different angles and combinations, until a recognizable image emerges, providing a brief moment of coherence, only to fall once again into unidentifiable forms.
Kentridge often returns to the image of an oak leaf and old book pages, riffing on the dual meaning of the word leaf in relation to trees and books. Phrases are superimposed on pages of antique volumes, a mixture of memento moriand instruction on how to live.
Ample use is made of elongated shadows, which give a dramatic counterpart to figures in the cave, dwarfing their movements at the same time as they affirm them. Dancers with circle forms around their waists make particularly compelling shadows, circling like tops.
The music by Nhlanhla Mahlangu and Kyle Shepherd includes lyrics drawn from phrases collected by Kentridge over the years and translated into African languages.
Interestingly, the focus of "SIBYL" is not simply traditional and mythical. Kentridge finds time and place to remind us to resist big data and algorithms which rule our lives in their posture of predictability and absolute knowledge under the guise of coherence.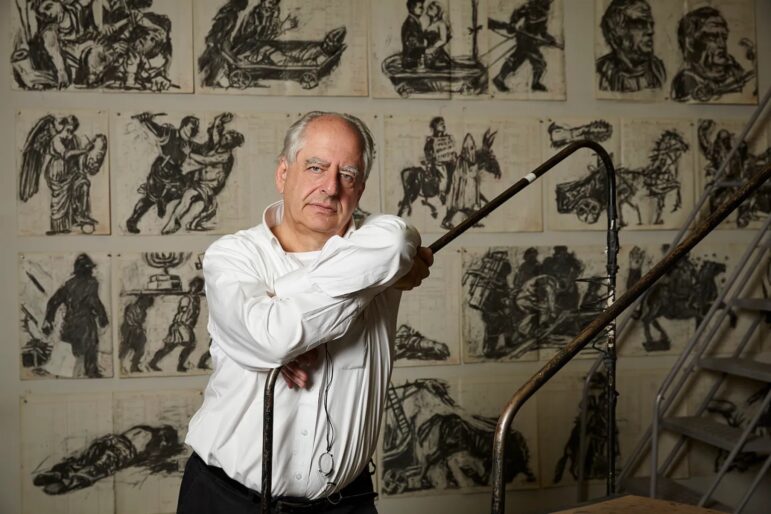 Kentridge-related events continue at Berkeley Art Museum and Pacific Film Archive, 2155 Center St., Berkeley. At 12:30 p.m. March 26, a film of Kentridge's 2015 staging of Alban Berg's opera "Lulu" screens for free; at 12:30 p.m. April 2, a film of Kentridge's 2005 "The Magic Flute" will be shown. Also, the retrospective series "Orchestrating Time: The Films of William Kentridge" continues through April 2. Kentridge's video "Other Faces" is included in "Out of Africa: Selections from the Kramlich Collection," a BAMPFA exhibition running through April 20. Visit BAMPFA for details.
At 4 p.m. April 13, the Townsend Center for the Humanities' "Reflections on William Kentridge" is a free discussion with UC Berkeley scholars in UC Berkeley's Stephens Hall. Visit William Kentridge Residency – Cal Performances.