Rain followed by strong wind gusts hit Piedmont and the Bay Area on Tuesday morning, causing traffic accidents, power outages, and downed trees around the bay. Wind gusts up to 70 mph were reported at San Francisco International Airport, causing delays and ground stops for departing flights.
In Piedmont, the city says a fallen tree on Moraga Avenue near Harbord blocked the road and damaged PG&E power lines. Moraga Avenue was closed from Maxwelton to Highway 13 as of 6 p.m. and there was a large power outage in the area. The outage area included the city's Corporation Yard.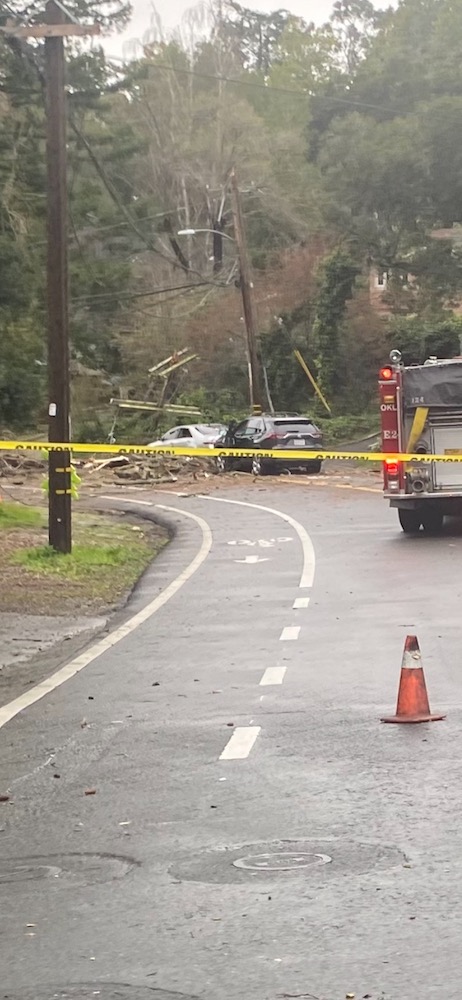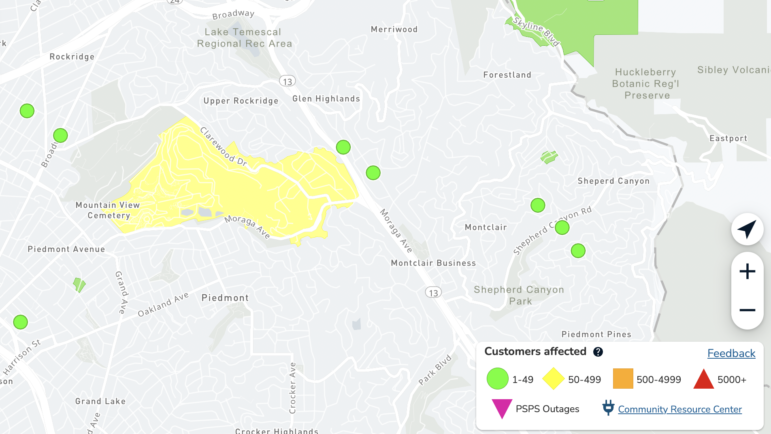 Public Works was also called to remove a fallen tree on Cambridge Ave.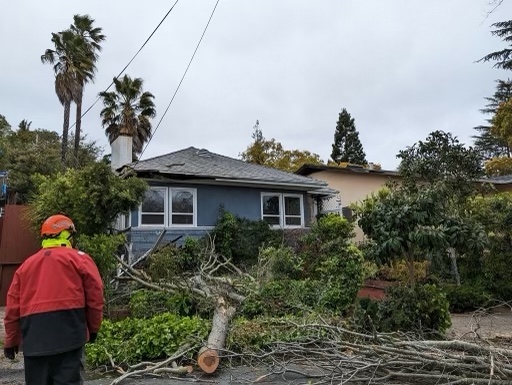 Around the Bay:
All eastbound lanes on the Richmond-San Rafael Bridge were closed due to a big rig crash midspan around 1 p.m. causing a major backup from Marin to the East Bay.
Flooding and downed trees closed roads from Marin County to Highway 92, which was closed near Half Moon Bay.
In Berkeley, police said a fallen tree near the Clark Kerr campus took down power lines.
Around 2 p.m. in San Francisco, glass fell from 555 California Street, a 52-story building downtown. The cause and scope of the damage created by the glass cracking and falling hundreds of feet is still being determined, fire officials said. There were no reported injuries but streets were closed in the area and a shelter in place went into effect for buildings in the vicinity.
More than 155,000 PG&E customers in the Bay Area were without power by early Tuesday afternoon.
The South Bay had 59,748 without power as of 12:30 p.m. and the East Bay had 56,931, according to PG&E spokesperson Megan McFarland. There were 26,254 without power on the Peninsula, 10,349 in the North Bay, and 2,111 in San Francisco, PG&E spokesperson Megan McFarland said.
PG&E officials reiterated a warning to never touch downed wires, and assume that downed power lines are energized and extremely dangerous.
Report downed power lines immediately by calling 911 and by calling PG&E at 1-800-743-5002.