Family: Laura Mazel, William Reed, Olivia, Isobel and Emmett Reed (and elderly canine sib Daisy Mae Hound)
Pet: Duncan Hound
Age: Duncan just turned 12 months
Breed: Tree Walker Hound mix
Adoption story: We were leading a tranquil, post-COVID, empty-nester, work-from-home life with our senior dog Daisy Mae, with whom we would take day trips to the beach and walk around Piedmont with her friend Tashi and her owner Anita Bloch. We were not looking to adopt another dog.
William received a Hound rescue alert right before the holidays. We agreed to help place Duncan so he wouldn't go to a shelter. I guess we are what they call a failed foster because we became smitten with Duncan despite his being a wild, untrained ball of demanding energy. He is slowly improving — his "demand bark" and snatching items that don't belong to him to get chased around the house only happens once a day now.
Our kids are visiting more than ever now that we have Duncan — our daughter Isobel came up from LA for a week to watch him, Olivia visited to see how we were doing, and even Emmet's Baltimore roommate Aaron stayed over the winter break to watch and walk him.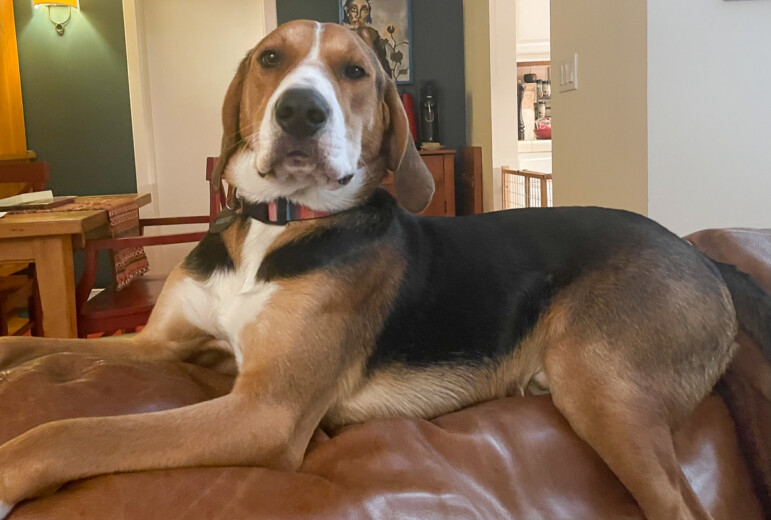 Likes: Galloping and leaping in open spaces. Being included in everything. Also: slippers, electrical wires, and nudging elderly sister hound Daisy Mae to play tug of war. Last, but definitely not least, going to visit Primo, his 140-pound Bernese Mountain Dog pal for huge romps that tire them both out for the rest of the day.
Dislikes: Laura leaving the house, his gentle leader, and having to stay on a leash in open spaces since he doesn't have any recall.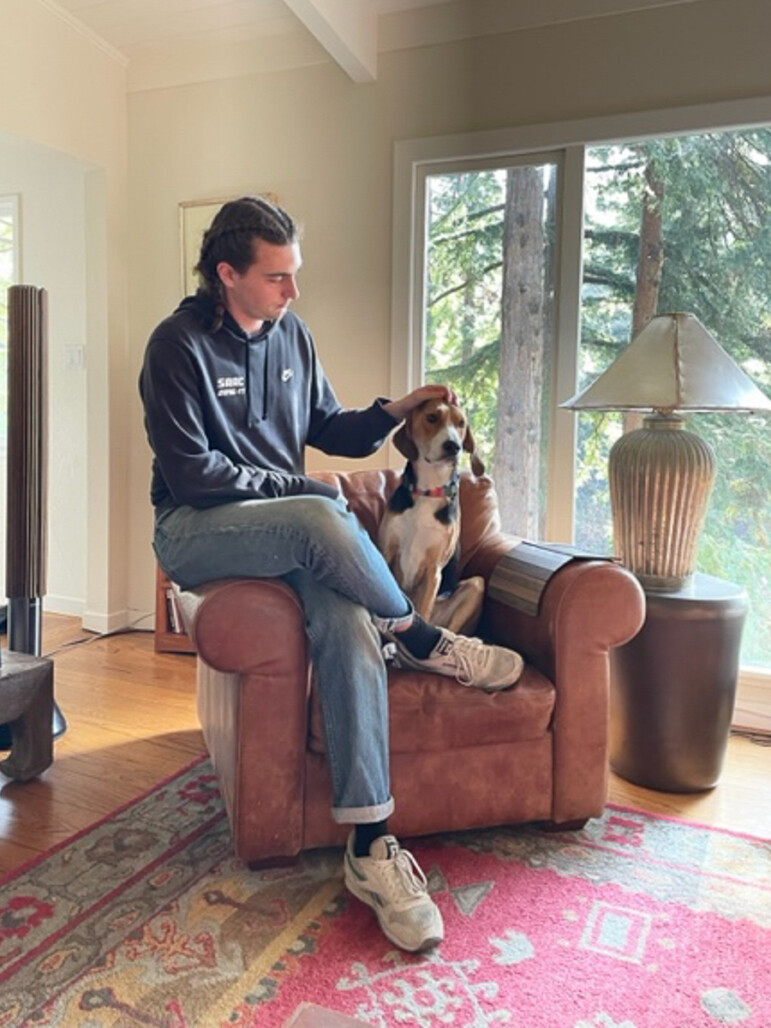 Interesting facts: He likes to hang out on top of the couch like a cat — except he's 65 pounds. Daisy Mae now has a second wind on life, plays tug of war with him, and is more confident in herself. Because he is just so good-looking and confident, it's hard to stay angry when his behavior is bad. Duncan recently became an influencer for a Turkish and Syrian earthquake relief fundraiser and helped raise money for World Central Kitchen.