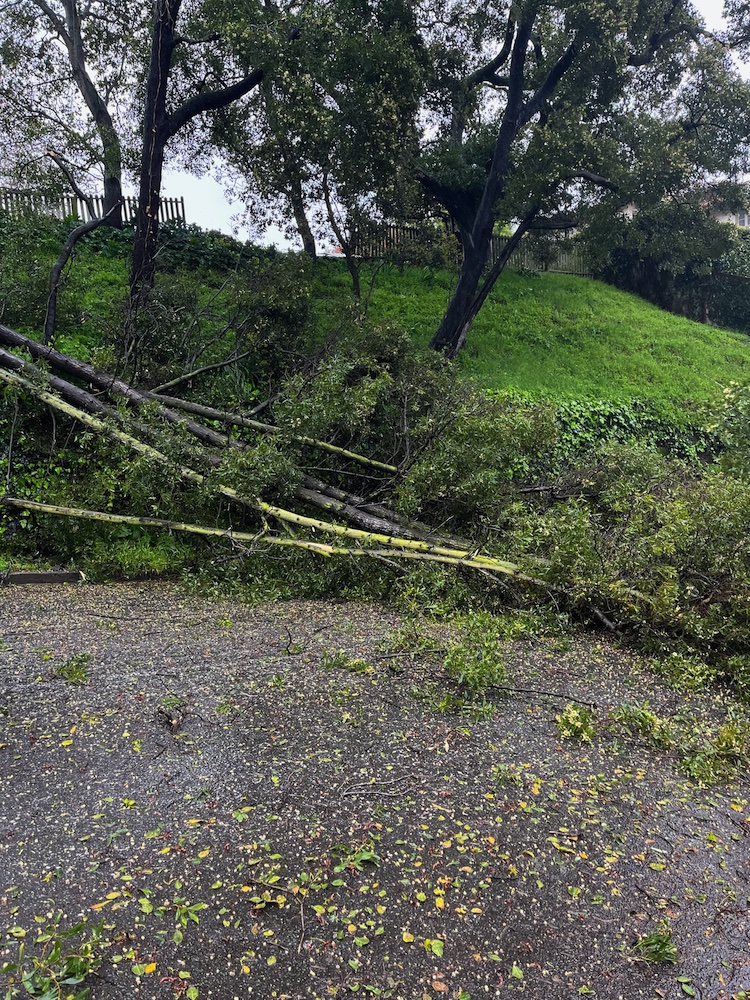 A powerful storm with wind gusts over 70 mph slammed into the Bay Area Tuesday, causing yet another round of damage in town and throughout in the region.
In Piedmont, as of 5 p.m. Tuesday, the Piedmont Police Department reported the following road closures due to trees and wires down:
Moraga/Harbord Dr.
Lincoln/Sheridan to Seaview
La Salle/Hampton Field
Seaview/Hampton
Alton/Scenic
Bell/Scenic
Grand/Lower Grand Ave.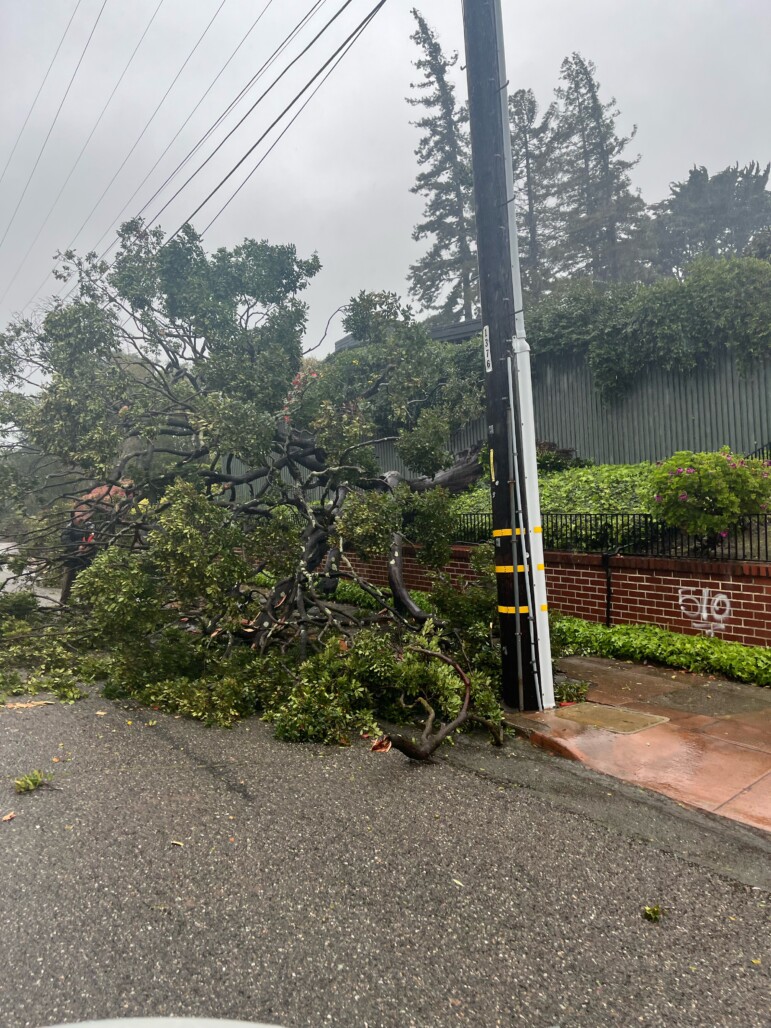 Large swaths of Piedmont lost power late Tuesday afternoon: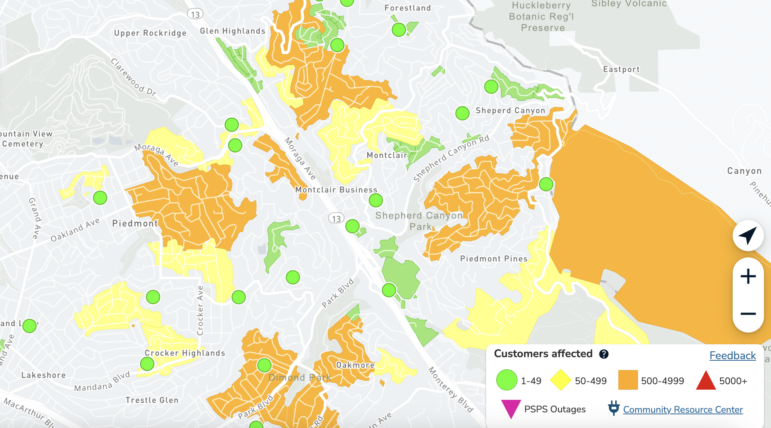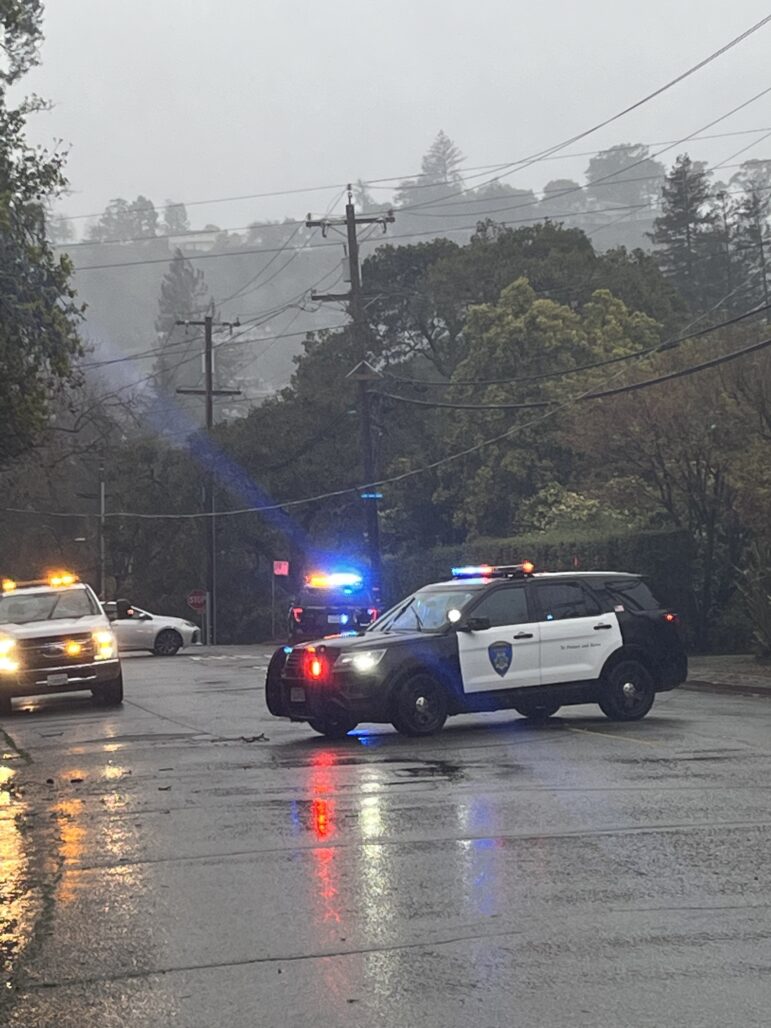 From the Los Angeles Times:
The storm came in much stronger than expected, particularly in the southern half of the San Francisco Bay and Monterey Bay areas, UCLA climate scientist Daniel Swain said in a briefing Tuesday. He said the system had reached the benchmark for a phenomenon known as bombogenesis, or a "bomb cyclone," which indicates a rapid drop in pressure.

"Deadly 'bomb cyclone' storm slams California, toppling trees and causing blackouts", LA Times, March 21
Although weather watchers around California were using the term to describe Tuesday's intense storm, The San Francisco Chronicle's new weather reporter Gerry Diaz wasn't ready to go that far:
But notably, this storm did not develop into a bomb cyclone, he said, even though it might look like one in satellite images. That's because, though it did bring very low pressure, that pressure technically did not fall fast enough to meet the definition of what is a bomb cyclone.

"This one got really close, but technically speaking it did not reach that definition," he said. "That being said, it is still a very strong storm."

"Dramatic satellite videos show rare eye of storm centering over S.F.", SF Chronicle, March 21
Other damage around the area included:
A big rig rolled over on the Bay Bridge going eastbound before Treasure Island and east of 4th Street around at 4:30 p.m. The collision caused injuries, CHP said. The right and center lanes were completely blocked, causing a massive traffic backup. AC Transit cancelled its east- and westbound bus lines to and from Oakland due to the crash.
The Crockett-Carquinez Fire Department said Tuesday afternoon a downed tree had derailed an Amtrak train just southeast of Port Costa.
The Third Street Bridge in San Francisco was shut to through traffic after being struck by barges and damaged, San Francisco Public Works said at 6:45 p.m. on Tuesday. The span was struck by industrial barges that came loose and collided with it during high winds and surf, SFPW said. City engineers were on site assessing damage Tuesday night.
Bay Area airports reported flight delays and cancellations. Ferry service across the Bay was disrupted.
More than 100,000 PG&E customers were without power in the Bay Area late Tuesday afternoon. Nearly half of the affected customers are along the Peninsula, where 46,694 were without power as of 4 p.m. About 22,000 customers in the South Bay were without power along with about 20,000 in the East Bay, while San Francisco had about 9,700 without power. Most people in the North Bay still had their lights on, with 1,768 customers in that region reported to be without power.
The outages came amid winds that have reached or exceeded 50 mph in much of the region. The National Weather Service said Mount Umunhum in Santa Clara County had the highest wind speed reported in the Bay Area on Tuesday, at 78 mph.
(This article was updated at 11:45 p.m. Tuesday to incorporate LA Times information.)