In her play about genocide in 1970s Cambodia, Lauren Yee found something on the other side of evil to balance the horrors of the time. She chose music.
"Cambodian Rock Band," which opened this week at Berkeley Repertory Theatre (after being developed in the company's Ground Floor new works program and going on to South Coast Repertory and Signature Theatre productions), is an explosive play that thrills and chills, leaving audiences almost in a trance.
Yee managed to write a show about the monstrous dictatorship of Pol Pot and the Khmer Rouge, who from 1976 to 1979 killed about 2 million people (among them 90 percent of musicians) by making it into a rock concert.
San Francisco-born Yee had heard the Los Angeles-based band Dengue Fever in 2011 and thought its music would be a good fit. The show includes songs by Dengue Fever (a group whose repertoire includes Cambodian rock classics along with "kick-ass" psychedelic pop, garage and surf-rock originals). Some of the show's music is from other 1960s and '70s sources, too.
The show's six cast members address the message of torture in an (almost) unbearable way — in a story about a Khmer Rouge survivor who goes back to his homeland after decades, as his attorney daughter prepares to prosecute a Cambodian war criminal — and the band has the chops to perform Cambodian rock like exuberant angels.
Geena Quintos, the sassy vocalist, sings with both hammer and heart and with extraordinary range and color. Off the bandstand, she is Neary, a Cambodian-American lawyer living in Cambodia while she searches to find a survivor of a 1970s rock band.
Jospeh Ngo plays her controlling, cranky father Chum, the Khmer Rouge survivor. Chum, who turns up in Cambodia unexpectedly from the U.S., eventually reveals dark connections to the genocide.
Moses Villarama plays Neary's boyfriend who tries to soften the age gap between father and daughter. Much is said about their relationship when Neary exclaims, "I am the single child of a single child. I am disappointment made flesh."
Takeshi Kata's effective set depicts the market square in Phnom Penh and the notorious prison S-21, scene of unimaginable horrors. The audience is spared little as, one by one, "comrades" pass through to execute various acts of torture.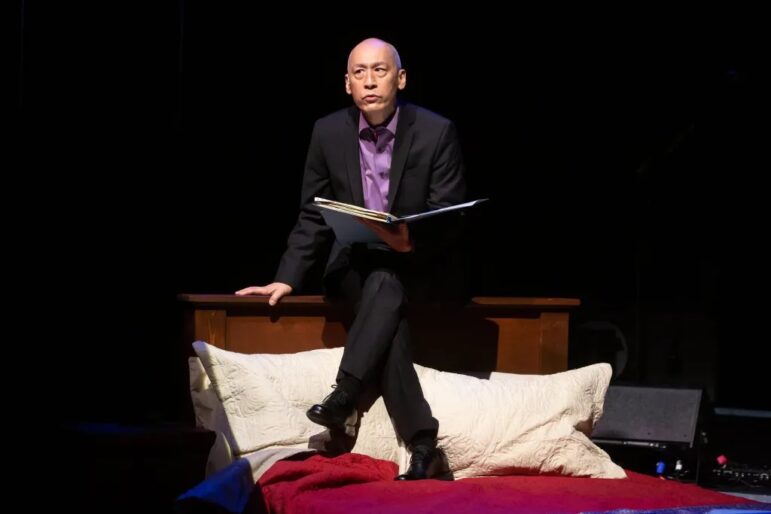 There are roadblocks in "Cambodian Rock Band": The plot is murky, shifts in time can be difficult to parse, and there's a too-long, horrific prison scene.
Still, Chay Yew's focused direction helps clarify, and narrator-dictator Francis Jue (the San Francisco-born actor in "Wild Goose Dreams" and "Yellow Face" at the Public Theater, among many others) handles humor and atrocity in such a deft manner that Yew's point is made: Music survives and overpowers the pain of the human situation.
"Cambodian Rock Band" continues through April 2 at Berkeley Repertory Theatre's Roda Theatre, 2025 Addison St., Berkeley. Tickets are $49-$123. Visit berkeleyrep.org.