The Piedmont Junior Running Club, a Piedmont Rec Department program for 4th and 5th graders, completed their winter session, with a challenge mile race at Witter Field on Mar. 8. Under sunny skies, with many parents looking on, 54 boys and girls from the Piedmont elementary schools, in three different heats, ran four laps around the track with the goal of trying to do better than their best time for the "PE Mile."
In Heat 1, the winner in a time of 7:10 was Charley Harnett, a 5th grader at Aurora School in Oakland. In Heat 2, the winner was Ben Centeno, a 4th grader at Wildwood. His time was 6:48.3. In the final race of the day, Heat 3, Kenji Holt led from the start and was unchallenged with a very good time of 6:06.4. Kenji is a 5th grader at Wildwood. 
In second place in Heat 3 and the first girl overall was Havens 5th grader Henley Azad with a time of 6:26.8. 
Thanks to a generous grant from the Piedmont Turkey Trot, the kids wore their brand new running club t-shirts at the challenge mile event. T-shirts were provided to every student in the club. Look for the kids wearing the t-shirt as they run through the neighborhood in Piedmont.
The winter session had one of the largest groups ever to participate in the program, with 62 students. The spring session begins on March 27 and there are still openings at Havens and Beach. The Wildwood program is full, with 25 students already registered.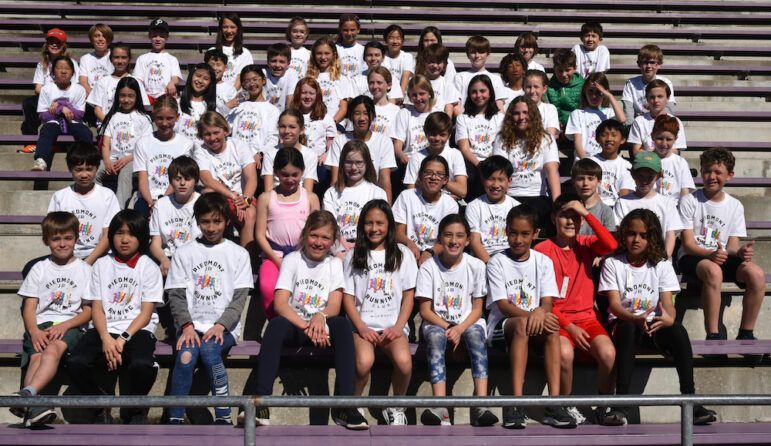 Registration is through the Piedmont Rec Department activity guide. Also for the first time, the Junior Running Club will offer a summer program that meets twice a week for the 4-week session. That is also listed in the activity guide for the summer. 
Any questions about the Club, please contact Len Goldman at lgoldman@pacbell.net