Piedmont High School's girls lacrosse team defeated visiting Berkeley on March 24, 13-8. Ruby Guzdar had four goals to lead the Highlanders. Molly Ashton had three. Peyton Watson contributed two goals and Laurel Bentley, Chloe Graham, Eleanor Lavin, and Friedie Schickedanz each scored one. Graham and Schickedanz had one assist apiece.
Piedmont coach Carlton Chan noted that last year his team lost to the Yellowjackets in double-overtime.
"Piedmont this year was in control from the start," he said. "We just wanted it more – swarming ground balls and playing great team defense. Molly executed the offense, but the hero of the game was Ruby, who scored four goals, one on a coast to coast play. Eleanor got a lot of possessions from the draw control – most of the balls got picked up by Ruby, who was all over the field."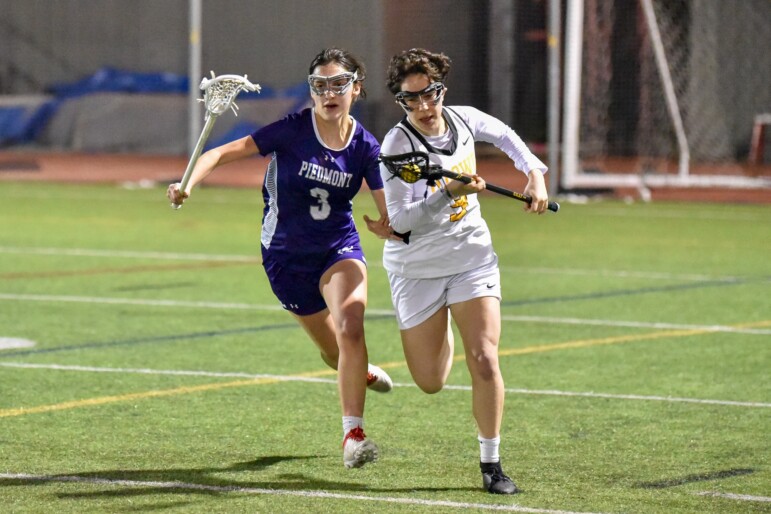 Chan also cited Orla Cohen for her fine play.
"Orla was our defensive stopper on fast breaks and she did a great job pushing the offense out of scoring threat," he said.
Lane Imen and Sade Devine each scored four goals for Berkeley.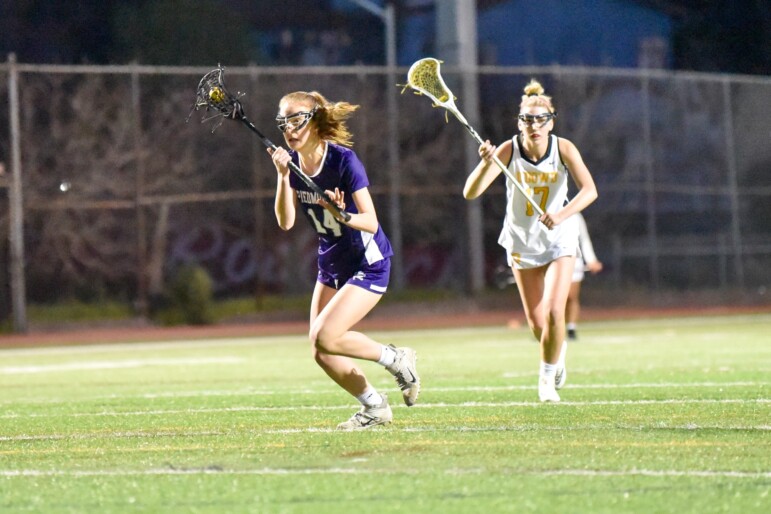 On March 17, Piedmont fell at Bishop O'Dowd, 14-7. Ashton had five goals to lead the Highlanders. Bentley and Guzdar each scored a goal for Piedmont.
Mariah Branscomb had five goals for the Dragons. Lucy Yu scored four.
"This was a good game," Chan said. "O'Dowd is probably the fastest team we've played, and we figured it out too late. Proud of the way the girls adjusted on defense and better patient offense."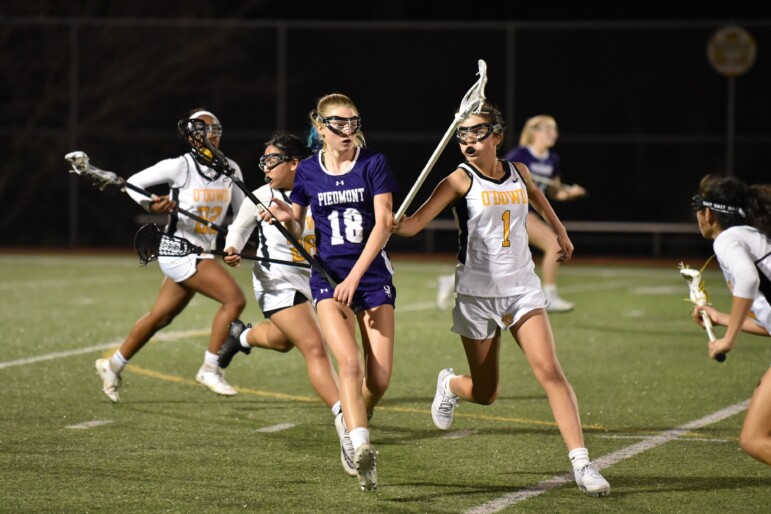 The Highlanders are 2-4 on the year and are next scheduled to play on March 28 at Las Lomas. They are then scheduled to play at Washington-Fremont on March 31.
Photos by Todd Marshburn