The shooting statistics were grim: 14 of 52 overall (27 percent). Ten of 36 from 2-point range (28 percent). Multiple shots missed at the rim.
The dream season for Piedmont High School's girls basketball team came crashing down to earth on March 4 when they lost a tight, gritty game to Salesian at Binks Gymnasium, 48-45. The loss in the California Interscholastic Federation Open Division Northern regional semifinal was the first of the season for the 27-1 Highlanders. It also ended their season, two games short of the state championship game.
"It was just a bad game for all of us," Eva Levingston said. "We were playing selfishly, we weren't passing the ball. Basically, we weren't doing anything that we talked about."
Natalia Martinez said Salesian's defense was a big factor but, "I think we can just blame this on ourselves. We didn't execute well, we didn't do certain things."
Martinez led Piedmont with 20 points.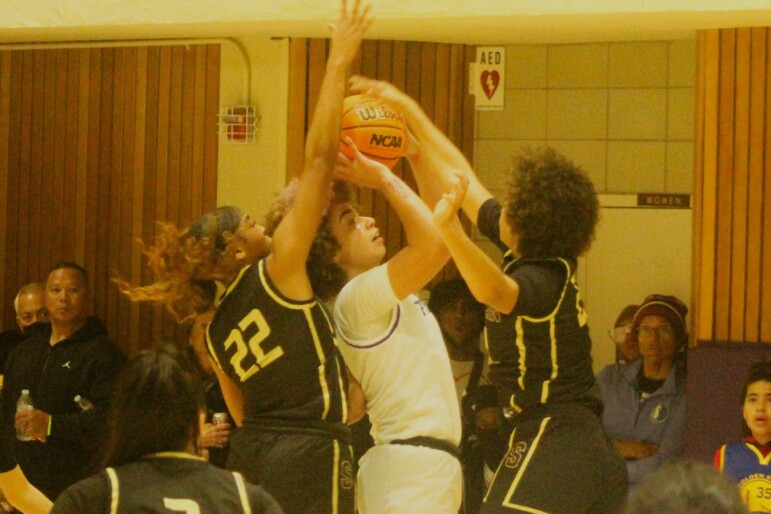 "Right now you feel like you didn't get to where you wanted to go," Highlander coach Bryan Gardere said. "But, you can't take away from what the girls did. Tonight was not our night. We missed a lot of shots that we probably don't normally miss, we had some uncharacteristic turnovers. But you've got to give Salesian credit. They did a great job."
The teams had faced each other before, back on Martin Luther King Day in January, with the Highlanders pulling out a 69-63 win. This time, Salesian coach Stephen Pezzola came in looking to clamp down on Piedmont defensively, especially on their star players.
To wit: Trinity Zamora was held to just eight shots from the field and a total of six points. That was largely thanks to the work of Makiah Asidanya, who generally guards the other team's top scorer.
"She got the Makiah flu," Pezzola said of Zamora. "Makiah plays defense, she's an amazing defender. We played San Ramon Valley and there's a girl on that team that is really, really good, and a tough matchup, (Sofia) Bowes. And Bowes had two free throws. Makiah just gets after you. She doesn't foul, she moves her feet. But she sticks on you. And she's such a strong kid, been in the weight room for four years, and it shows."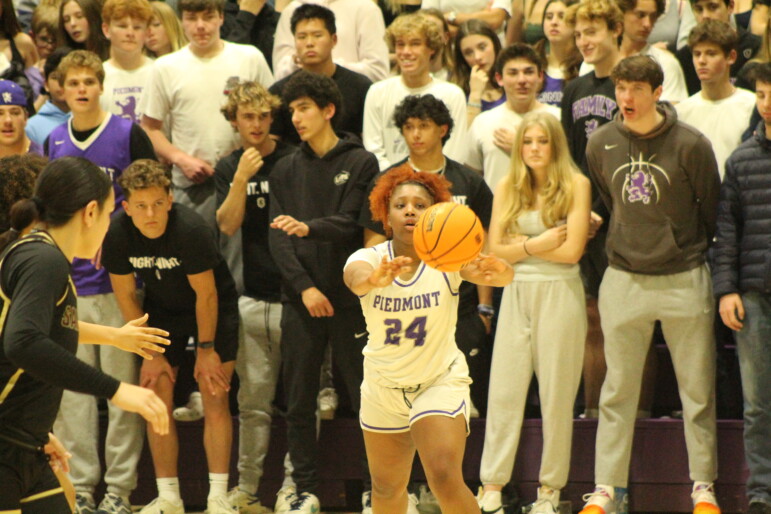 Another key was keeping Levingston in control. She had scored 20 points in the teams first matchup, but was held to 11 this time on five of 14 shooting.
"Third quarter last time, they came and they skunked us," Pezzola said. "They went inside to (Levingston). We worked a little bit on how to work with a team that's got a post player who's really dominant. We had a few wrinkles to the defense that kind of slowed her down. We couldn't slow (Martinez) down enough. But I thought we slowed (Levingston) enough.
"She only got one shot most of the time. That was really key for us. She gets it, box out and get the rebound because against us the first game, she'd miss it, rebound and follow up, and one. And that was just awful."
Eryn Gardner played a big role in that. She said that Levingston is definitely a measuring stick for her.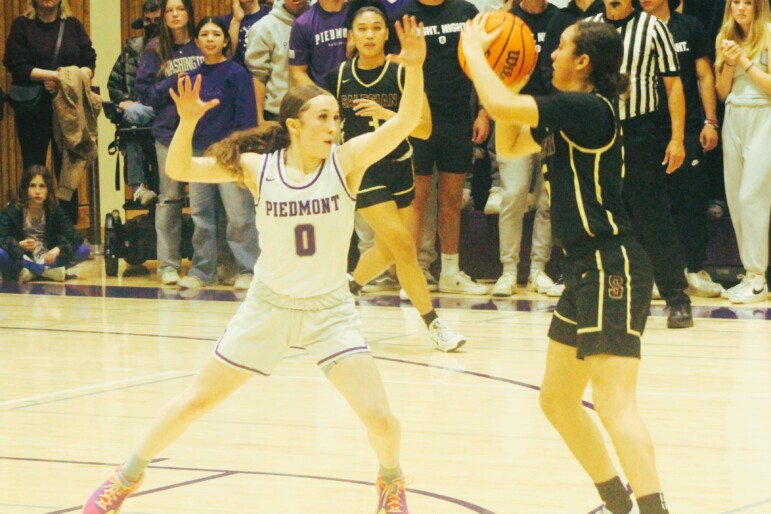 "I'm tired of people saying she's better than me," Gardner said. "I had to show that and I had to lock up. If I had let her get hot, it would have been a whole different scenario. I had to lock in and lock up on her and keep my poise and keep playing."
She added, "She's going to score so don't let that get you down. Keep working and don't let her continue to score, let her get one bucket out of 10 buckets."
The game was close in the first half with Piedmont leading 22-21 at the break. The Pride (27-4) took the lead for good in the third quarter, and opened up an eight-point advantage when they scored the first seven points of the fourth quarter.
But the Highlanders were never out of it, as their defense was almost as good. Each team forced 19 turnovers. Salesian shot 16 of 44 (36 percent).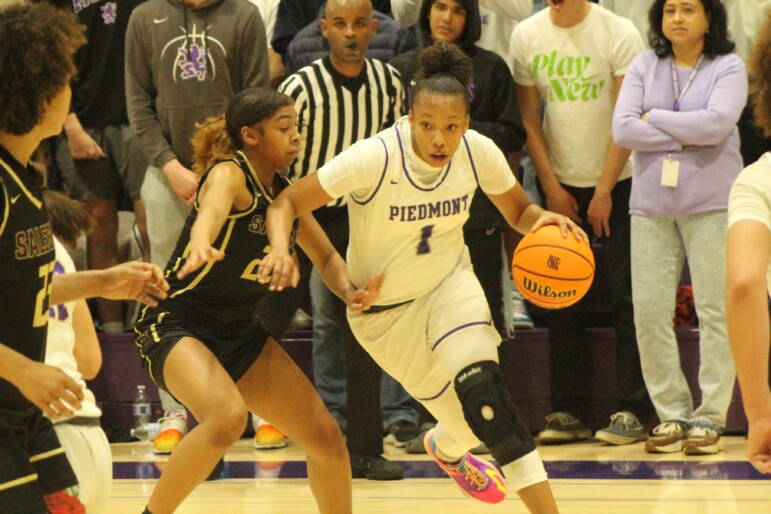 There were missed opportunities all over. A couple of missed layups could have made the difference. Or one more 3-pointer going in. Maybe an offensive rebound and a putback.
"We just missed some layups, that we just don't normally miss," Gardere said. "We don't make them all, but we definitely missed a good amount today and it was just a one-possession, two-possession game. Those things can't happen. But you have to take the good with the bad. It has been good all year. You have to take this and own this."
Still, in the final minute, Piedmont was in the game. After choosing not to foul on a Salesian possession, the Highlanders forced a shot clock violation with just 18.3 seconds left, down 47-43. Levingston scored to cut it to two. Martinez fouled Sofia Fidelus with 10.4 seconds left, ending Martinez's night and sending Fidelus to the line. She missed the first and made the second. Adrienne Blackwell got a potential game-tying 3-pointer off from the corner and missed. The Pride survived.
Asidanya and Madalyn Kanazawa led Salesian with 11 points apiece. Gardner had six points and 11 rebounds.
"Our trademark is playing really good defense," Pezzola said. "Our offense kind of bogged down. Give credit to Piedmont on that. But our defense came through. The main thing is our girls played together. They're playing defense on a string. If one goes one way, we've got the help to help her. And we got the boards. Our defensive board work was great. I thought Eryn was on the boards the whole time."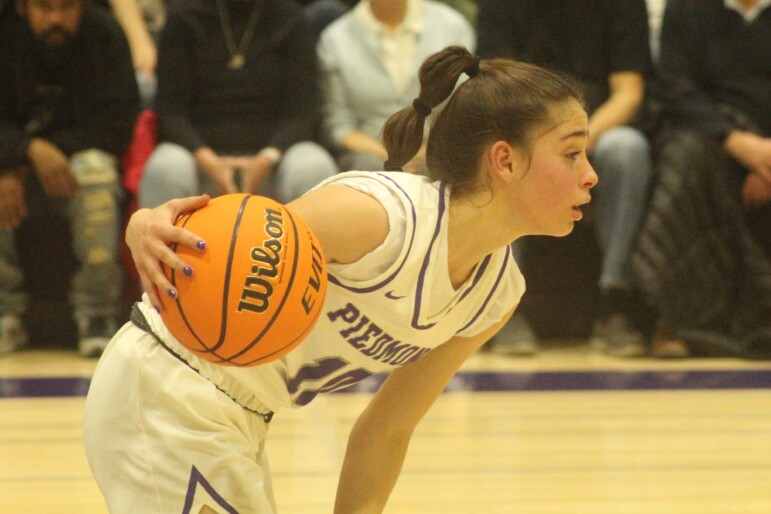 Said Gardere, "It was just one of those grinders. I'm proud of the girls, though. I don't think you can just talk about just today because … the competing and preparing, all the grind. I'm proud of the girls."
Now, the seniors move on. Zamora has signed with San Diego State and Levingston will announce a decision in April on which Division 1 offer she wants to take. Martinez is a junior and will be the leader next year. The Highlanders will likely still be good. But they know how special it is to go through a season without losing a game until March.
"It has been amazing here," Zamora said. "All the coaches and the players, it has been a great four years for me. I'm ready to graduate and head on to San Diego State, and I really appreciate everyone who's helped me get this far in my four years."
Said Levingston, "It's a tough loss, our first loss of the season which I think makes it even harder. Because we haven't really felt that.
"Being in this environment, filled with great players and amazing coaches. They pushed me in the right direction for next year and wherever I choose to go. Bryan opened so many doors for me. I can't really thank him enough."
Martinez was positive on the season and the future.
"We've made history with NCS, with our league," she said. "There's lots of milestones and accomplishments we should be proud of as a team.
"I just enjoyed every minute. Definitely going to miss the seniors next year, but looking forward to whoever else we're going to have come and join."
Photos by Damin Esper