Parker Long was the first runner introduced, right after Piedmont High School teammate Christian Taylor. The final heat of the boys 800 meters was about to begin at the Dublin Distance Fiesta on March 18 and the drawn out process, with the Alan Parsons Project's "Sirius" being played on an endless loop, gave Long plenty of time to think about the race.
He wasn't supposed to be in the "A" heat of the race, with all of the top runners. But a couple of hours before the race, he was elevated to the top race after a couple of scratches.
"I was freaking out," Long said. "I think that's the most nervous before a race I've been. The stakes were so high. I don't know how to explain it, I was so nervous."
That changed when the gun went off. Long beat an outstanding field, outkicking Menlo School-Atherton's Justin Pretre and St. Mary's Mateo Malko-Allen to win in one minute, 53.25 seconds. It was a personal-best as well as a qualifying time for the Stanford Invitational, coming up in a couple of weeks. The winners of the top heats at Dublin get a sombrero and Long was in the infield, happily wearing the prize while looking a bit dazed at his victory.
"It kind of all went by at once," he said. "I stuck behind that front group. I saw we went by in 57. Over there on lap two, I just felt good. And I noticed people start to drop back. I thought, 'I think I have a shot at this.' I've had a lot of experience in the 4×4, so I knew I had the speed for it. I just went for it. That last 100, I don't even know what happened. I was just going for it, then I crossed the line and it still, it hasn't really sunk in what happened.
"I was seeded not even in the faster heat. I didn't think I'd ever be winning today. That was crazy."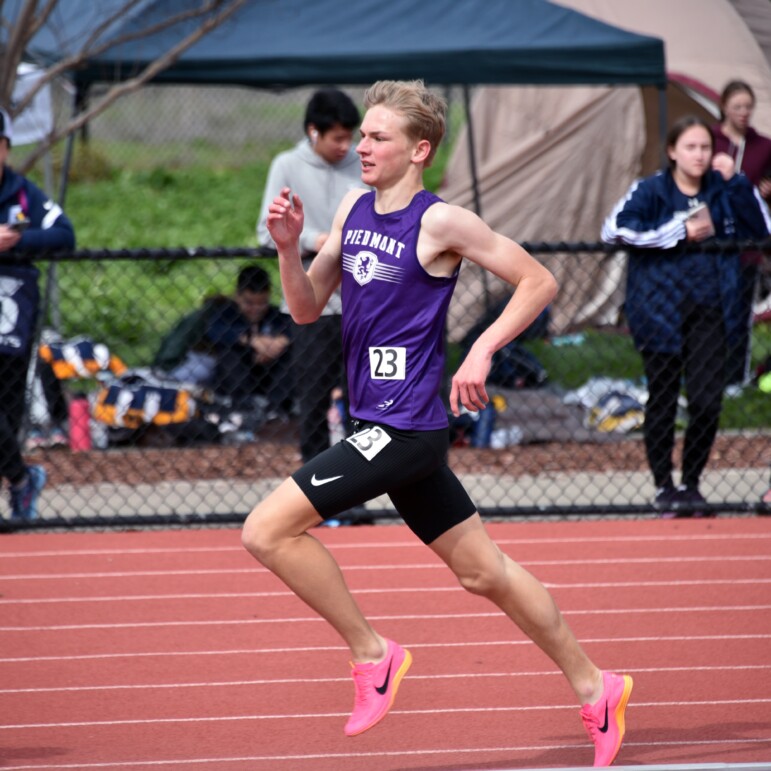 Taylor finished up the track in 2:01.19, but he took sixth overall in the 1,600 earlier in the day in a personal-best of 4:18.67.
"Five-second PR, so I'm super-happy with it," Taylor said of the 1,600. "We went out in 62 and then slowed down to almost 69 on the second lap. My goal was 4:20 so I knew I had to work my hardest to try to negative-split so I could go 4:20.
"I saw those top three guys with 200 to go and I was like, 'I'm just going to try to work up to them. Get as close as I can. I feel great about it. I'm right on track for hitting my goals this season."
Taylor said he'd like to run a 4:10 in the 1,600 and a 1:52 in the 800.
Malko-Allen won the 1,600 in 4:13.40. It was the second consecutive year he won the event.
Xander Schulte-Sasse also had a PR in the 1,600, winning an earlier race in 4:28.46.
"It was a PR, I'm overall happy with that," Schulte-Sasse said. "I felt like I had more to go. I could tell that my form and my face were just crunching up a bit. I've got to work on keeping that controlled in the future. Because I let too many people pass me on that last lap."
Schulte-Sasse came back in the evening to run 9:34.28 in the 3,200, finishing 50th overall. That was also a personal-best.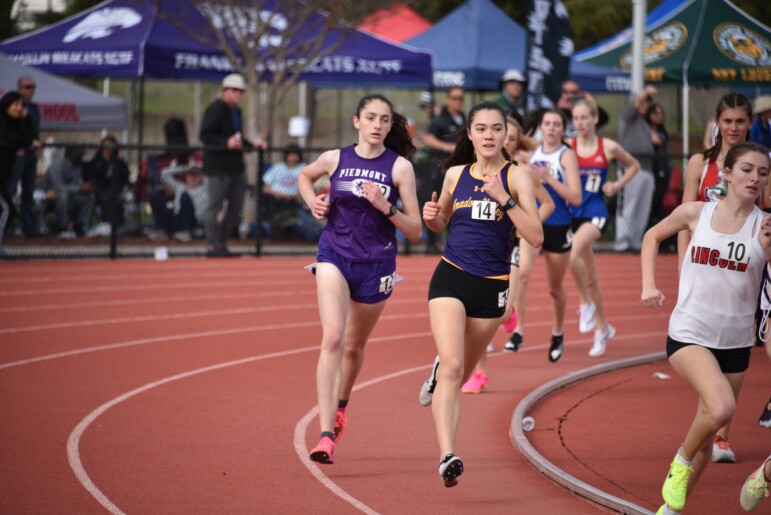 Jamie Schwarz ran 2:29.12 in the girls 800, finishing tied for 44th overall. Earlier, she ran 5:37.36 in the 1,600. The meet runs nearly 50 heats in several distance events and attracts well over 1,000 athletes from the area.
"I felt OK with it," Schwarz said of her 800. "I was pretty boxed in coming around the last 300. I felt like I had a little bit left in me but I'm really happy with that for where I'm at in the season. I didn't feel that great in the 16 this morning but then I felt a lot better now so I'm happy with that."
The Highlanders had a split squad on Marcy 18, with the rest of the team competing at the San Leandro Invitational. Spencer Sorensen-Wald won two events and also took a third with personal-bests in all three. He won the pole vault at 13 feet, won the 300 hurdles in 42.41, and tied for third in the 110 hurdles in 16.78.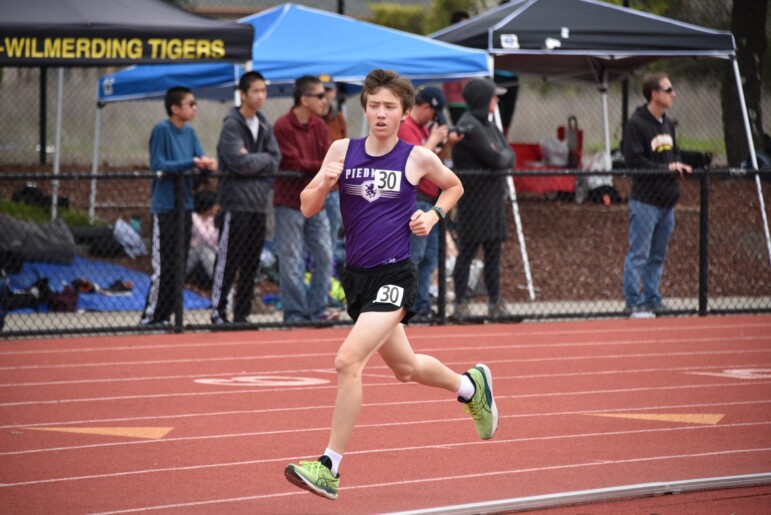 The girls 400 relay team of Miranda Liu, Darcy McKee, Ella Yasar and Breah Bell finished second in 51.25.
"The girls started practicing as a team only a week ago, and were able to execute what they had practiced to claim a silver medal in the event," Piedmont coach Pouyan Assadi said. "They'll look to get stronger, faster, and polish off their technique as they make a run for the school record of 50.00."
Brie Sotelo took third in the triple jump at 30-10 ¼. Miguel Long was third in the boys high jump at 5-8. Marcos Filho finished third in the boys long jump at 18-10.