Martha Herrera worked for four years as a nanny in San Francisco, helping to care for a little girl who has physical and developmental disabilities.
The job included helping the girl get home from school, and carrying her and bathing her. One day while carrying the child, who had just started to walk at age 8, Herrera slipped and injured her back.
The conversation with the child's parents was awkward and brief. They gave Herrera $300 as compensation for medical expenses and never reached out again, she said. The injury kept her out of work for three months.
"They just said, 'Oh, I'm so sorry; that's too bad,'" Herrera said, 56, through a Spanish interpreter. "I felt not valued and disposable."
In that employment arrangement there were few places for Herrera to turn. Domestic workers — those who are privately hired to provide services in a home — aren't covered by the state's or the nation's occupational safety laws, which require most employers to meet standards to prevent injury and ensure a safe place to work.
That could change soon. A proposal in the state Senate sponsored by the California Domestic Workers Coalition would remove the exclusion, opening the door for the state's Division of Occupational Health and Safety (CalOSHA) to issue workplace safety rules for any household employing a domestic worker.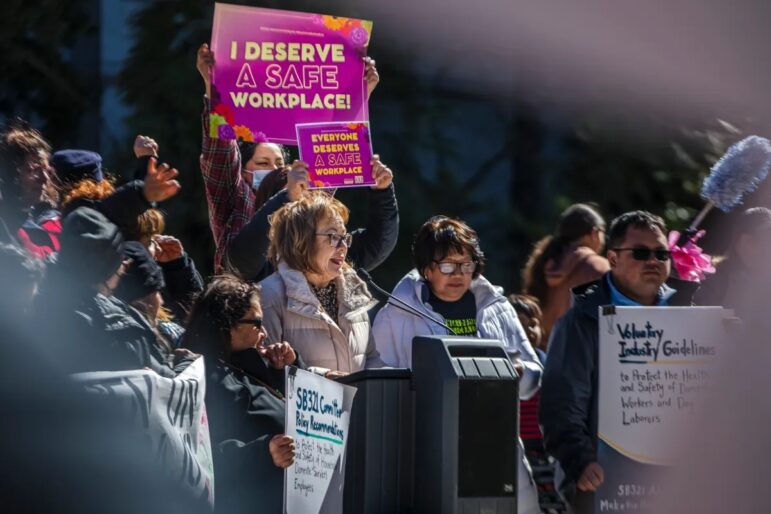 More than 300,000 California workers, mostly immigrants and women of color, were employed in domestic work for about 2 million households, according to a 2020 UCLA Labor Center report. Typically they're house cleaners, gardeners or nannies. Many take care of seniors or people with disabilities, a sector where demand is growing with an aging population.
They're also the only workers left out of workplace safety protections — a decades-old exclusion with racist origins, advocates say.
The bill filed by state Sen. María Elena Durazo, a Los Angeles Democrat, comes on the heels of a January report by an advisory committee of workers — including Herrera — their advocates, employers of domestic workers, and occupational safety experts. The state's Department of Industrial Relations, which includes CalOSHA, convened the committee last year at the direction of the Legislature after Gov. Gavin Newsom vetoed an earlier version of the workplace safety proposal.
The report contains more than a dozen policy recommendations and a set of guidelines for employers to maintain a safe worksite in their homes, covering everything from the usage of cleaning chemicals to safe lifting practices to avoid injury.
The guidelines are optional. The workers coalition hopes they could soon be adopted into formal state regulations if Durazo's proposal passes.
In 2021 Virginia added domestic workers to its workplace safety laws. But no states have issued detailed guidelines for employers like California's committee has, said Kimberly Alvarenga, director of the domestic workers coalition.
"The goal of this is really to prevent injuries and hazards from happening, as it would be with any other industry, and all the privileges that you and I have every day when we go to work," Alvarenga said.
Domestic workers have been left out of labor protections since the New Deal in the 1930s, when Congress first established a federal minimum wage and a right to overtime pay.
In what historians call a concession to Southern lawmakers, the Fair Labor Standards Act of 1938 excluded domestic servants and farmworkers — two types of work largely performed by Black laborers post-Reconstruction. The same exclusions were part of federal occupational health and safety laws decades later; California modeled its original labor laws after the federal counterparts.
CalOSHA does cover farmworkers. And California has extended protections on wages and working hours to both farmworkers and domestic workers. Domestic workers also gained the right to overtime pay and meal and rest breaks with a 2013 law that became permanent in 2016.
But in the state's workplace safety law, under the definition of employees covered, four words remain: "except household domestic service."
This became a bigger concern for advocates in recent years when reports emerged during California wildfires that domestic workers were required to work in evacuation zones and to clean houses before the smoke and ash had subsided.
"That's what really got my attention," Durazo said. "That was life and death."
The Legislature passed a bill Durazo authored in 2020 to remove the workers' exclusion from CalOSHA regulation. There was no formal opposition group, but Newsom vetoed the bill over concerns that turning private households into worksites would be onerous for renters and homeowners.
"The places where people live cannot be treated in the exact same manner as a traditional workplace or worksite from a regulatory perspective," Newsom wrote in his veto letter. "Many individuals to whom this law would apply … lack the expertise to comply with these regulations."
Durazo and the workers coalition tried again in 2021 and compromised with the governor by agreeing to an advisory committee to study making private homes safer for workers. The committee met throughout 2022 and issued its report in January.
The first recommendation is to remove the workplace safety exclusion.
Durazo called concerns that state inspectors would visit every home that hires a housekeeper unfounded. She proposes a more gradual process, involving outreach to the homeowner.
"This is about fixing these homes, if they need it, so that it's safer for everybody, and there's a certain formality, because it would be a requirement," Durazo said. "It's not a typical workplace … but it is a workplace."
Currently if CalOSHA gets a workplace safety complaint from a cleaner, gardener or caretaker, the agency considers a variety of factors to decide whether the complaint falls under the exception for domestic service, before determining if it has jurisdiction to inspect, agency Deputy Chief Carl Paganelli told the advisory committee last year.
Household domestic service includes caring for people in a home, or maintaining the home, a Department of Industrial Relations spokesperson said, but does not include major construction projects on a house. At any rate, it's unclear how many complaints the agency has received for domestic work. The Department of Industrial Relations said it does not track complaints from domestic workers and declined to give an interview.
The bill would give CalOSHA jurisdiction over domestic workers but exclude family daycares and in-home caregivers who are paid by the state and covered by their own bargaining agreements.
While no groups of homeowners or employers of domestic labor formally opposed the bill in 2020, efforts to extend labor protections have raised concerns among disability advocates. More than a decade ago, a proposal to extend overtime to domestic workers initially drew complaints that it would burden low-income people with disabilities who rely on caregivers.
This time Disability Rights CA lobbyist Gregory Cramer said stronger workplace protections might incentivize more workers to stay in the caretaking field. The organization has not taken a position on this bill, but Cramer said the group is "generally in favor of" strong workplace safety standards.
Advisory committee members, some of whom employ caretakers or nannies in their homes, said they took employers' concerns seriously. Included in their report are recommendations for the state to help employers comply with new regulations, including alternatives to on-site inspections, such as phone calls and mediation programs, to protect homeowners' privacy.
The bill also includes a financial aid program to help low-income employers make improvements, such as installing lifts. That would be safer than having workers carry clients into bed, committee members said.
Nikki Brown-Booker, an advisory member, said the guidelines will help employers see potential hazards in their home they might not have noticed before.
Brown-Booker, 55, uses a wheelchair and employs six caretakers and personal attendants who help her bathe, cook meals, clean her house and get into bed. She said she long ago installed a lift so she and her workers feel safer.
Herrera, the nanny who injured her back and now sits on the committee, said it's important to have the voluntary guidelines backed up by law. She now lives in Richmond and cleans houses.
"Having that law also would make it so that employers recognize that this is real work, that our work is valuable in their homes," Herrera said.
---
Guidelines for avoiding some common domestic work hazards from the SB 321 Advisory Committee
Chemicals: Label cleaning supplies, use safer alternatives and avoid mixing chemicals and products.
Lifting, carrying, bending and repetitive motions: Provide tools with longer or cushioned handles, provide knee pads, ensure rests, lighten loads, install lifting devices.
Infectious disease: Provide personal protective equipment, avoid needles if possible, isolate contaminated laundry.
Slips and falls: Remove potential trip hazards, secure carpets and rugs, ensure enough time to complete tasks.
Heat: Provide access to water and shade, use fans and ventilation, train workers to recognize heat stress.
Wildfire smoke: Monitor air quality index, ensure workers have transportation away from a home if it's in an evacuation zone.