Creating a Culture of Belonging: Student Perspectives on Inclusion/Exclusion and Raising Kids who are Allies
Monday, March 20 | 7 – 8 p.m. | Alan Harvey Theater
The Piedmont Affinity mentors invite you to help build a more inclusive Piedmont. High School students will share their personal experiences with prejudice, discuss the current culture of "othering" and system of hierarchy at Piedmont schools, and confront the persistent use of slurs and other forms of microaggression. Our panelists and moderators will offer ideas on how the families in our community can be allies as we continue to build a culture of belonging in Piedmont. This event is for everyone who lives or works in Piedmont.
Moderators: Ina Bendich, Consultant and Jean Takazawa, Piedmont Affinity Identity Mentorship
Speakers: Sohrab Ford, Morgan Hunt, Stephanie Tsung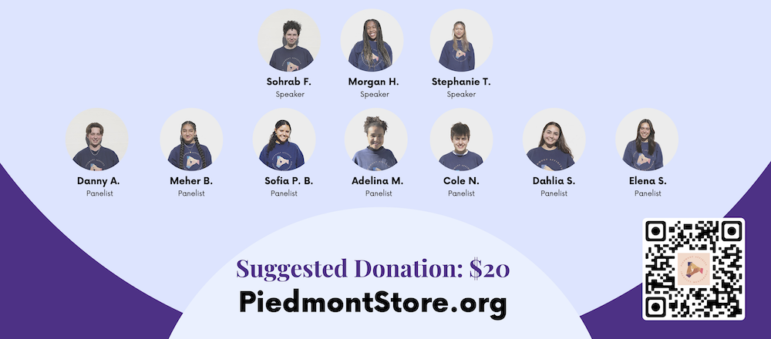 Panelists: Danny Allen, Meher Bachher, Sofia Prieto Black, Adelina Mbise (not pictured), Cole Nash, Dahlia Saffouri, Elena Stevens
"We have students holding various identities taking the stage to talk about what it's like navigating our schools as a marginalized person and how we can be encouraged to be Allies. Our students are doing this to build a more inclusive place of belonging for all and believe that we are all part of the solution."

Jean Takazawa | Piedmont Affinity Identity Mentorship Teacher, Program Coordinator
Please register HERE if you plan to join.
Please consider donating $20 to help cover the costs of this workshop. Thank you! (Note – it is not required to donate in order to attend).
Please register by entering your name in the attendee field.
Click "Add to Cart" and follow the prompts to check out.