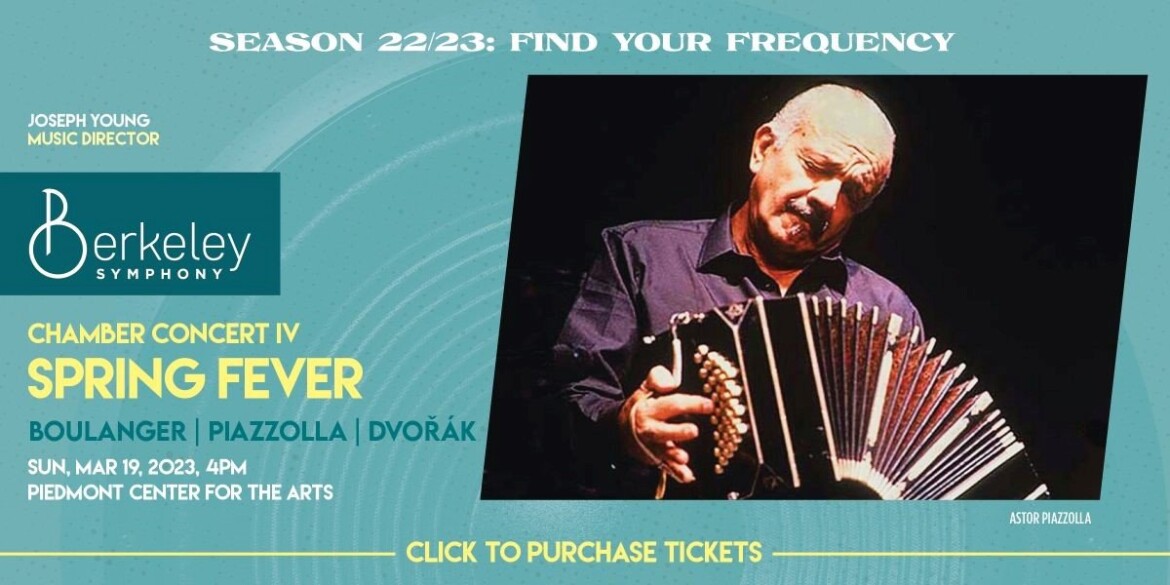 March 19 | 4 – 6 PM | Piedmont Center for the Arts | 801 Magnolia Ave.
Featuring works by composers Lili Boulanger, Astor Piazzolla, and Antonin Dvorak
The Berkeley Symphony's Spring Fever chamber concert March 19 at Piedmont Center for the Arts tangoes its way into post-winter warmth with composer Astor Piazzolla's classic, "The Four Seasons of Buenos Aires." With its dramatic cadenzas, plays on dissonance, and unexpected jazz- or blues elements, "Four Seasons" embraces Piazzolla's signature "nuevo tango" — new tango — style.
Sunday's concert also shines a spotlight on composer Lili Boulanger's "Of a Spring Morning" ("D'un matin de printemps") and Antonin Dvorak's "Dumky" Piano Trio in A Minor.
"Dvorak's works are often influenced by folk tunes from his home country, Czechoslovakia," said Symphony Artistic Director René Mandel. "The Dumky trio embodies the heart and soul of (Eastern European) folk melodies and rhythms threading their way throughout the entire work."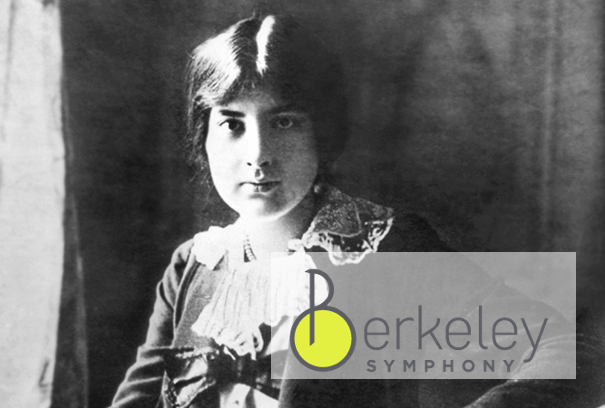 Boulanger, according to Mandel, was "an extraordinary French composer" who died far too early at 24. A musical child prodigy, she purportedly sang melodies perfectly by ear at age 2. She was the younger sister of the widely-respected composer and composition teacher Nadia Boulanger. Most of the younger Boulanger's music was for choir and orchestra and of a deeply religious nature, Mandel explained.
"She wrote the most exquisitely gorgeous music," he said, describing "Of a Spring Morning" as "an example of a lighthearted piece that tugs at the heart strings."
Mandel said the concert marks the symphony's 10th anniversary season in Piedmont and praised audiences in town for their love for and commitment to the arts, especially for music, and their openness to new and varied works. The Piedmont concert is a fitting "warm-up" for the orchestra's upcoming Zellerbach Hall orchestral performance, he added. That program, on April 2, includes "Mariachitlán," a 2016 work by Mexican composer Juan Pablo Contreras that highlights mariachi's exceptional high energy and rhythms.
Asked to pinpoint a few features audiences might enjoy thinking about prior to hearing Piazzolla's "Four Seasons," Mandel said, "Here's an interesting tidbit I've copied (to share):"
In 1954 Piazzolla received a grant to Europe in connection with the prize for his Sinfonietta and went to Paris to study composition with Nadia Boulanger. At the first audition he hid the fact that he had played and composed tangos. Piazzolla explained his reasons like this: "In truth, I was ashamed to tell her that I was a tango musician, that I had worked in brothels and cabarets in Buenos Aires. Tango musician was a dirty word in Argentina when I was young. It was the underworld." Boulanger, looking through Piazzolla's scores, discovered influences from Ravel, Stravinsky, Bartók, and Hindemith, but missed an individual handwriting and asked Piazzolla to play a tango on the piano. Afterwards she clearly expressed her opinion to Piazzolla: "Can't you see that this is the real Piazzolla, not that other one? You can throw away all the other music!" Piazzolla took her advice and credits Nadia Boulanger for steering him to his true calling.
Spring Fever is, indeed, a warm welcome to a new season and a rousing celebration of inspiration and partnerships, especially the ongoing partnership between the Piedmont community and Berkeley Symphony.
Tickets are $35 and are available online at berkeleysymphony.org or by calling the box office at (510) 841-2800.