Police in Berkeley are reporting an increase in thefts of Hyundai and Kia vehicles since December. Police said the noticeable increase in thefts of these vehicles throughout the city may be in part due to a social media challenge that encourages the thefts. (Stolen Hyundais and Kias — either triggering ALPRs or reported stolen in town –have made numerous appearances in the Piedmont Police blotter in recent weeks.)
Since December 2022, thefts of Hyundais and Kias have made up 38 percent of vehicle thefts from Berkeley, police said.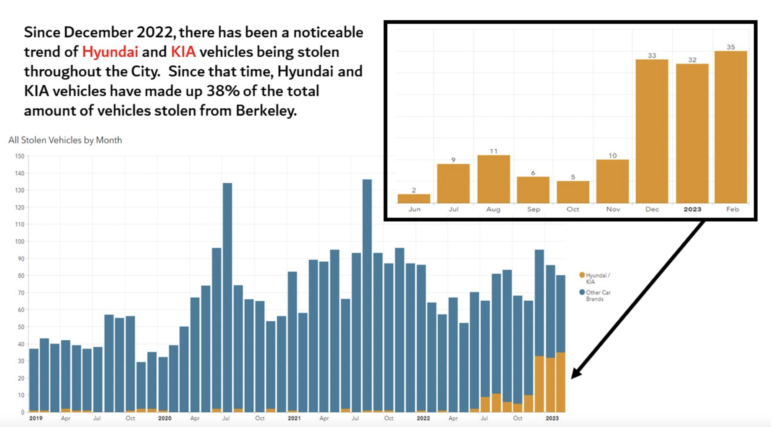 The vehicles being targeted are earlier models that are not equipped with an engine immobilizer, police said.
The Berkeley Police Department is encouraging owners of Hyundais and Kias to contact the automakers to obtain the latest theft deterrent software, as well as to consider using a steering wheel lock for a parked vehicle and to park vehicles in a garage or at well-traveled and well-lit locations.
Police are also asking anyone who sees someone who appears to be trying to steal a vehicle to report it as soon as possible.