For a writer, the inspiration to put pen to paper or fingers to keyboard can vary. For Taleen Voskuni, an exchange she overheard on Caltrain years ago, during her commute to her tech industry job, did the trick.
"I heard the voices of these two women speaking to each other, and one of them saying something like, 'Ugh, can we just have one conversation with an Armenian person without mentioning the Armenian genocide? The other woman was sort of gently and curiously correcting her, and that dynamic was very interesting to me," she says.
Published in January, "Sorry, Bro" (Berkley-Penguin Random House, 368 pages, $17) is the outcome of Voskuni's consideration of those fellow train passengers and their comments, along with her longstanding interest in the Armenian diaspora experience.
"I finally felt ready to write about it. And then once I did, I had a lot to say. The book flowed out pretty quickly from there, much faster than I'd ever written before also, and I think it's just because there was so much built up that I wanted to get out," she says.
Set in San Francisco, Voskuni's debut novel presents a love story between two Armenian women, Nar and Erebuni, whose attraction to one another is at odds with conservative family members and the pressure to preserve tradition. There's plenty of romance, and just as many comedic moments, including jokes about tech bros wearing their Patagonia jackets in a German beer hall.
Voskuni describes "Sorry, Bro" as a "coming out" story – one that has not yet been conveyed on the pages of a novel. She's grateful that publishing gave her the space to put her book on shelves and the story out in the open, as queerness continues to be a contentious issue in the Armenian community.
She explains, "If you're queer, you shouldn't feel completely isolated from your culture, from who you are. So I wanted to, in this book, write about [the fact] that you can be queer, you can be Armenian and still be valid; and you can still have your family."
Voskuni, a member of San Francisco's Armenian community who has family here, attended Krouzian-Zekarian-Vasbouragan, a private Armenian pre-kindergarten through eighth grade school in San Francisco, for over a decade.
As she is strongly connected to her Armenian identity and culture, so too is "Sorry, Bro." She hopes the book's happenings and characters resonate with readers.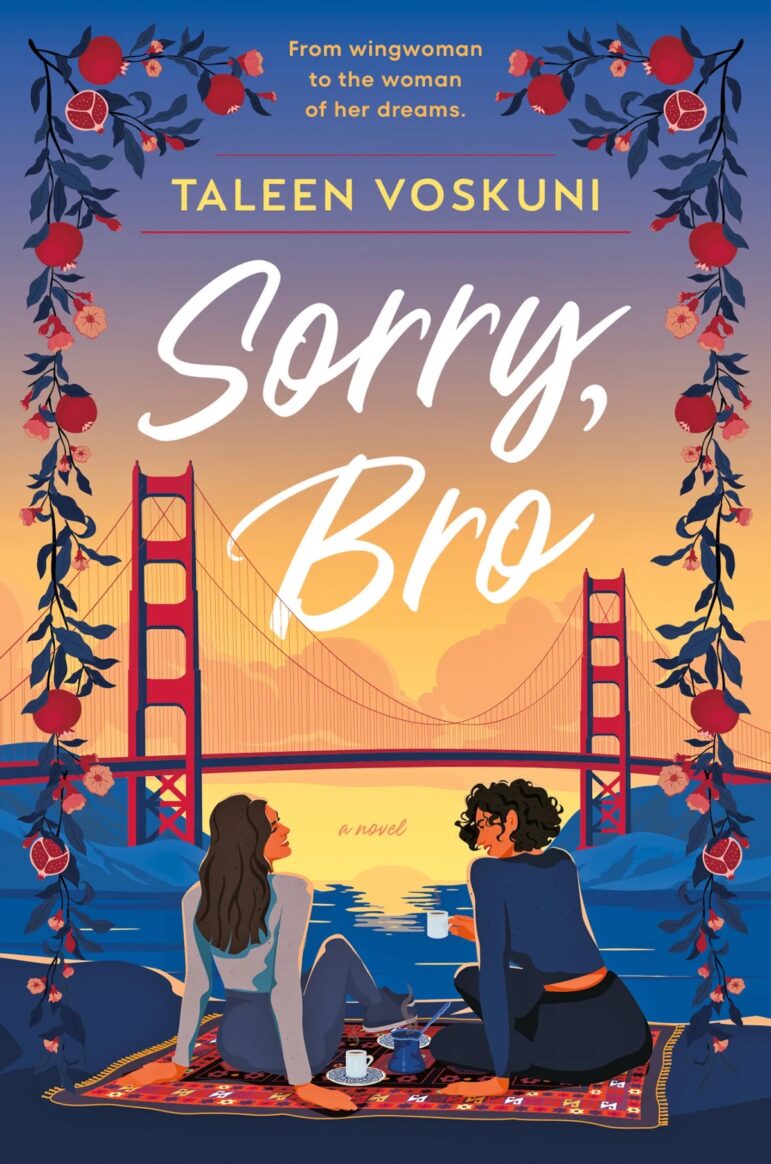 "Being Armenian, being a part of any group, you can't speak for everyone. You can show one slice of life for one person and hope that it rings true, hope that there's relevance and hope that other people can feel seen in it and say, 'Oh, my family is just like this. My teachers are like this. My friends are like this," she says.
Voskuni also saw her writing of "Sorry, Bro," and its timely completion, as a response to the 44-Day War or Patriotic War, an armed conflict in fall 2020 between Armenia and Azerbaijan over the long-disputed Nagorno-Karabakh region.
"That was sort of this fire lit under me to get the story out as fast as possible. Since I couldn't do anything about the war, I felt like, 'Well, it's one small thing I can do,'" she says.
That "one small thing" is a more than 300-page novel that provides readers with insight into Armenian culture and identity, all the while touching upon relatable themes such as love, family dynamics, self-realization and bravery.
Recognizing a limited amount of modern Armenian fiction, let alone uplifting and queer-focused stories, Voskuni found it important for "Sorry, Bro" to end on a positive note.
She says, "I wanted it to be a happy ending because I know for many Armenians and many queer people out there, there's still not a happy ending. … I wanted there to be this beacon of hope, this comfort book, that queer Armenians and queer people could pick up and read and feel good about."
She adds, "I think there's all kinds of literature needed, but I want this one to be the happy story – the happy queer story."