A record of 22-0 is a pretty good start to a season for a high school basketball team. The Piedmont girls team is trying to find a happy balance between enjoying the accomplishment and keeping it out of mind.
"Definitely not bad," Natalia Martinez said. "We're enjoying it. We try not to think about it. It feels good. But we've got to focus on what we have. Every game is in the past and focus on the future."
Added Eva Levingston, "Yes, it is (sweet). A little bit of both. Coach always tells us, 'Don't let the ranking get in your head.' I try not to, but in the back of my mind, it's there. But you have to be humble about it. You have to respect every team when you step on the court."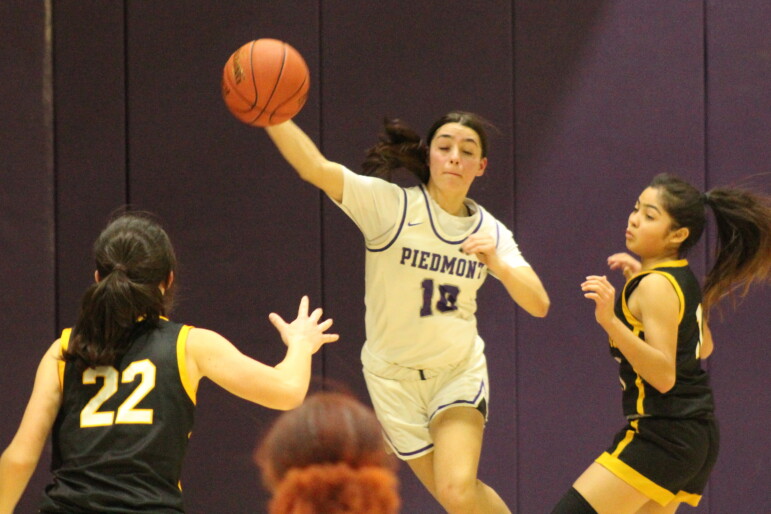 Coach Bryan Gardere smiled and said, "I'll take it," when asked.
The Highlanders improved to 22-0 (7-0 in the West Alameda County Conference) on Feb. 2 with a 61-34 win over visiting Alameda at Binks Gymnasium. It might have felt like a bit of a ho-hum victory, but things won't be so ho-hum at Binks on Feb. 7 when Bishop O'Dowd comes to town. The teams played in the Dragons' new gym on Jan. 18, when Piedmont held on for a 69-63 win.
It was in that game that Trinity Zamora injured her right knee. The Highlander forward has not played since, missing the Piedmont's last six games. Zamora said she feels good, is continuing to work on her rehabilitation, and hopes to play next week. Gardere said he is trying to keep the pressure off of his senior star.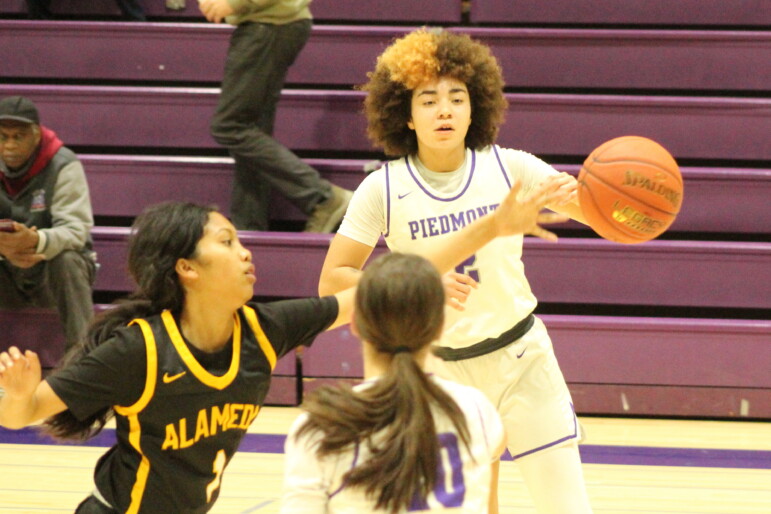 In Zamora's absence, Martinez and Levingston have been bringing the ball up court for Piedmont. Levingston, like Zamora, is 6-feet tall. The team has taken to calling her "Big Guard" of late.
"Everybody, growing up, said, 'Is she a post player,'" Levingston said. "I never really got to expand my game. Coming here gave me the opportunity."
Said Gardere, "She's our Big Guard. We love that. She's doing a good job. At the end of the day, it might help us in some shape or form with other people having to step up a little bit. Natalia playing more point guard and more people handling the rock. Hopefully it helps us down the road."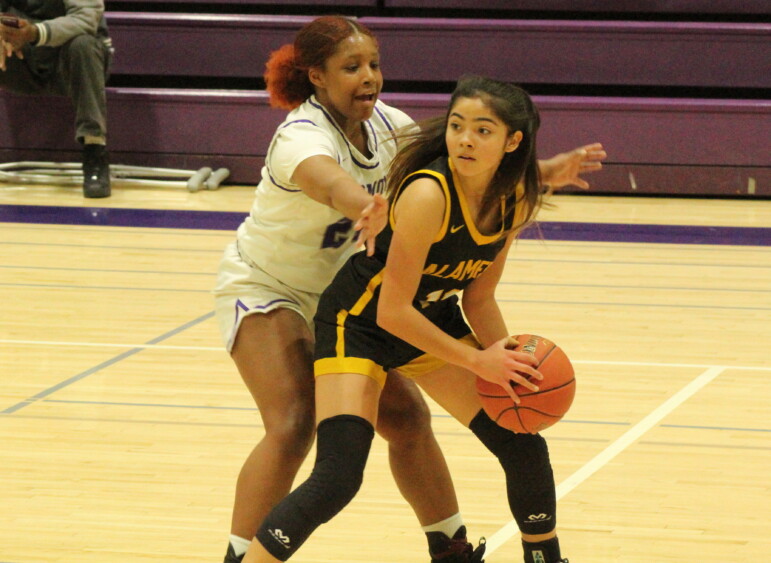 Martinez said she has definitely been developing in the wake of Zamora's injury.
"Trinity's a big aspect of our game," Martinez said. "Losing her was definitely a negative. We had to adapt and we had to change certain plays and be more comfortable with other people running the ball. Personally, I had to run the ball a lot more than before. I've just been working on it, asking T a lot of questions."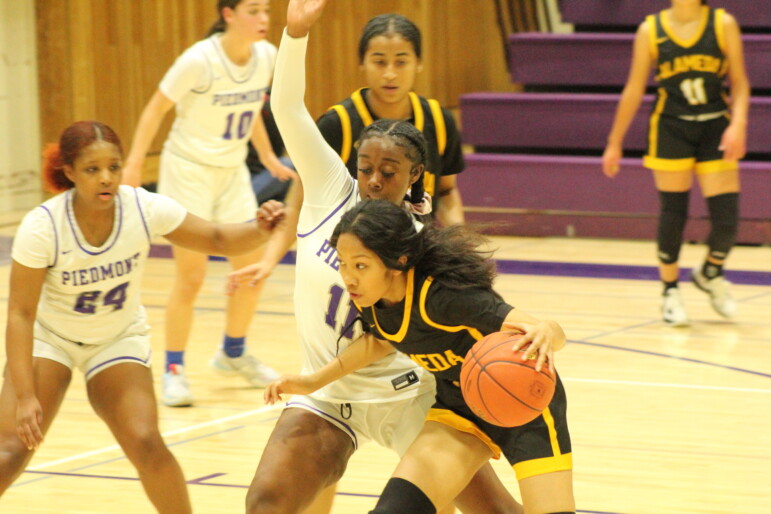 Against Alameda, Levingston got off to a big start, scoring 10 of her 22 points in the first quarter. She also pulled down 12 rebounds and blocked a couple of Hornet 3-point attempts early. Martinez was also big on offense, finishing with 27 points. The 3-pointers were not falling for the Highlanders, who made just two of 23 shots from long-range. But the defense was outstanding, holding Alameda to just eight points in each of the first three quarters. Juliana Johnson led the Hornets with nine points.
On Jan. 31, Piedmont beat Castro Valley at home, 54-30.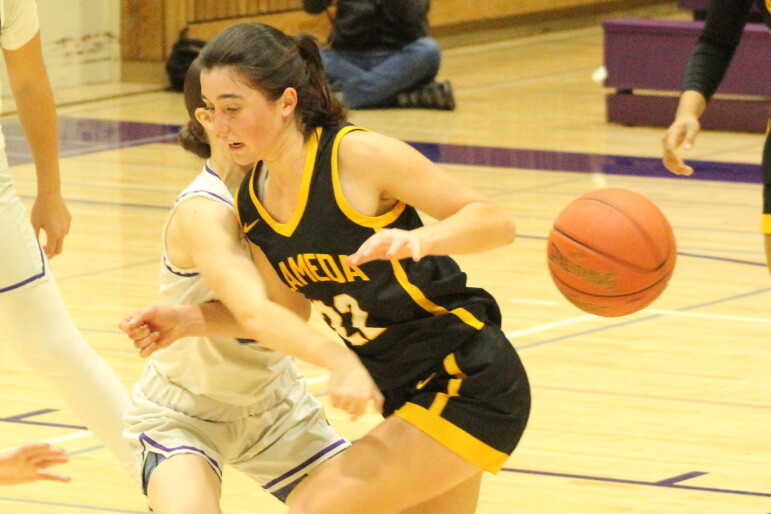 On Jan. 28, the Highlanders beat San Leandro on the road, 81-66, in a rescheduled game that was postponed due to weather on Jan. 4. Martinez scored 21 to lead Piedmont. Madison Hill had 17 and Levingston and Perseas Gioukaris each had 15. Chozen Horn Young and Geriah Bradley each had 16 points for the Pirates.
On Jan. 25, Piedmont defeated San Leandro at home, 70-28. Levingston had 15 to lead the Highlanders. Martinez and Gioukaris each had 14, while Hill added 13 in the win. Bradley led San Leandro with 13 points.
Photos by Damin Esper