A woman was involved in multiple crashes while driving on the morning of Feb. 13 and methamphetamine was found on her after she was arrested, according to Capt. Chris Monahan of the Piedmont Police Department.
People began reporting incidents at 7:21 p.m. The reports included a vehicle hitting a retaining wall, a parked vehicle, and a fence. Police located the silver Jeep Wrangler on Maxwelton Road.
Piedmont police attempted to box the vehicle in, but the driver backed out and sideswiped a police vehicle, according to Monahan. The vehicle drove away but was located again down the street. While attempting to back out and escape again, the driver backed the Jeep onto a berm and the vehicle rolled over, trapping the driver.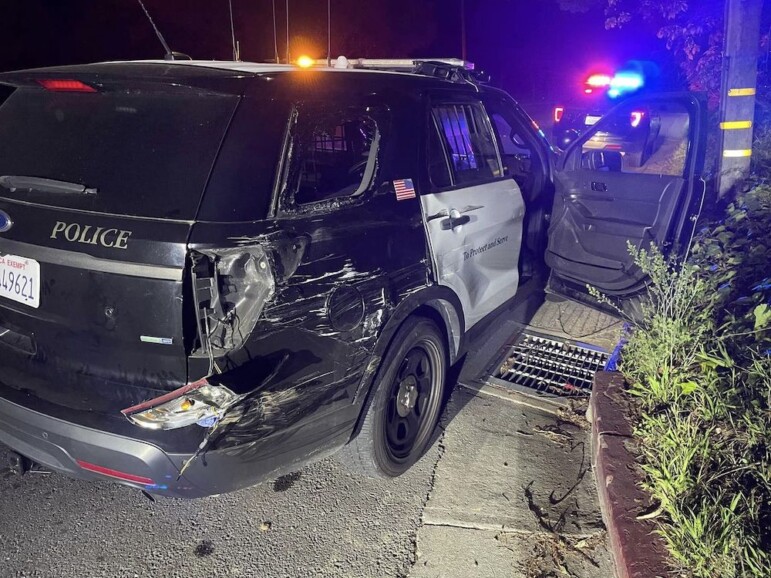 According to Monahan, the driver was "manic," and had rapid speech and bloodshot eyes. She refused police orders to unlock the door and told officers that "we were under arrest." Police said negotiations went on for 15-20 minutes before Piedmont Fire Department personnel arrived.
Firefighters extracted the driver from the vehicle. According to Monahan, she continued to resist and "had to be physically restrained on the floor and placed into custody."
Officers found 1.37 grams of what they suspect to be methamphetamine on the suspect. They later located the scenes of the previous crashes.
---
A woman in a stolen vehicle was arrested on Feb. 17 on Oakland Avenue. The Automatic License Plate Reader system detected the vehicle at 9:06 a.m. The vehicle was reported stolen from Oakland.
Police stopped the vehicle but while attempting to read the suspect her Miranda rights, the driver slipped out of her handcuffs and out of the police vehicle onto the ground, according to Monahan. She was taken to Santa Rita Jail in Dublin and "several" Alameda County sheriffs deputies had to assist. While at the jail, two glass pipes and what is suspected to be cocaine were recovered, according to Monahan. The woman was booked for possession of a stolen vehicle, resisting arrest, and possession of narcotics and paraphernalia.
---
A car was burglarized at 12:10 p.m. on Feb. 13 on Vista Avenue across from City Hall. Two suspects left the scene in a gray 2017-2022 Honda Accord Sport. Bags of camera equipment worth approximately $8,000 were taken and the damage to the vehicle's back window was about $1,000, according to Monahan. The suspect's vehicle was reported to have departed the scene towards Oakland Avenue.
---
On Feb. 10, a woman was arrested for driving a stolen vehicle. The ALPR system picked up the 2022 Dodge Charger stolen in Walnut Creek at 7:23 p.m. The vehicle was located at Lakeshore and Mandana avenues and was pulled over. A female driver was arrested and taken to Santa Rita Jail.