A cold front blowing into the Bay Area on Tuesday night could dump up to 18 inches of snow in the coastal mountains south of Monterey and provide at least a dusting to elevations as low as 500 feet by the time it's over Saturday, according to the National Weather Service. (If that prediction holds, Piedmont's highest elevations — Bell, Blair, Scenic and the corner of Somerset and Estates are all around 600 feet above sea level according to Google Maps — could potentially see snow on the ground.)
In a briefing issued shortly after 5 a.m. Tuesday, the weather service added a winter storm watch to the forecast beginning Thursday for the higher elevations of the coastal mountains south of San Francisco Bay.
The Santa Clara and Diablo ranges in the South Bay could get between 8-12 inches of snow by Saturday, and the Santa Cruz Mountains could see 4-8 inches of the white stuff. The revised forecast lowered the elevation that could see snow from 1,500 feet to 500 feet in most of the Bay Area on Thursday and Friday.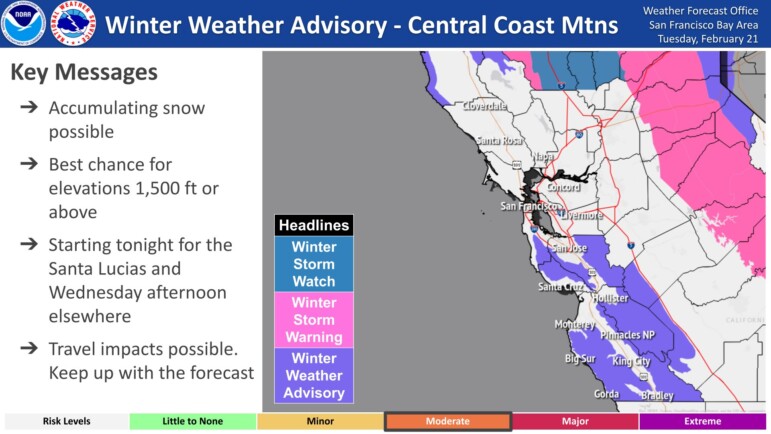 A wind advisory will be in effect from Tuesday afternoon through midday Wednesday, according to the National Weather Service. Gusts of 40-55 mph are expected in some areas, and 65 mph on the region's higher peaks. Around 3 p.m. Tuesday, a large tree fell and blocked three westbound lanes on the Bay Bridge at the Treasure Island tunnel, according to the California Highway Patrol.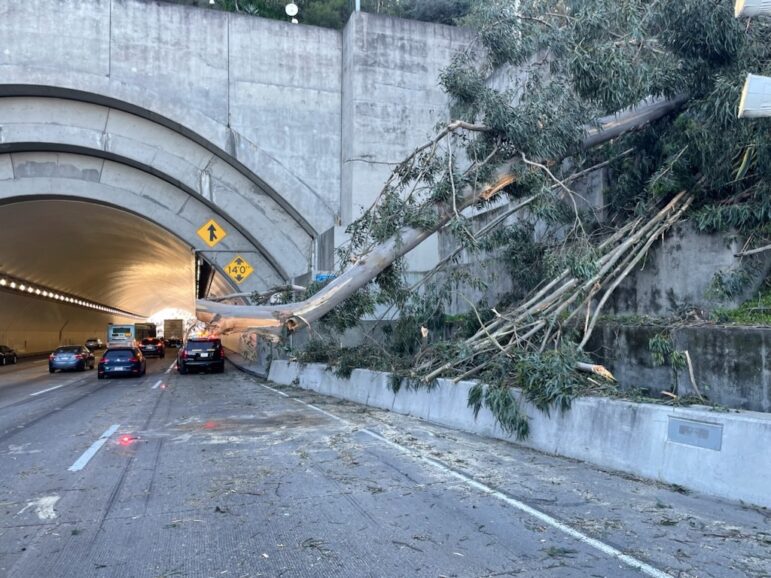 Nearly 23,000 PG&E customers around the Bay Area were without power Tuesday afternoon as high winds started to blow through the region. More than half of the affected customers — 12,357 — are along the Peninsula, while 4,896 have outages in the South Bay and 4,331 have outages in the North Bay. Downed trees and power lines have been reported throughout the region and people are advised to use extra caution while driving, especially in taller vehicles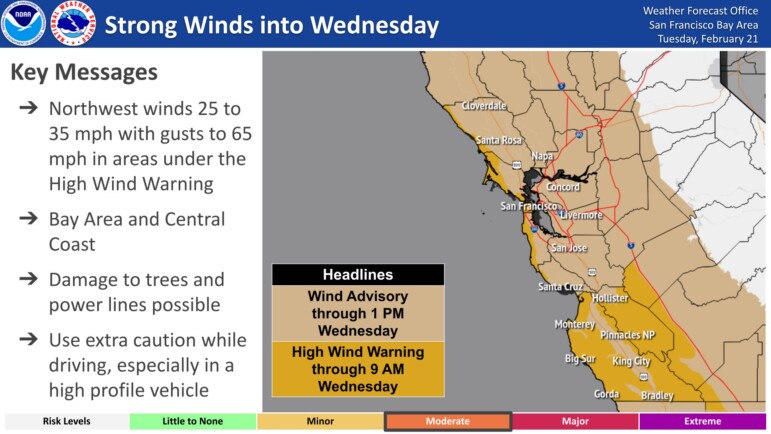 Parts of the Bay Area could see light rain between Wednesday and Saturday, possibly accompanied by some thunder and hail, forecasters said.
Temperatures are expected to reach the mid-30s in interior valleys, with coastal communities remaining in the low 40s. The chilly temperatures will linger through the weekend and the region isn't expected to warm up until until Sunday and Monday next week, according to the weather service.