Opening and closing scenes of plays can be tricky to write—the playwright must draw us in quickly, and satisfy us, one way or another, at the end.
Dominique Morisseau's luminous "Paradise Blue," one of a trilogy exploring Black life in Detroit in various time periods, hits all the right notes in an Aurora Theatre Company production.
Initially, an aproned Pumpkin (a petite, sunny Anna Marie Sharpe), the reluctant singer in trumpet player Blue's band (she knows she's no songbird), is sweeping the floor of the Paradise, a combination nightclub and boarding house in the Black Bottom section of Detroit in the 1940s. As she sweeps, she's also reading a poem aloud to herself, "The Heart of a Woman," so engrossed in it, almost tasting the words themselves, that she spills her dustpan of peanut shells. Twice. And just like that, we already know something about Pumpkin, maybe, at this point, even more than Pumpkin knows about herself.
Pumpkin may be the central character, but Morisseau gives equal weight to every character in this emotionally involving drama—the pianist, the percussionist (there's no bass player because Pumpkin's lover, club owner Blue, has just fired him, to everyone's dismay) and a sexy, scary stranger; each has a deep inner life.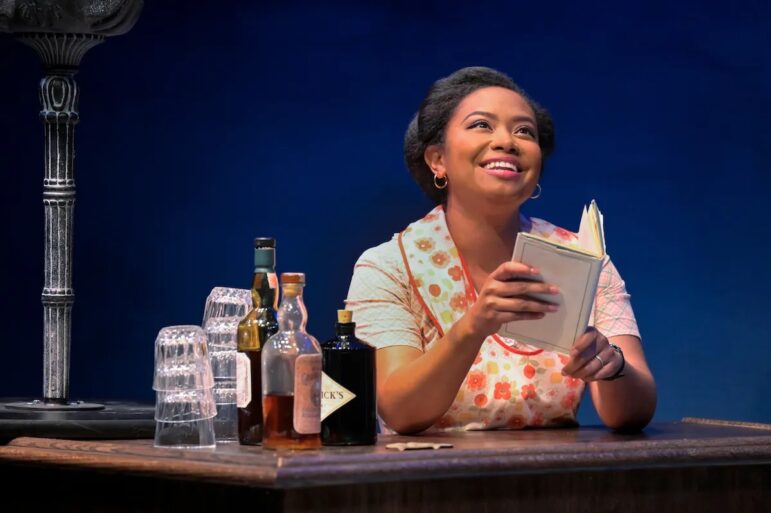 We learn about each one gradually, thankfully not through the pro forma confessional monologue but rather through dialogue. And Morisseau's ear for natural-sounding dialogue is impeccable—whether spoken in moments of seduction, fighting, drunken ranting, pleading, lyrical flights of fancy, it all flows as musically as the soul-shattering notes that Blue is striving to play.
Blue (played with controlled desperation by Titus VanHook) is a tortured soul, desperate to achieve what his loyal friend, good-natured pianist Corn (an awkwardly pitch-perfect Michael J. Asberry) calls "love supreme"—that sweet spot, musically speaking, that was Blue's musician father's special gift.
Blue thinks maybe he'd have better luck in Chicago. His big secret (suspected by percussionist P-Sam, played with antic energy and humor by Kenny Scott) is that he's planning to sell the Paradise—to the developers who want to gentrify the neighborhood, get rid of the Black inhabitants, "trying to make Detroit white," says one character.
But Black Bottom is the only place for Black musicians, and if Blue sells, everybody loses: the band members will have no work. Devoted Pumpkin, who is under Blue's spell, would be forced to leave her beloved home.
The stakes couldn't be higher.
Into that quagmire sashays Silver (Rolanda D. Bell, clearly born to play that role), from exotic Louisiana: gorgeous, rich, calm, tough, mysterious—in fact, as she eventually admits, cursed.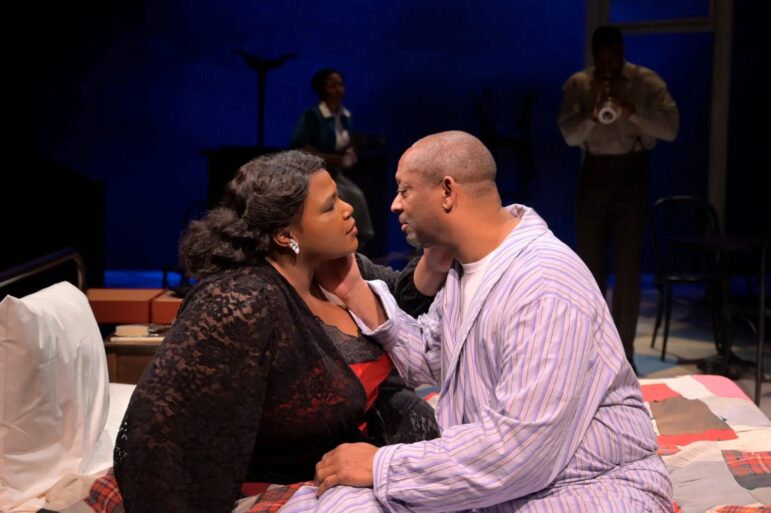 Morisseau brings lots of issues into the mix—racism, power struggles, male-female relationships, the ways that music and poetry can affect our lives—but this is not an issue play. This is a play full of flawed characters who reveal progressively deeper levels of anguish, longing and resolve as the two acts unfurl.
It's to director Dawn Monique Williams' credit that she has chosen her actors so well and that she sets the action so gracefully on Stephen C. Jones' simple set in Aurora Theatre's intimate playing area.
And it's thanks to Morisseau's skill—her ability to assemble the bits and pieces of this endlessly absorbing scenario into a cohesive whole—that the play's last scene is unimaginable when we first see Pumpkin sweeping that floor, yet ultimately so satisfying, so inevitable.
"Paradise Blue" continues through Feb. 26 at Aurora Theatre, 2081 Addison St., Berkeley. Tickets are $20-$75; visit auroratheatre.org.