The Piedmont Sports Hall of Fame (PSHOF) is excited to announce the 12th Enshrinement Ceremony is scheduled for the new Alan Harvey Theater on the Piedmont High School campus on April 8, 2023.  Doors will open at 1:30pm with the ceremony taking place from 2-4 pm.  A reception will take place across the street at the Piedmont Center for the Arts from 4-6 PM.
The opening of the Alan Harvey Theater gave the PSHOF a chance to create a new future direction that brings the event onto the Piedmont High School campus and expands the event to over 400 attendees, while lowering costs to a base price of $25.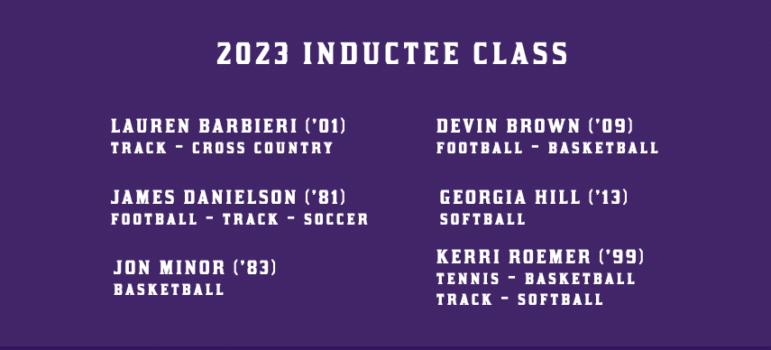 This years event will feature the induction of Lauren Barbieri, Class of 2001 (Track & Cross Country), Devin Brown, Class of 2009 (Football and Basketball), James Danielson, Class of 1981 (Football, Track and Soccer), Georgia Hill, Class of 2013, Softball, Jon Minor, Class of 1983 (Basketball) and Kerri Roemer, Class of 1999 (Tennis, Basketball, Track and Softball).
In addition, the ceremony program will be expanded to recognize all past Piedmont Sports Hall of Fame Inductees who can attend, and allow for a current student athlete representative for every Varsity PHS sports team to be recognized as well.
After the ceremony the PSHOF will hold a beer and wine reception for the 2023 Inductees and their guests across the street from the Alan Harvey Theater, at the Piedmont Center for the Arts.
Two levels of tickets are now on sale to the public at www.pshof.org. General admission tickets are $25 with General Admission ticket + Reception tickets costing $40. 
For more information, please contact Scott Hill, scotthillhomes@gmail.com, (510) 435-6667. Check out more detailed information about our 2023 Inductees on our website at www.pshof.org.