Piedmont High School's Eva Levingston grabbed the rebound and put the ball back into the basket as the clock wound down on Feb. 7. Her 14th rebound and 11th and 12th points of the night put the finishing touches on a 62-50 win over visiting Bishop O'Dowd before a packed house at Binks Gymnasium.
It was the perfect ending to a near-perfect game for a team that is just one win away from a perfect regular season.
The Highlanders jumped in front early, trailed briefly in the second quarter, and then just kept building the lead, eventually going up by 19 points. The Dragons inched a little closer late but never really threatened. And Piedmont never let up.
"(Coach) Bryan (Gardere) said, 'Get me another bucket.' And I was like, 'OK'," Levingston said of her rebound and shot in the final seconds.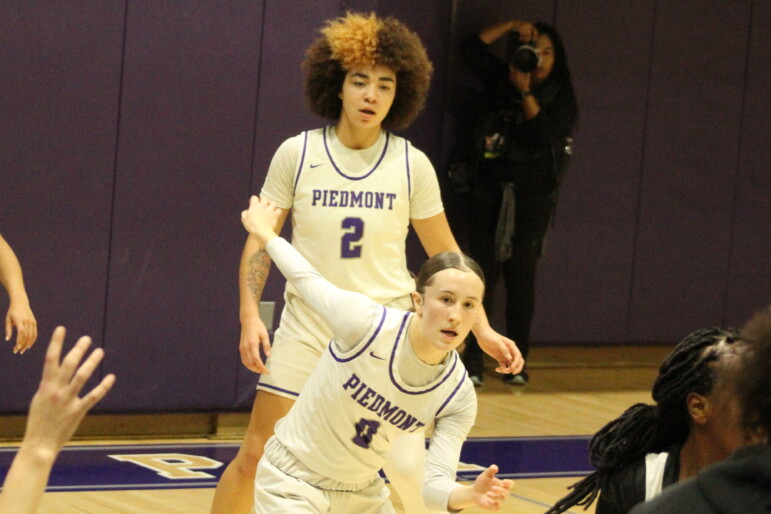 Levingston is normally one of the big guns for Peidmont, but against Bishop O'Dowd, she didn't need to score. She didn't record her first points until one minute, 53 seconds were left in the first half.
Instead, she dominated the boards, played outstanding defense – mostly on Devin Cosgriff – and found her teammates with a series of tremendous outlet passes to get the fast break going.
"I came into the game knowing that they would come out aggressive on me. It was a little bit hard for me to get to my spots. I took a couple of shots early in the game, missed a couple. I still made sure I was in the game, ready with my team. And just getting my teammates open and getting the ball to them."
Said Gardere, "(She) just guards the other team's best player and (does) a good job against them. Her effort on defense is amazing. She had a bunch of rebounds, a bunch of effort plays. I was really happy for her, she really is having an amazing year. She's averaging a double-double, she handles the rock, she shoots, she's an amazing basketball player."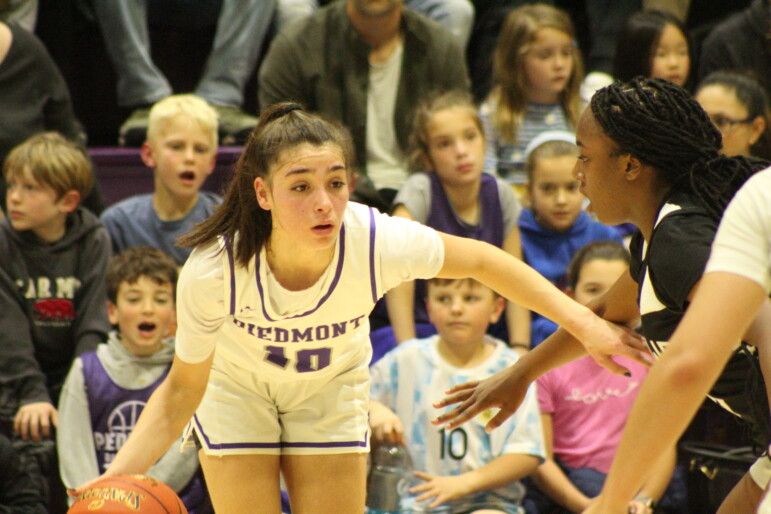 Equally amazing was Natalia Martinez, who took up the scoring load early with six first quarter points en route to 25 on the night. She also had eight rebounds.
But the contributions went beyond that. Perseas Gioukoris scored 10 points, grabbed seven rebounds and seemed to get her hands on a Bishop O'Dowd pass every time the Dragons came up the court.
"On the defensive side, I made sure I put a lot of pressure on the ball," Gioukoris said. "Offensive side, I kind of just went with the flow. If I had an open shot, I took it, and if I didn't, I passed it. I'm more of a dime-giver than a shot-taker and today that really showed."
Said Levingston, "Perseas is a killer. She's looking for a wonderful pass to make to a teammate or a crazy finish at the rim. She's on the smaller size but she does help on the defensive end getting those defensive rebounds, too."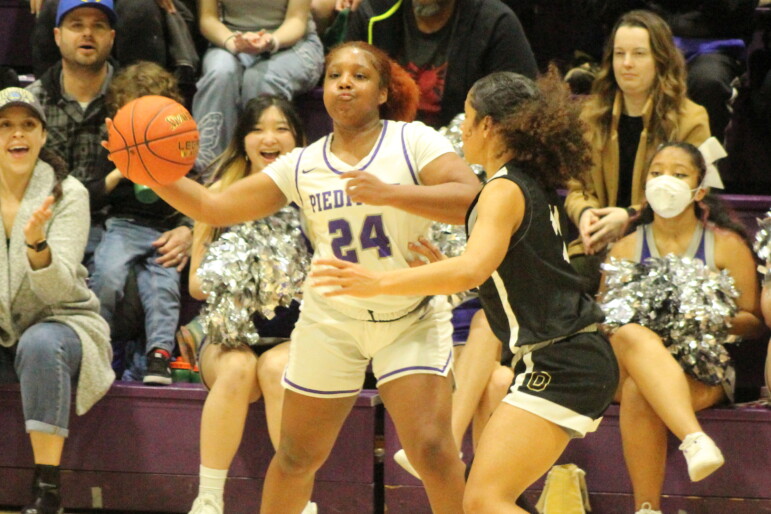 Madison Hill also played her usual strong defense and scored 13 points.
"We're a tough team if everyone can do those kinds of things," Gardere said. "Seven (points). Ten. Eight. It's hard to slow a team down when they have multiple weapons. And we haven't had that in a while."
All of this came with Trinity Zamora, one of the team's biggest weapons, still out with a right knee injury. Zamora's injury came late in the team's prior meeting, a 69-63 Piedmont victory at Bishop O'Dowd on Jan. 18. The Highlanders were up big in that game, but then watched the Dragons rally after Zamora went out. That had some of them a little nervous coming into the rematch.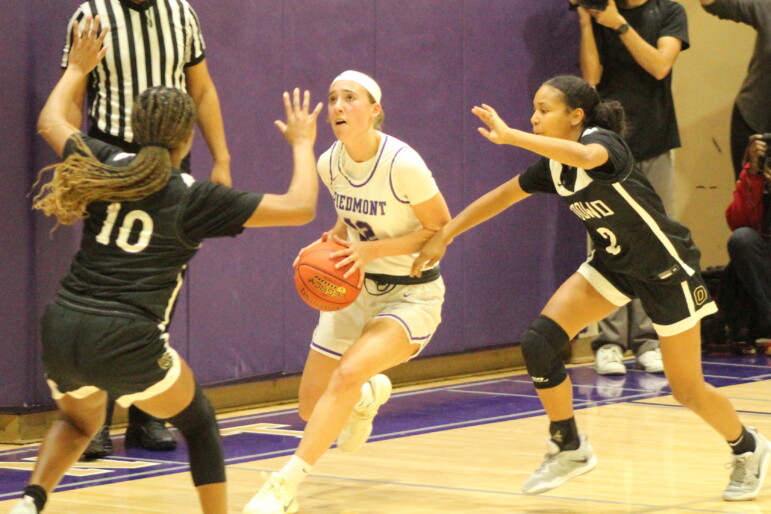 "To be honest with you, it was a little shaky, but we had confidence in ourselves," Gioukoris said.
That might be what perfection looks like. The Highlanders conclude the regular season at home on Feb. 10 against Berkeley. Two days later, the North Coast Section playoff brackets will be announced. The Highlanders will be the favorites in Division 4.
Photos by Damin Esper