Piedmont High School's boys basketball team jumped ahead early in its game with Bishop O'Dowd on Feb. 7. But the Highlanders couldn't keep it going, falling in the end to the Dragons, 55-49. Bishop O'Dowd's defense did an outstanding job rotating players guys onto Piedmont star A.J. Harris, holding him to 14 points on just 12 shots from the field.
"Deny him the ball and force him left every time he got it," said Leo Chapman, who shared a lot of the load on Harris. "Try to get it out of his hands. So we double-teamed him off the ball screens."
Said Piedmont coach Ben Spencer, "It helps when you have a roster full of five or six 6-1 athletic guys you can keep cycling in and out. It makes it tough when you have a team like that, that's really well coached, that has a deep roster, they can go to their bench, they can be physical and pick up 10 or 12 fouls. Kudos to them. They're a fantastic team."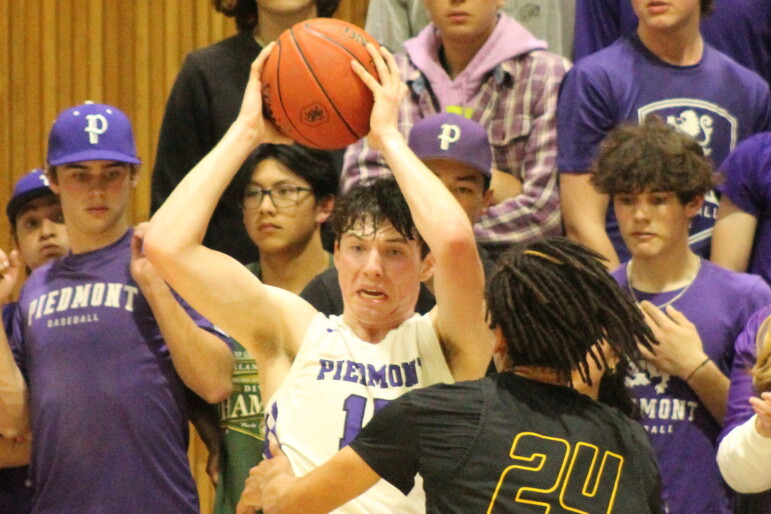 Brit Burden scored 15 to lead Piedmont before fouling out in the fourth quarter. No other Highlander scored more than six. For Bishop O'Dowd, Chapman came off the bench and scored 13. Miles Burrows had 11, Amos Hodgson 10 and Miles Dixon and Samuel Chavarin each scored nine.
Piedmont is now 17-8 on the season, 7-4 in West Alameda County Conference Foothill Division play.
The Highlanders jumped out to a 13-2 lead. They made four of five 3-pointers early in the game. They also were called for four early charging fouls and turned the ball over six times in the first quarter.
Yet as the game went on and the calls evened out, Bishop O'Dowd rallied back. Piedmont went zero for 14 from 3-point range after the first quarter. The Highlanders scored just seven points in the third quarter. Down the stretch, they had opportunities and only trailed by one in the final three minutes. But they couldn't get the shots to fall.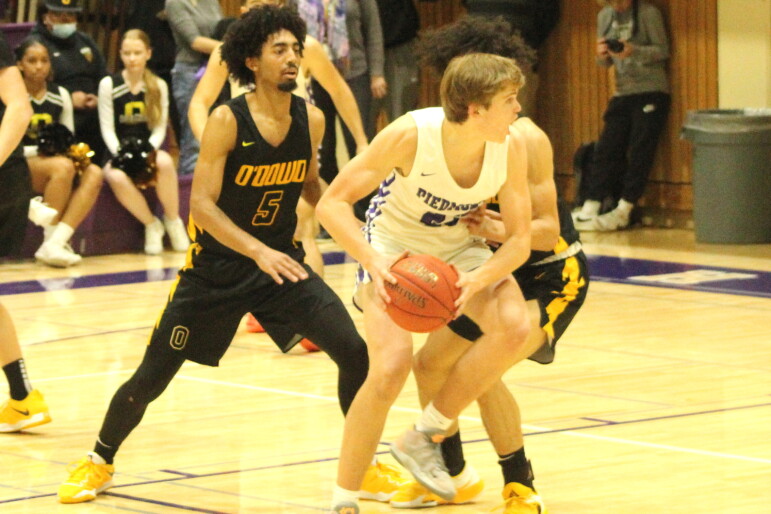 "I think we fought hard," Burden said. "Last game, they sort of just punked us at the beginning and we basically let them do what they wanted. We came out strong this game. Some shots weren't falling. Nothing you can do about that. But we fought hard."
Burden said he started playing more aggressively in the second half, when he scored 11 of his 15.
"I had to get to my spots, had to do my job for the team," Burden said. "A.J.'s a hell of a player. Them pressuring him opens up a lot of opportunities for the rest of us. We did our best to capitalize on those."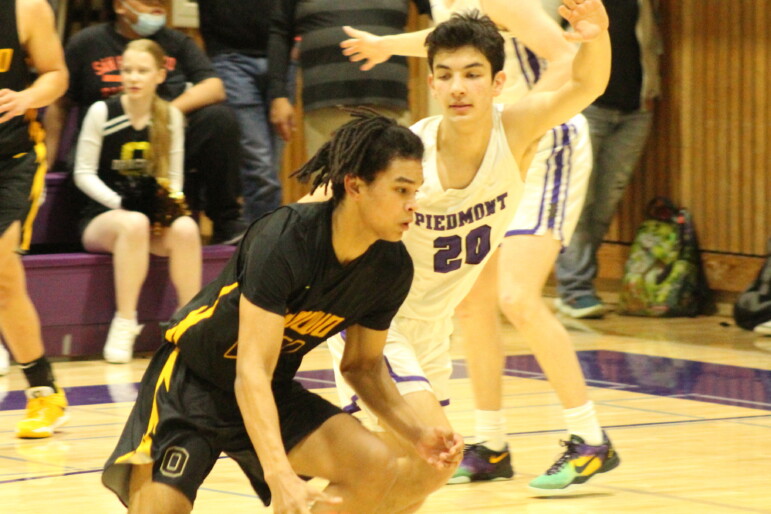 Harris had 10 rebounds and Burden nine. As a team, Piedmont outrebounded Bishop O'Dowd, 30-23. That was one of several statistics that went in the Highlanders' favor. And that Spencer thought would be key.
"We put on the board before the game, we had to defend, we had to rebound, we had to play hard and we had to outwork them, get those 50-50 balls and we checked off all of those boxes," Spencer said. "Usually that's a formula for success and a win."
In the teams' previous meeting on January 18 at Bishop O'Dowd, the Dragons ran away with a 69-49 win. This time, it was a battle. And that had Burden and Spencer believing it was a step forward for the Highlanders, who close the season at home against Berkeley on Feb. 10 and then will be seeded into the North Coast Section Division 3 playoffs. Brackets will be announced on Feb. 12.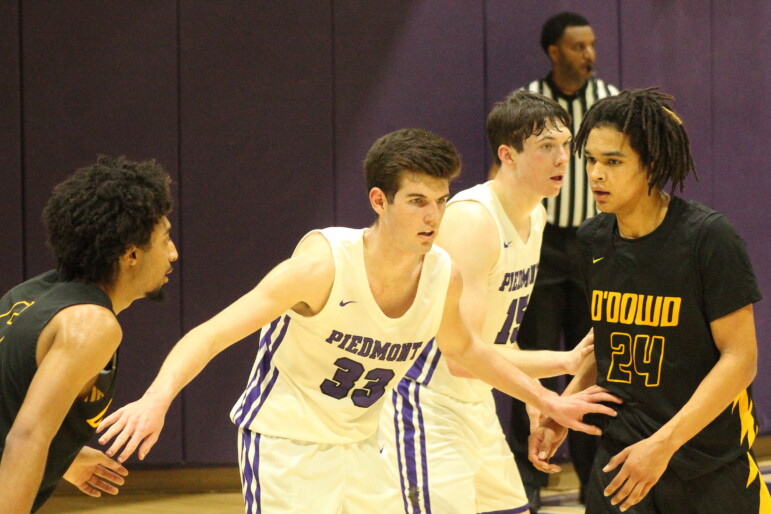 "Yes, this definitely can be positive," Burden said. "If we can compete with a Division 1 school like O'Dowd, there's no way these Division 3 teams can handle us. We have our eyes set on NCS right now."
Said Spencer, "For me, looking ahead, if we play that physical and that strong inside, I don't know if there's another team in D-3 that can beat us. Yes, it's a loss, but I told the guys after the game, it felt like a win. I thought we did a lot of things really well and it's coming together at the end of the season."
Photos by Damin Esper