A few hours prior to the Feb. 21 matchup in the North Coast Section Division 3 semifinals, Piedmont High School boys basketball coach Ben Spencer said he thought his team matched up pretty well with No. 1 seed Branson-Ross. Several hours later, the Bulls showed why they are the class of the division, taking control in the second quarter and rolling to a 61-40 victory at Don Barksdale Court at College of Marin.
Branson (26-3) advances to the championship game on February 24 against Pinole Valley at Dominican College. The Highlanders (19-10) see their season end at the hands of the Bulls for the second consecutive year – 364 days prior, the Bulls defeated Piedmont, 57-55, in the same round.
"The hardest part is that the season just ends after being with these guys for 365 days," Spencer said. "You've got 'Family' on your shirt and that's literally what it is. Some of these other guys are off to (other) sports and then you've got your seniors who graduate.
"Especially this team, that worked so hard in the offseason, I've never had a team that showed up to more stuff because we were so disappointed how it ended last year with Branson that we swore we'd get back here and it would be a different story. It wasn't."
Except it was – last year was a heartbreaking loss where the Highlanders jumped out to an early lead, fell behind, but then rallied at the end to make it close. This game was over at halftime as the Bulls outscored Piedmont 28-9 from late in the first quarter to the break and never looked back.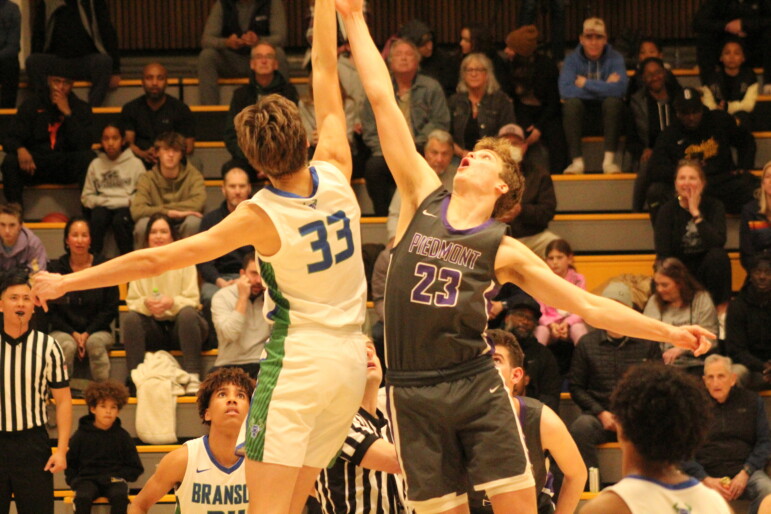 "We weren't able to get stops on defense and a couple shots missed," said A.J. Harris, who finished with 28 points and 14 rebounds. "We got some open looks from other guys and weren't able to knock it down. They were able to get better looks and they knocked down some tough shots and they were able to take control in the second quarter."
Said Spencer, "They are just a fantastic team. They've got some guys that are definitely D1 talent. Then second quarter, we just couldn't stop (Semetri Carr). We were trying. We knew he was going to do what he does. We knew (Jase Butler) was going to do what he does. That's what good players do: You know what they're going to do, you try to stop them, but sometimes you can't. That second quarter opened it up."
Carr, a sophomore, scored 18 of his 20 points in the first half, including three of three from 3-point range and seven of eight overall from the field. Butler finished with 15 points, seven rebounds and seven assists. George Gale had 11 points.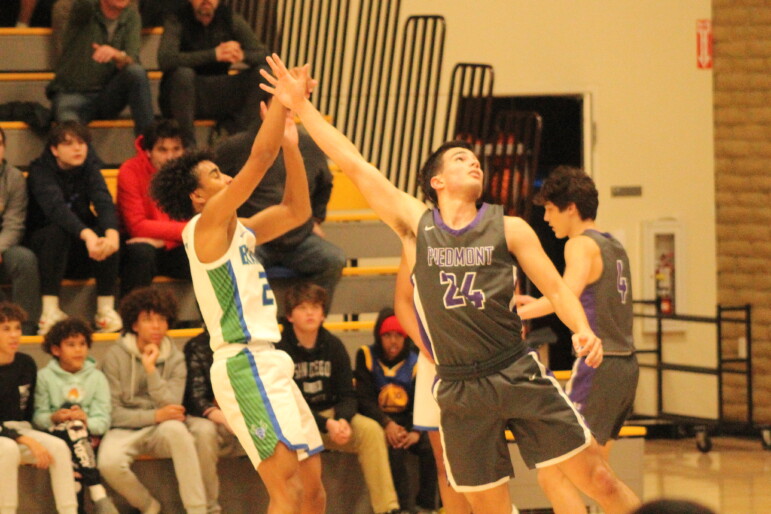 "Second quarter, we knew we had to key in defensively," Carr said. "Once we keyed together three or four stops, we know our offense flows. Defense leads to offense, so once we got some stops, we were flowing offensively."
And Carr's impressive shooting?
"I saw one go down early so that helped my momentum and then the basket widens from there," he said.
The Bulls won the boards, 40-29, and were terrific with their interior passing.
"They got in the lane, they found their guys," Spencer said. "They were just more aggressive."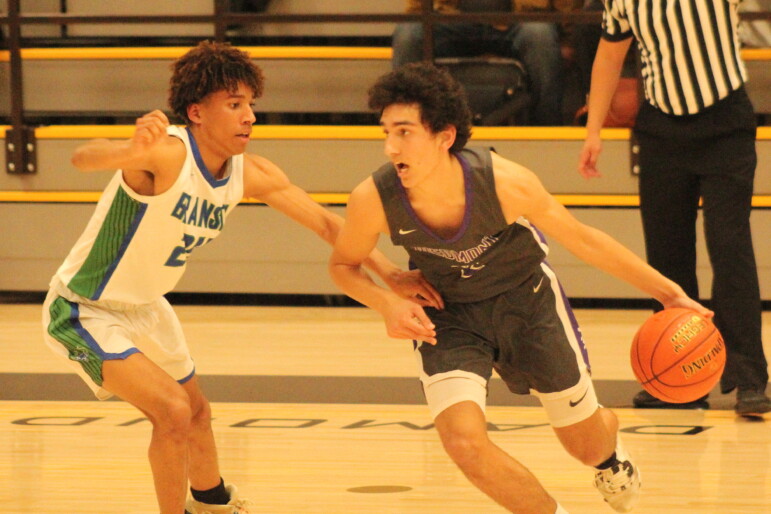 Spencer was optimistic because his team played so well in a 59-38 win over Analy at Binks Gymnasium on Feb. 17. Harris scored 37 points to become the all-time boys scoring leader at Piedmont. Brit Burden had 11 points and 15 rebounds in the win. Gavin Reid led the Tigers with 10.
"We executed our game plan again, which is what you want to do in the playoffs," Spencer said.
Harris finished his Piedmont career with 1,570 points.
"It means a lot," he said. "There are a lot of great players that came through Piedmont. It definitely means a lot to have my name in the record books like that. But it only means so much, obviously I would much rather have an NCS championship. But what can you do?"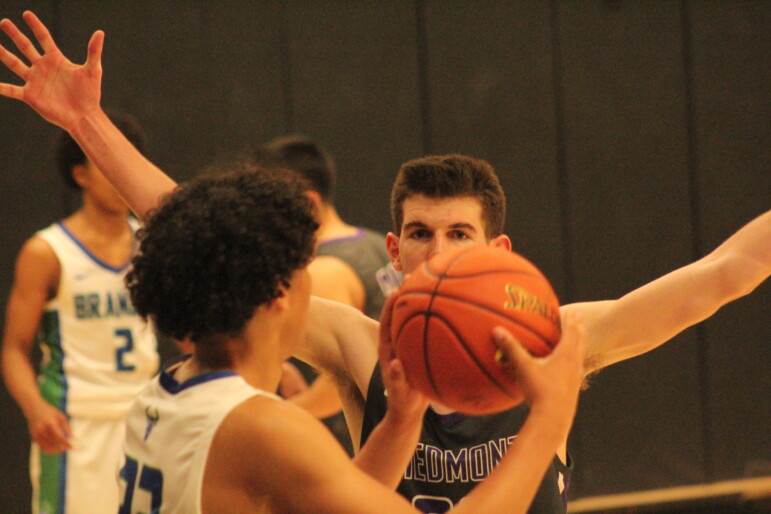 The Highlanders graduated seven seniors last year, but with Harris returning and junior Brit Burden stepping into a more prominent role, the team figured to be good, if a bit of a question mark. One thing Spencer expected to happen was players beyond Harris raining down 3-pointers on the opposition.
That didn't happen. Instead, Piedmont relied on defense and rebounding to create fastbreak opportunities. The Highlanders' athleticism was better than most of its opposition. However, when a team could match or surpass that athleticism, Piedmont needed those outside shots to fall.
Both teams struggled in the early going in the semifinals, as they combined to miss the first 11 shots of the game. Branson then got it going. The Highlanders never did. When halftime came, Piedmont was seven of 26 from the floor. Outside of Harris (10 of 25 on the night), the Highlanders were four of 31 (13 percent) shooting. The Bulls shot 15 of 33 from 2-point and six of 12 from 3-point range for the game.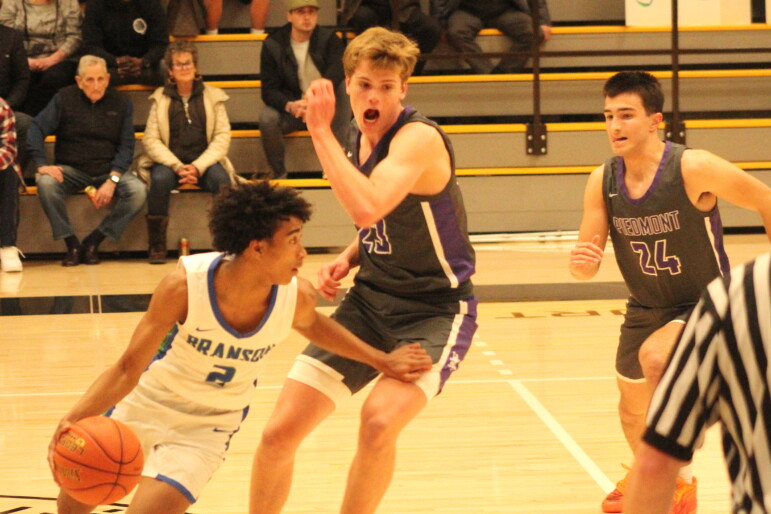 "I thought we were going to be better shooters this year," Spencer said. "We worked hard in practice, we make them in practice, we do a lot of shooting. You kind of are who you are, but we were hoping tonight, all the misses we had this year, we were hoping that tonight we would make them."
The end comes suddenly in high school playoffs. Branson and Pinole Valley are the automatic qualifiers to the California Interscholastic Federation tournament out of Division 3. One wild card berth goes to the highest seed remaining in Divisions 1-3 and it will go to California, which was the third seed in Division 1. Piedmont was the fourth seed in Division 3.
"We've done a lot this season," Harris said. "The whole team worked really hard, did everything we could. We showed a lot of people that we're a really good basketball team. Branson was obviously really good and we weren't able to get it done. We had a great season and I'm proud of all the guys.
"It's bigger than just basketball, it's a family. We're together on and off the court throughout the whole season and it's tough when it just comes to an end like this, but it will be family forever."
Photos by Damin Esper