Saturday's drizzly rain did not deter Girls Riding Together (GRiT) as 35 girls, female coaches, and moms from Piedmont and Oakland joined together to ride in the dirt, work on skills and have fun. There were over 30 attendees, with a wide range of ages from middle school to high school from multiple East Bay schools.
Heather Stoneman, co-captain of the Piedmont MTB Team led planning of the event and gathered girls from all ride levels to ride at Joaquin Miller Park. Heather is the co-captain of the Piedmont High School mountain bike team, and Heather was chosen by the Norcal league as a GRiT Ambassador this year. This role involves encouraging more girls to try the sport of mountain biking. One of her roles is to host GRiT rides, and Heather coordinated many adult coaches from different East Bay mountain bike teams to successfully put this event on.
The event was a big success. "That was so much fun. I LOVED seeing all of those girls out on the trails!" said Katrina Rapa, Oakland DEVO coach.
The Piedmont High School mountain bike team's first race of the season will be in Modesto on Saturday, Feb. 18, and the Piedmont DEVO team will race on Sunday, Feb. 19.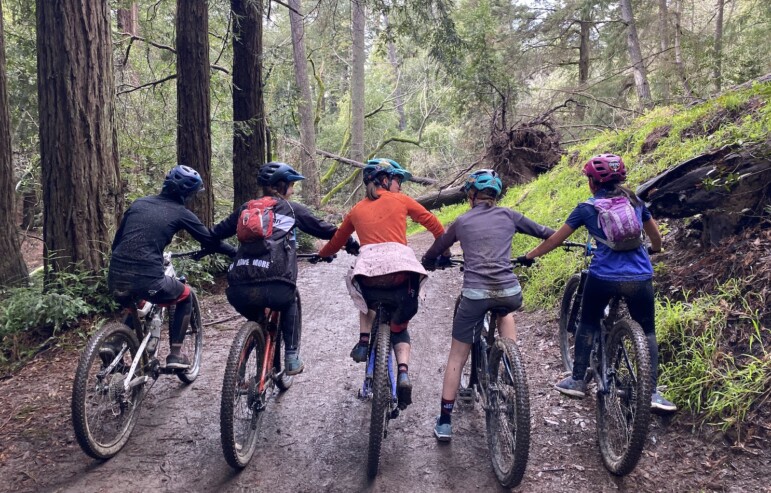 In addition, the Piedmont High School team is currently running an "Everest Challenge" fundraiser where team riders are challenged to ride 29,000 feet in the month of February. You can support them at www.pledgeit.org/phs-mtb-everest-challenge.
Girls were encouraged to join their local teams if they were interested in continuing mountain bike riding. Piedmont DEVO, the Piedmont Middle School team, is still accepting new riders, both boys and girls. Visit https://piedmontdevo.com/ to learn more and sign up.