We're halfway through February with still so much to do for Black History Month. Gear up and attend Local Lit events that celebrate the contributions and achievements of Black Americans and people of the African Diaspora, along with this month's top author appearances held at three of the area's popular independent bookstores.

Selections from Black History Month at Oakland Public Library (Main Branch) and the African American Museum and Library at Oakland (AAMLO at 81st Avenue Branch) | February 2023
Take in a quilt exhibit: Start off with a visit to the AAMLO to view The Passing of Hands: The Quilts of Marlene Buckley. Open all day during regular hours, the beautifully handcrafted quilts of Oakland's own Marlene Buckley are a perfect introduction to a tradition Buckley connects to her daughter and grandchildren, who "inspire her to quilt and create memories of warmth and comfort." Showing until Mar. 5.
Join a Tour of AAMLO on Feb. 18 (and many Saturdays following). Held from noon to 1 p.m., the tour invites visitors to learn about the specialized focus of the non-lending library and see selected highlights from the archives. Journey of Promise, created by painter Daniel Galvez and quilt artist Patricia Montgomery tells the story of Black Americans in Oakland. A synopses of the long-term and short-term exhibitions on view allows visitors to embark on self-guided tours of the installations. The AAMLO tour is conducted by staff member Marco Frazier.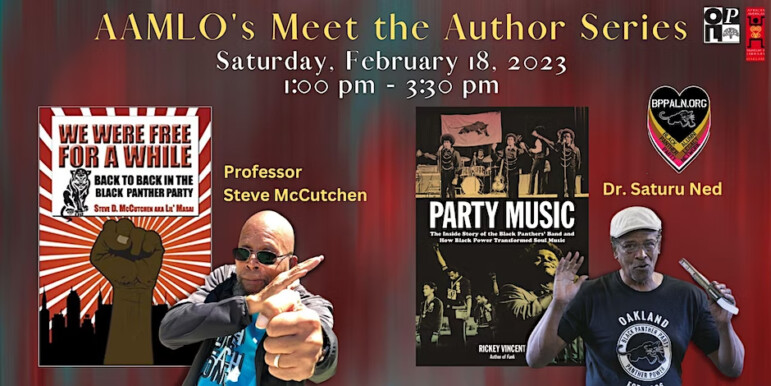 Meet the Authors: Gather to celebrate the work of Professor Steve McCutchen & Dr. Saturu Ned on Feb.18 from 1-3:30 p.m. AAMLO's back-to-back Meet the Author Series presents award-winning poet and professor Steve McCutchen, author of We Were Free for Awhile, as he reflects on his life as a member of the Black Panther Party. 

During the second hour, Dr. Saturu Ned, a member of the Black Panther Party's singing group The Lumpen, offers excerpts from Party Music, a book written by Rickey Vincent about the previously untold story of The Lumpen and its influence on the Black Power Movement. Book signings follow.

Reserve a spot and learn more HERE.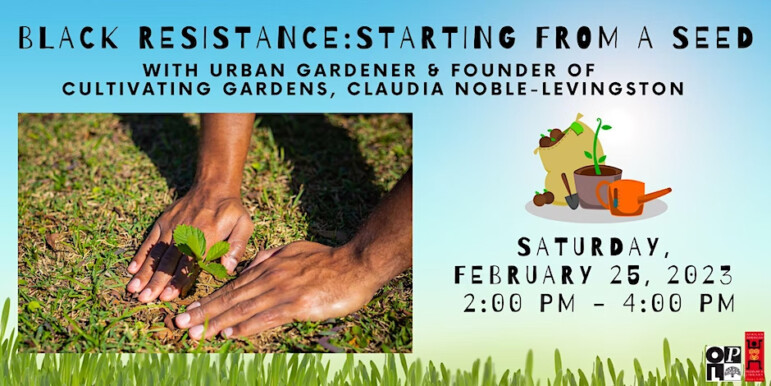 Plant the first seed: Attend Black Resistance: Starting from a Seed. The two-hour hands-on workshop is a collaboration between Urban Gardener and founder of Cultivating Gardens, Claudia Noble-Levingston, and the AAMLO Seed Lending Library. Noble-Levingston is a third-generation land steward with ancestral Southern roots in Louisiana. Her family legacy includes reconnecting to the soil and the foods of her ancestors in contemporary times. Reserve a spot and learn MORE.
Witness the range and relevance of the African Diaspora: At the main branch, there is the Black Culture Fest: A Celebration of the African Diaspora is an annual Oakland Public Library effort, now in its fourth year. Black OPL staff curate the program and share with pride the brilliance and strength of Black heritages. Another offering, Exhibit: The Black Press in Oakland, runs though March 31 and provides an overview of Black newspapers and Black journalists in and around Oakland, from the 1860s to modern day. Inclusive of photographs, artifacts, and original newspapers, the exhibit is co-curated by the Oakland History Center and the Magazine & Newspaper Room at the Main Library.
Visit oaklandlibrary.org/black-culture-fest/ to learn more.
---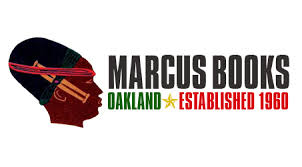 Marcus Books | February 2023
Black History Month should rarely pass by without a visit to the nation's oldest Black independent bookstore founded in 1960 by Drs. Raye and Julian Richardson. Named after political activist and author Marcus Garvey, Marcus Books advocated for Black history, exchange, and self-knowledge. They published now canonical books and work by independent authors, poets, and artists.
The bookstore has become a literary and cultural hallmark that has hosted authors of renown including Toni Morrison, Rosa Parks, Muhammad Ali, Maya Angelou, Walter Mosley, Angela Davis, Terry McMillan, and many more.
This month, two special live, in-person author appearances are not-to-miss occasions: Ben Jealous on Feb. 19 visits with his new book, Never Forget Our People Were Always Free: A Parable of American History. Jealous is one of the nation's most prominent civil rights leaders, the youngest ever elected National NAACP President and the first person of color to serve as Executive Director of Sierra Club. Currently a University of Pennsylvania Professor of Practice teaching Leadership and Racial Justice, his memoir traces a path to healing America's broken heart that begins with individual responsibility and self-care. Learn MORE.
On Feb. 26, Walter Mosley arrives with his highly anticipated sequel, Every Man a King: A King Oliver Novel. Joe King Oliver looks into the connections between white nationalists, Russians, and high finance while working on a new case. All events are free. Seating is first come, first served. Masks are required at all events. Learn MORE.
Events are free | 3900 Martin L King Jr Way, Oakland | https://www.marcusbooks.com/
---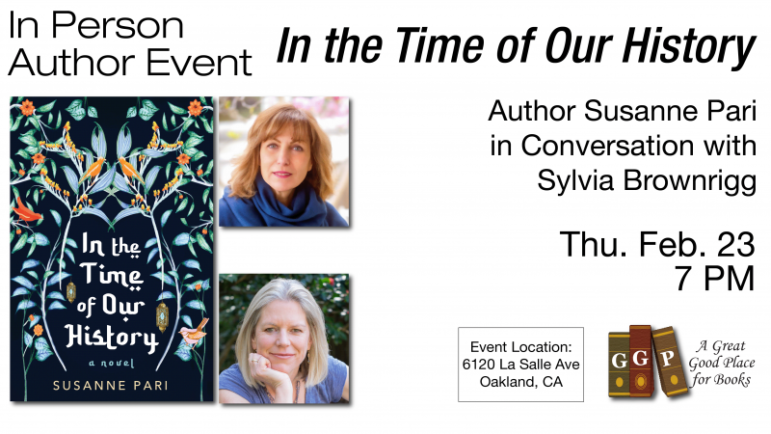 Great Good Place for Books, Susanne Pari | Feb. 23 at 7 p.m.
Join author Susanne Pari in conversation with author Sylvia Brownrigg to discuss Pari's new book, IN THE TIME OF OUR HISTORY. Pari is an Iranian-American novelist, journalist, essayist, and book reviewer who lives in Northern California and New York. Berkeley-based Brownrigg is the author of seven works of fiction (The Delivery Room, Ten Women Who Shook the World, a middle-grade novel, Kepler's Dream, published under the name Juliet Bell and turned into an independent film, and others). She has written reviews for publications such as the NY Times, LA Times, and the Guardian. In the Time of Our History is an interwoven story of mothers, daughters, Persian poetry and history, family secrets and lies, first-generation immigrants and duty, rebellion, and community.
Learn MORE | www.ggpbooks.com
---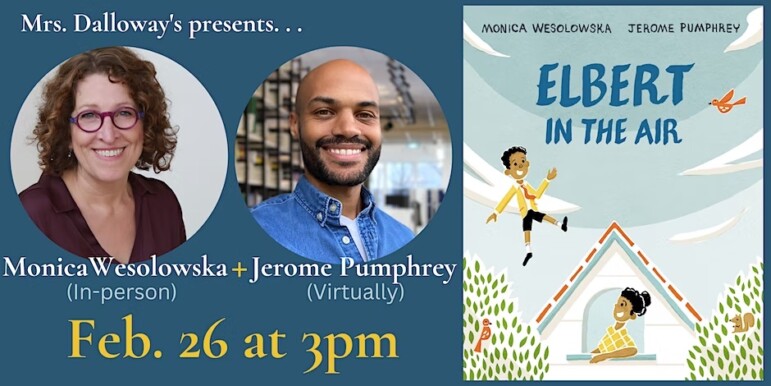 Mrs. Dalloway's: Monica Wesolowska and Jerome Pumphrey | Feb. 26 at 2 p.m.
Co-authors Monica Wesolowska (in-person) and Jerome Pumphrey (virtual) appear in this hybrid presentation of their new book, Elbert in The Air, a story about unconditional love and rising above people who stand in the way of being who you are. When Elbert floats up into the air, his mother stands on tiptoes to reach him and engage in "toss-the-toys" during playtime. Everyone in town offers advice for adding gravity to lower Elbert, but his mother lets him enjoy his passion for flying free. Ultimately, Elbert has a choice: stay ground-bound or float higher in hope of discovering the community of his dreams.
Wesolowska is the author of the memoir Holding Silvan: A Brief Life and the picture book Leo + Lea. She teaches creative writing at UC Berkeley Extension and Stanford Continuing Studies and lives in Berkeley with her husband and two boys. Pumphrey is a designer, illustrator, and writer. He is a graphic designer at The Walt Disney Company where he uses design and illustration to visually tell stories in print, digital, and immersive experiences for Disney global business development. Together with his brother, Jarrett, Jerome is a creator multiple books, including The Old Truck, The Old Boat, and Creepy Things Are Scaring Me.
Free but pre-registration is required | Due to space limitations, early registration is encouraged | www.mrsdalloways.com/