Injustice. Guns. Mourning. Climate change. COVID-19. Healing.
Los Angeles artist Cara Levine ties them together at San Francisco's Contemporary Jewish Museum in a solo exhibit apt to touch — and disturb — many people.
"Cara Levine: To Survive I Need You to Survive," on view Feb. 16 through July 30, is intended "to deepen awareness of injustice and inequity, create space for communal grief and mourning, and encourage informed action."
Using video, sculpture and installations, Levine, 39, explores systemic racism, anti-Semitism, climate change and the ongoing trauma of the pandemic. The exhibition is trifurcated.
The most prominent part is "This Is Not a Gun," an ongoing work created in 2016 in collaboration with activists "to grieve victims of police violence and share their stories." It consists of wood carvings that Levine and community members made of objects civilians carried that police claimed to mistake for guns. The work stemmed from a list of 23 items mentioned in a Harper's Magazine article called "Trigger Warning."
The CJM issued a statement in connection with the work: "While this exhibit has been long planned, we recognize that it is opening against the backdrop of the recent acts of egregious police brutality and gun violence, the most recent in a long line of tragic and horrific instances of senseless violence in our country."
Grief is a crucial component, too, of "Carve: The Mystic Is Nourished from This Sphere," a kindred segment of the exhibit curated by Qianjin Montoya, CJM assistant curator. The site-specific installation created for the museum takes the form of a hole carved into the gallery space.
In the week before the exhibit's opening, Levine has been etching into the hole notes of grief submitted by the public. Throughout the run, she'll do more. The hole serves as a starting point for a symbolic adaptation of the practice of shiva, the seven-day mourning period in Judaism following the death of a loved one.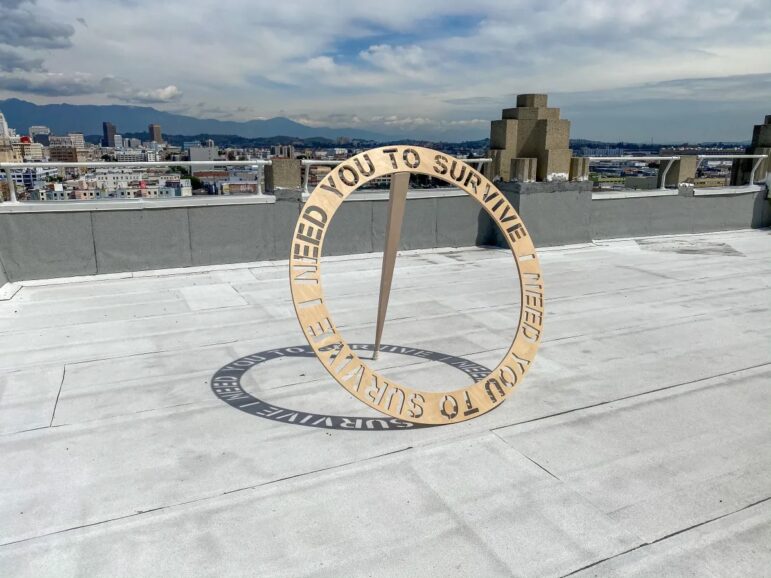 The title part of the exhibit is a large-scale sculpture created in response to mass 2018 shootings at the Tree of Life Synagogue in Pittsburgh, Pennsylvania, and the Marshall County High School in Benton, Kentucky.
It was inspired by communal grieving in an interfaith service that featured collective singing of Hezekiah Walker's gospel melody "I Need You to Survive." Lyrics included:
"I need you, you need me
"We're all a part of God's body…
"You are important to me, I need you to survive."
Regarding "This Is Not a Gun," the artist — who earned a bachelor of fine arts degree from the University of Michigan and a master of fine arts degree from the California College of the Arts in San Francisco — said the list of objects in the magazine story gave no context for the killings, leaving her feeling empty, powerless and angry. "So, I set out to meticulously carve each object from wood as an act of prayer, respect and remembrance," she said.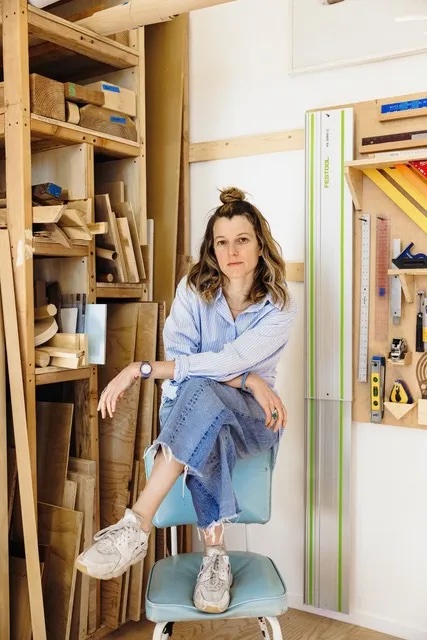 She partnered with local people of color, artists, activists and healers focused on race equity, and began holding collaborative workshops.
Levine, whose workhas been presented in solo and group exhibitions and participatory events in San Francisco, Los Angeles, New York, Anchorage, Tel Aviv and Kyoto, received pushback after previous incarnations of "This Is Not a Gun." That, she said, was "about being a white woman and what do I know about police brutality, and that's a fair criticism."
However, she added, "Though I'm the founder, it's been a vastly collaborative project…[TINAG] is about … something you can take away and share with your loved ones. … investigate your own biases. We begin with a conversation around a table, and bring it further outward and further outward and further outward."
Levine, an adjunct associate professor at the Otis College of Art and Design in Los Angeles, also links chronic pain and disability with her artistic endeavors. In part, it's because she suffered for two decades after tearing a tendon in her left ankle and spending four years trying everything but an operation. "By the time I had my first surgery [of two]," she laments, "the tendon had completely shredded."
A portion of her pain has also been debilitating migraines. Her online statement of research laments that her "pain is not only physical, but part of my life-path — a constant opponent."
But a nine-month internship with Nurturing Independence Through Artistic Development (NIAD) art center in Richmond more than 20 years ago helped her cope. She remembers her first day, when a blind artist walked by her and proclaimed, "Oh yeah, I used to be a butterfly."
That opened her up. She said, "I felt a kinship with her. I'd felt like an outsider as a child, having had a mother who was sick a lot and brothers with whom I fought a lot, so I spent a lot of time making up games and stories. I felt a familiarity. You are expressing things I've been told not to express but that are in me too."
In considering how Jewishness informs her work, she said, "I've been fortunate to be raised by parents who exposed me to the privilege I was raised in and how that contrasted to the inequities in our society. [I also was taught that being] part of a people who have escaped from slavery and who have spent generations being persecuted meant an interest in social justice with a priority, a focus on caring for the whole world."
A high school teacher jumpstarted an interest in art for Levine, who said she identifies as queer although she currently has a male partner.
She fell in love with clay. Now, she said, "It's important for me to make things as a sculptor. The handmade process gives me a connection to the work that's important to the subject matter."
In 2021, in an interview on the ThisIsColossal website, she said, "When Trump was elected, it compounded a lot of the fears I had. … I was having nightmares all the time. …I felt like [marginalized people were] going to be exterminated in a really disgusting way—immigrants, disabled people, women, trans folks, people of color, like everybody now was having to protect themselves like their lives were on the line."
Then came the Harper's article. And she was motivated.
Levine said she hopes the CJM exhibit "can transcend the woke mentality. I think everybody experiences the blahs. This exhibit hones in on shared suffering."
"Cara Levine: To Survive I Need You to Survive" opens with a free reception from 5 to 8 p.m. Feb. 16 at the Contemporary Jewish Museum, 738 Mission St., San Francisco. Registration is required; visit rsvp@thecjm.org or call (415) 655-7824. Tickets to the exhibition, which runs through July 30, are $14-$16; free for ages 18 and under. Go to thecjm.org or call (415) 655-7800.
A free "This Is Not a Gun" workshop at 2 p.m. April 22 at the CJM features Levine and Angela Hennessy, an Oakland artist and a survivor of gun violence. Participants will create replicas in clay of objects mistaken for guns that will be added to an archive of more than 300 objects.