A SMALL GROUP of climbers from across the country joined local elite climbers in Berkeley earlier this month to compete at a new indoor climbing gym.
The Telegraph Turnup was the name given to the competition at Mosaic Boulders, which is the latest addition to the East Bay's growing repertoire of indoor climbing facilities. Mosaic opened on Telegraph Avenue last fall.
The competition, which took place from Feb. 9-12, was Mosaic's first, and participants included Olympic medalists and local collegiate athletes. Olympic climbers Kyra Condie, Nathaniel Coleman and Chris Cosser flew in to attend. University of Utah climber Sophia Hoermann and elite Bay Area climbers Colin Wills and Ross Fulkerson were also there. In an interview before the competition, Olympic medalist Coleman said that he hadn't done a local competition in "what feels like forever. … I'm psyched to … just have fun and not really go for any result and just climb on some sick boulders."
"I'm really excited to see the gym … the community is what makes a climbing gym cool," Condie said.
Condie is an Olympic-qualifying climber who uses her platform to inspire young athletes, especially those with health challenges. Condie had scoliosis as a child and has reached a high level of climbing despite having a fused spine.
"Just being a professional athlete comes with a lot of responsibility," Condie said. "It's a way to show people what's possible after something major like that happening."
Despite the presence of top competitors, Mosaic gym owner Michael Heinstein emphasized the benefits of climbing go far beyond winning competitions.
"The majority of what we're doing is pretty unserious," Heinstein said in an interview. "It's not so much about beating other people but also trying hard. … One thing that climbing teaches you is trying hard."
Heinstein was born and raised in Berkeley, and he opened the gym with the goal of bringing climbing closer to Cal students.
"Many young people today feel like they have to be so career focused or achievement focused … climbing and things like it are really important for a happy life," Heinstein said.
The gym has made an impression in the Berkeley community due to its innovative pricing strategy, small size and proximity to campus. One of Heinstein's priorities was making climbing as accessible as possible to young people. Having now brought nearly 5,000 new young climbers to the scene, Heinstein said he felt that he'd succeeded. But if Heinstein's emphasis was not entirely on competition, the small gym was still packed to the brim with spectators and climbers alike for the finals on Feb. 12.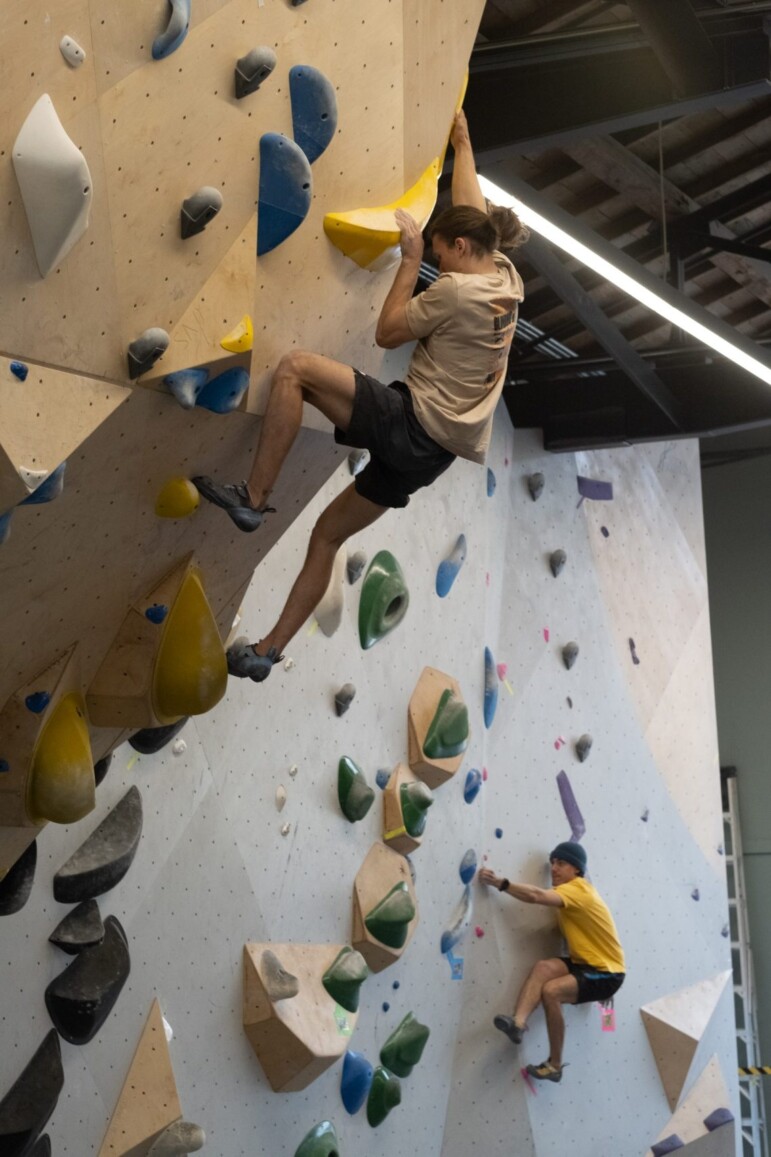 Tatum Luoma, who works at Mosaic, helped emcee the event.
"It's the most exhilarating thing ever," Luoma said. "I've looked up to these people for years, and now I'm standing and saying their names for them… it's just insane."
As the finalists attempted to finish their routes, many found the boulders difficult. Coleman, who was the only male competitor to top the first boulder, said: "The boulders were really hard … super energetic crowd though, good music, small venue … everything I love about a competition."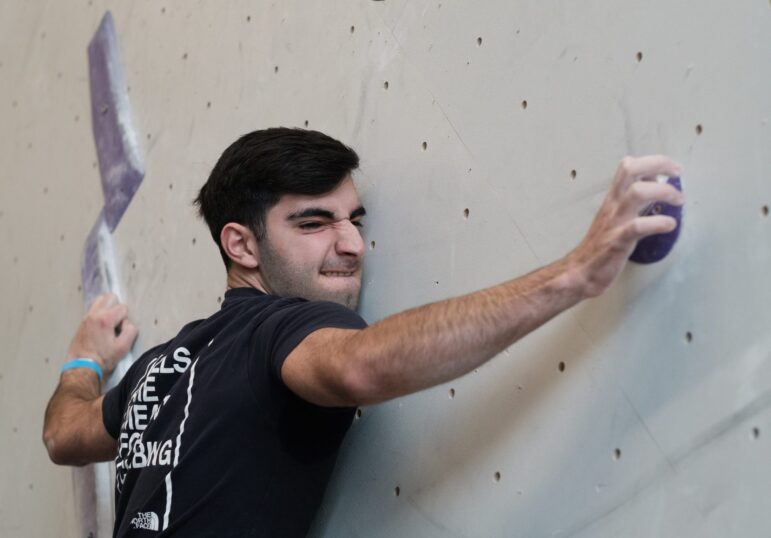 Local climber Colin Wills agreed. "The boulders were brutal … I got wrecked but in the best possible way."
Coleman and Condie took first place in the men and women's categories, respectively. The rest of the results for the competition can be found on Mosaic Boulders' Instagram page, @mosaicboulders.
And the finalists left the competition in good spirits.
"Results weren't really on my mind for this comp; it was more just showing up for the vibes and having fun," Wills said.