At 79, noted Chicana artist and Bay Area native Amalia Mesa-Bains is having her first retrospective in a large, comprehensive exhibition at the Berkeley Art Museum and Pacific Film Archive.
Covering three decades of her work, "Amalia Mesa-Bains: Archaeology of Memory" reveals the range of the artist's multimedia installations, which address both deeply personal memories and larger social issues involving ethnicity and gender. Fourteen large installations are on view, along with a number of the artist's prints and seven of her books.
Described by curators Laura Elisa Pérez and María Esther Fernández as a "towering figure" in Chicanx and Pan-Latin American art, Mesa-Bains' opus includes altar installations that reflect her interest in Mexican Indigenous traditions as well as reference memories and retrieve lost histories.
"The Curandera's Botanica" includes a laboratory table and cabinets holding family photographs, traditional medicines or healing items the artist explored following a traffic accident in France that left her incapacitated for some time. An imposing poster of the Eiffel Tower signals the spot where Mesa-Bains was severely injured; the table and cabinets filled with unfamiliar items reveal the paths that she took through traditional cures to heal herself. The floor surrounding the cabinets is speckled with dried lavender, one of several sources of scents within the galleries.
As Mesa-Bains defines her art, narrative is at its base, be it personal, familial, social or political.
"Transparent Migrations," for example, dating from 2001, is a mixed-media installation centering on a painted mirrored armoire which holds a gauzy dress and a lace mantilla. On the shattered glass surrounding it are two intricately worked glass plants, resembling agaves. The arrangement is evocative, implicitly personal, capturing a moment and evoking a bolt of memory in a landscape that evades description.
Early in the exhibition, installations from the Venus Envy series contain ephemera relating to religious sentiment, holy communion and the clothing and jewelry that evoke childhood religious emotions. Armoires and dressing tables appear again in other installations in the Venus Envy series, including in "The Virgin Garden."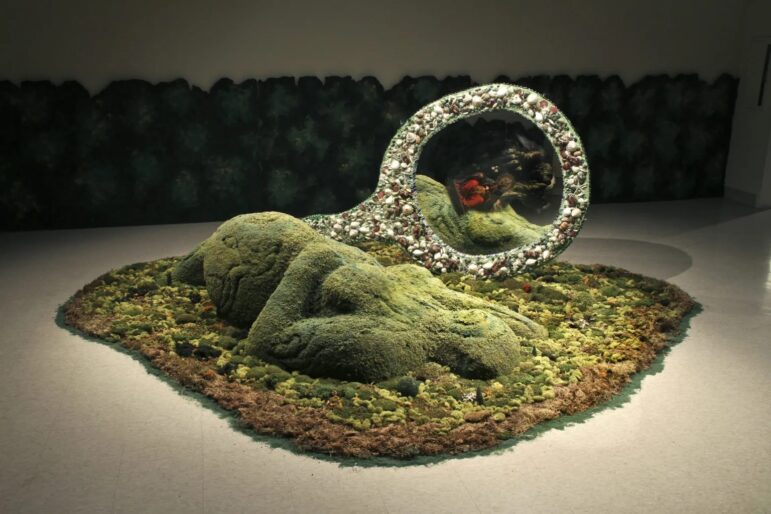 Several works on view address migration issues, including "What the River Gave to Me," a stunning installation depicting a hand-painted landscape, parted by hand-blown engraved glass rocks on a bed of crushed glass, ending in a pattern of candles. It suggests a landscape which is as beautiful as it is self-contained to those who attempt to enter it.
"Cihuataeotl with Mirror in Private Landscape and Public Territories" is an installation centered on a giant, recumbent moss-covered, very large Styrofoam female figure on a plush carpet of grass and flowers, gazing into large oval mirror bordered by various seashells. The mood is sensuous, welcoming, mysterious.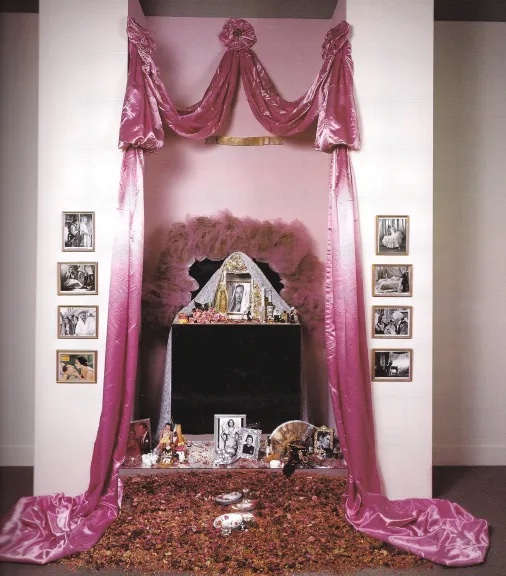 So too is the ofrenda to Dolores del Rio, the Mexican and American actor whose charm and beauty brought her international fame. The altar is unabashedly feminine in its fabrics and bounty; it is brightly colored and filled with photographs of the star. Its surface is also full of mirrors, incorporating the viewer into the ofrenda.
"Amalia Mesa-Bains: Archaeology of Memory" continues through July 23 at the Berkeley Art Museum and Pacific Film Archive, 2155 Center St., Berkeley. Admission is $12-$15. Visit bampfa.org.