Satya's not new here.
Born and raised in Oakland, the singer-songwriter-producer's shows at the New Parish in January and Hardly Strictly Bluegrass in October were something of a homecoming.
After graduating high school, Satya moved to New Orleans, where she spent much of the pandemic. Now she's bringing the music she wrote in Louisiana back to the Bay.
Following touring along the road home, Satya (whose last name is Hawley) played Oakland's New Parish on Jan. 28 for the second time in her career. It was a full circle moment for the musician, who grew up going to shows at the venue.
"With a lot of these experiences, I still kind of can't believe it, because, you know, I used to go to the New Parish all the time in high school and see some of my favorite artists—I actually saw Thundercat there!" she says.
Now she's on the other side of the curtain, including opening for Thundercat at the venue in 2021.
As the live music scene continues to recover from the pandemic, the 22-year-old musician's breezy, lyrical sound caught the attention of venue bookers here in the Bay and elsewhere.
She's gearing up to play at SF Jazz in a co-presentation with the Noise Pop Festival on Feb. 26, promoting her 2022 EP "Deep Blue" and the single "Checker Print Kitchen" before embarking on a tour that will end with the Atlanta Jazz Festival in May.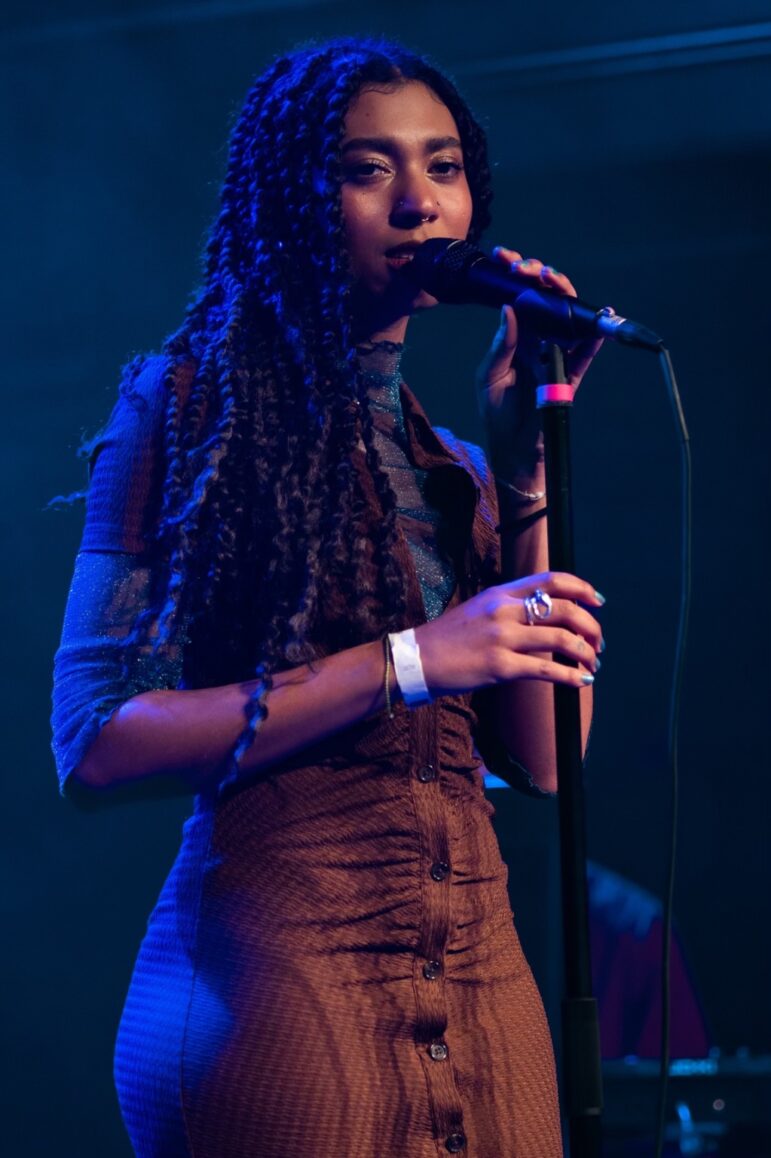 Satya—whose influences include India.Arie, Goapele, Mazzy Star, Corinne Bailey-Rae and Prince—is not really a jazz artist, however.
Asked to describe her music, she says, "I kind of immediately gravitate towards saying soul or R&B stuff because like I feel like there are like little hints of that. But I also feel like a lot of my music can be very folky and very indie. And I mean, some of the newer stuff I'm making is more like alternative rock."
She adds, "Being a Black artist, I feel like a lot of times, that's why I would kind of gravitate towards saying I do soul, because that's more digestible to people. But I don't really think I have a genre. I kind of am like, whatever, like, sounds good! And if I want to write a rock album one day, I will do that."
Satya's songwriting process often begins with pulling lyrics from poems and journals. Describing her first project, 2020's "Flourish against Fracture," she says, "Those were all songs that I wrote first, so like just me and my guitar, and then brought to a producer."
The pandemic was a complicated time for her. While the sudden absence of shows was, of course, a hurdle for her career, she also got used to working solo: "I wasn't meeting with anybody in person or playing live with people, so everything I was writing, I was writing for myself, and then I would record it and send it off."
Laughing, she says the privacy made her shyer about writing with others. Despite that, her work has become increasingly collaborative. She finds it "very healing" to make and perform music with other people.
The intimate, personal nature of her songwriting process comes across in final versions; and lyrics on tracks such as "Checker Print Kitchen" seem to evoke specific memories of an East Bay childhood.
Her second biggest song is the Bay Area-themed "Oakland."
Growing up singing in choirs and attending Oakland School for the Arts, Satya credits "the funky environment of the Bay" with shaping her music. She says the energy and culture of the East Bay are things she holds on to as she travels and notes that New Orleans has a similar funky vibe as her hometown.
Satya, who moved back to Oakland in August, hopes to continue visiting New Orleans. But she's looking forward to a Bay Area summer and her upcoming shows.
"I'm just excited to see how far I can go with music, because this has already brought me so many opportunities, and I've met such beautiful people, just through sticking to what I love."
Her experience has been tempered by the pandemic, too. Laughing, she says, "Yeah, s— has been rocky as hell. It just solidifies how grateful I am for this."
Satya appears at 6 and 7:30 p.m. Feb. 26 at SF Jazz, 201 Franklin St., San Francisco. Tickets are $25-$30. Visit sfjazz.org.