"Natasha, Pierre & the Great Comet of 1812" is an explosive musical celebration with a plot borrowed from none other than "War and Peace" — yes, Tolstoy's thousand-plus-page novel that has been ritually avoided on college book lists for generations. The Shotgun Players production has been so enthusiastically received, it's been extended and re-extended to Feb. 25 at the Ashby Stage in Berkeley.
Audiences are whisked on sounds of accordion, oboe, strings and keyboards to a 19th century Russian nightclub where the Tolstoyan plot plays out: Pierre, son of a nobleman, drinks his depression down before he gets busy and fixes all the problems. Countess Natasha yearns for Andrey, who is far away on the battlefield, yet finds it easy to fall for the scurrilous Anatole, brother of Pierre's loosely principled wife Helene. Others fall in and out as the dancing starts and the vodka flows.
The show was first staged off-off-Broadway in 2012; its later staging on Broadway won 12 Tony nominations. Composer Dave Malloy's rich score is eclectic and electric, and filled with memorable songs that focus on everything from Russian culture to intimate feelings between the characters. Malloy has history with the Players; among other works he wrote "Beowulf: A Thousand Years of Baggage," a prize-winning play that went from the Ashby Stage to off-Broadway in New York, and "Beardo."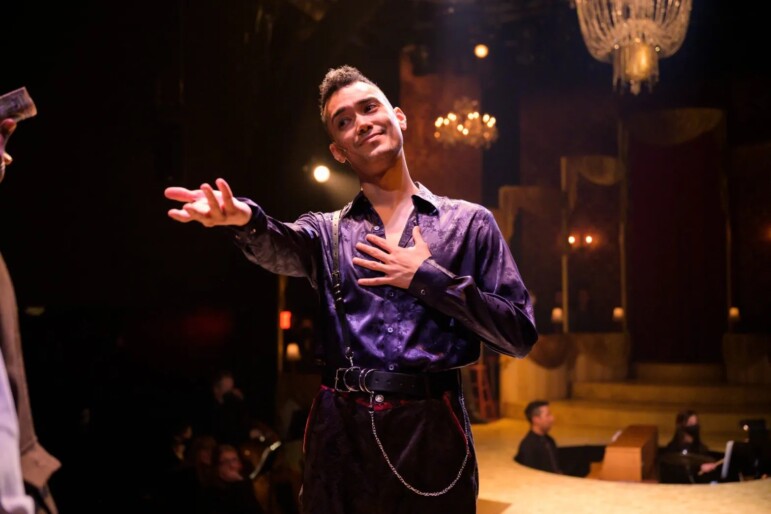 The place is Moscow, the time 1812, just before Napoleon invaded Russia. The Shotgun Players team (Nina Ball's sets) has done a remarkable job of transforming the proscenium stage into a 19th century Russian nightclub where all the players roam the aisles and drop into the lavish boxes to mingle with the audience. If there is a slight dramatic slowdown in Act 2, the larky first act more than compensates.
It is immersive theater that works, giddyingly directed and choreographed by Patrick Dooley and Erin Mei-Ling Stuart, and with Daniel Alley leading the finely tuned ensemble from a piano embedded in the dance floor. Jasmine Milan Williams' period costumes are appropriately decadent and lavished with sequins and sparkles, and Weili Shi creates magic with the lights.
Jacqueline Dennis handles the role of Natasha with lovely lyric high notes and dramatic sweetness, and Angel Adedokun is her vocal counterpart, singing with amber tones and dancing vibrantly as Pierre's devilish wife Helene. Steven Hess is the gravelly voiced, downhearted and eventually heroic Pierre in a theatrically intense performance, and Nick Rodrigues is dashing as the tempting lover Anatole. Veronica Renner and Marla Cox are winning in the roles of Natasha's cousin Sonya and her godmother.
The last Great Comet will pass over the Ashby Stage on Feb. 25. The play has been aptly called "the little musical that could," and it is a show not to be missed.
"Natasha, Pierre & the Great Comet of 1812" continues through Feb. 25 at Ashby Stage, 1901 Ashby St., Berkeley. Tickets are $55-$75. Visit shotgunplayers.org.