Nationally renowned playwright Lynn Nottage has the gift of making us care deeply about her characters. Her empathy for the underclass is boundless, as we've seen in "Sweat," about factory workers in Pennsylvania; in the memorably agonizing "Ruined," where brutalized women struggle to survive in war-torn Congo; and in the turn-of-the-century "Intimate Apparel," in which an unlikely bond develops between an African-American seamstress and a Jewish immigrant.
The same is true in "Clyde's," her latest play now at Berkeley Repertory Theatre in a lavish coproduction with Huntington Theatre Company in Boston.
Set in the kitchen of a greasy spoon diner (terrific, ultra-realistic set by Wilson Chin) owned by the merciless Clyde, the comedy draws us in fairly quickly to the relationships among the staff, all of whom are ex-cons and therefore indebted to Clyde, a hard-luck case herself: Who else would hire them?
Sharp-tongued Letitia (Cyndii Johnson) is a single mother trying to stay away from her no-good man.
Good-natured goofball Rafael (Wesley Guimarães) is nuts about her.
Into the mix shambles a new hire, Jason (Louis Reyes McWilliams), with white-supremacist tattoos, an irresistible target for harassment by the all-Black staff.
The kitchen's Buddha-like Montrellous (Harold Surratt) keeps everybody as calm as possible.
Monitoring them with a gimlet eye and a cruelly taunting tongue is their savior, Clyde. "I know everything about breaking wild white horses," she hisses at the petrified Jason.
"She's cray-cray," Letitia tells Jason once Clyde is safely out of earshot.
Each character has a story to share. All ended up in prison for individual reasons (nobody's a serial killer), yet all are still prisoners in a way, unable to move forward with their lives, stuck here in Clyde's kitchen.  
As the play progresses, it's due to Nottage's careful crafting that the kitchen-bound workers become increasingly knowable and lovable—not just to us, the audience, but to each other. And it's due to her writerly talent that the characters can sound so real and yet, every now and then, are touchingly lyrical.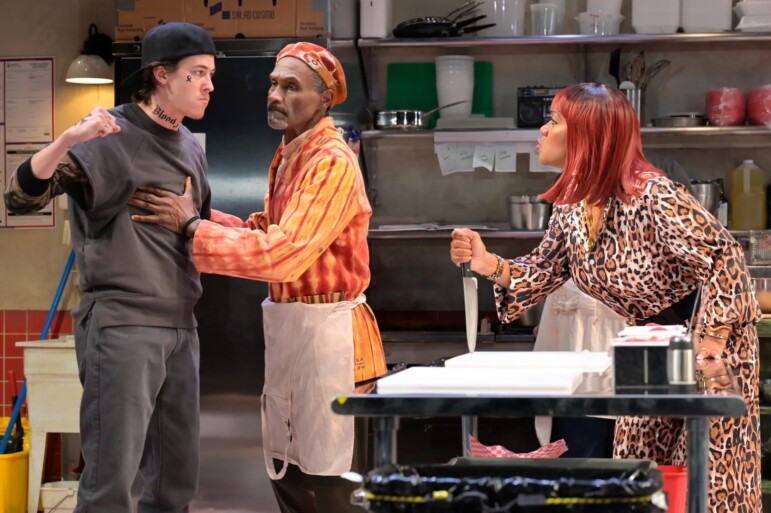 One by one, they compete to see who can create the most elaborate gourmet sandwich (in a restaurant where most patrons are likely to prefer ham and cheese on white, as Clyde points out).
Each time a character presents, with a flourish, a newly devised delicacy, their pride is charming. These are distinctive and well-drawn characters whose dreams for a better life—represented by the most worldly of meals, the sandwich—are poignant.
When Jason gasps, upon tasting Montrellous' latest masterpiece, "This is everything!" it's clear that Nottage has hit on something universal in the way we can seize upon heaven in the bleakest of situations.  
And under Taylor Reynolds' carefully choreographed direction and despite an occasional tendency, for some of the actors, to oversell the comedy, the kitchen crew is a delight.
However, April Nixon's Clyde, the wicked witch who leaves grown men trembling with fear, sashays and vamps around the kitchen in assorted wigs and clingy outfits, posing and posturing; she's a cartoon of a character, not believably scary.
Ultimately this is a sweet, feel-good comedy with a fairytale ending; its characters are likely to linger in your mind, the way Nottage's characters do.
"Clyde's" continues through Feb. 16 in Berkeley Repertory Theatre's Peets Theatre, 2025 Addison St., Berkeley; tickets are $25-$139. Call (510) 647-2949 or visit berkeleyrep.org.