Hikers and mountain bikers often love the same trails. But sometimes that love can lead to tension, like when a biker approaches without warning and a collision is narrowly avoided.
As a Scout in Piedmont Troop 15, Schuyler Sawicki knew he wanted to do his Eagle service project at nearby Joaquin Miller Park (JMP) where he loves to ride his bike and train for the Piedmont Mountain Bike Team. He approached The Friends of Joaquin Miller Park (FOJMP) for ideas, which led from fencing projects to an initiative suggested by the Bicycle Trails Council of the East Bay (BTCEB): building a bike bell kiosk. This idea struck home for Schuyler, as now he could combine his two loves, mountain biking and scouting.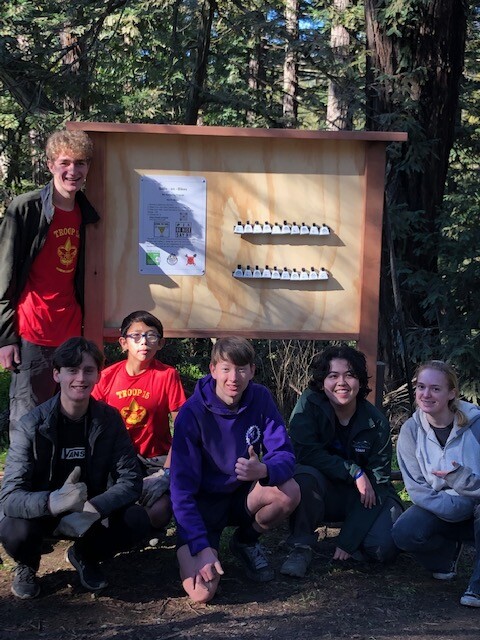 On Saturday, Jan. 21, Schuyler led a crew of Scouts and mountain bike team members in constructing two bike bell kiosks at JMP, encouraging mountain bikers to borrow and ride with one. The bike bells provide hikers with an early warning of bikers coming, so they are better prepared and ready for them to pass. By providing cyclists with the opportunity to borrow a bell, the goal of the kiosk is to increase bell usage and educate mountain bikers about their benefits. And to improve relations among all park users.
"I love it when I can hear people on bikes racing down the hill. Sharing the road is not a concept for many bikers. Thank you for providing bells for riders," marveled local hiker, Margaret Charnas.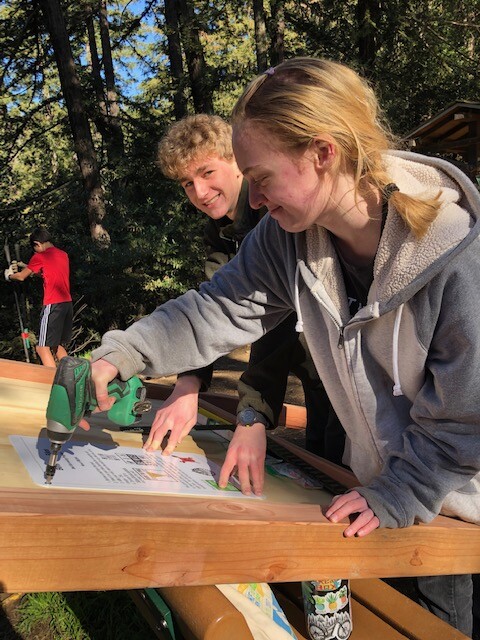 The bike bell kiosks that Schuyler and friends installed at JMP are in two locations: one is near the meadow on the approach to Sunset Trail, and the other is just off Skyline Road at the start of the Palos Colorados and Sequoia-Bayview trails. Schuyler first had to gain approval for the project by presenting it to the City of Oakland's Parks and Recreation Commission. They approved it unanimously. He then set up a GoFundMe page and raised more than his initial target in donations to pay for kiosk building materials, signs, and attachable bike bells. Many of his donors are from the Mountain Bike Community. In addition, Economy Lumber agreed to donate the kiosk materials, leaving more funds for bike bells. Bikers are asked to return the bell to the kiosk or make a donation themselves to the BTCEB to support replacement bells.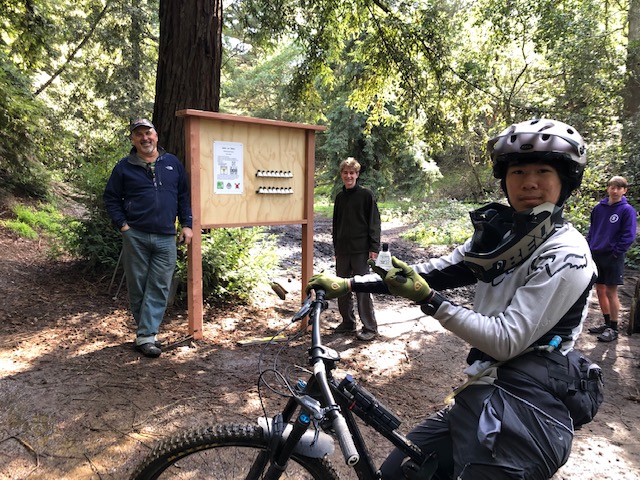 "I just want bikers to realize how much of an impact they can have in bettering the community through riding with a bell and being friendly to other trail users. I want everyone to have a good experience in the park," said Schuyler Sawicki.
We are very proud of Schuyler's work and we are excited to see how his project is received by the community.