The recent unveiling of the 15 short-form documentaries on the 95th Academy Awards short list again indicates how the Bay Area remains a hub for quality nonfiction filmmaking. At least three of the titles have Bay Area connections.
Jay Rosenblatt, a highly regarded San Francisco filmmaker and director of programming at the San Francisco Jewish Film Festival, got an Oscar nomination last year for "When We Were Bullies" (available on HBO Max). "How Do You Measure a Year?" his deeply personal and relatable account on being a father and observing his daughter grow up, is on the current short list. Available to stream on Mubi, it has a strong shot at landing among the upcoming Oscars nominations.
Another movie that made the cut and is still making the festival circuit rounds is directors Andrew Abrahams and Herb Ferrette's "American Justice on Trial: People v. Newton." It revisits Black Panther co-founder Huey Newton's 1968 murder trial, a powder keg that exposed deep-seeded racism, detailing how Newton's defense team bravely fought during their client's trial in the 1967 killing of an Oakland cop and the wounding of another. While "American Justice on Trial" is currently not streaming and there are no local screenings in the near future, perhaps that will change with an Oscar nod.
One of the most beautiful and moving titles with Bay Area ties is the award-winning "Holding Moses" by Oakland filmmakers Rivkah Beth Medow and Jen Rainin. It relates in a most candid first-person account mom Randi Rader's relationship with her son Moses, who has a rare genetic disorder and, as she describes, "essentially is missing a chunk of his 22nd chromosome in all of his cells."
The Marin County mother and her disabled son's journey wasn't easy at the start, but as this film illustrates, how a parent imagines child-rearing might be dramatically unlike what she expected. As Rader says, "It's just a matter of letting go of the child that you always think you're going to have." Once you fully embrace that, your life can grow and expand. The lovely New Yorker documentary can be viewed here: Holding Moses – Frankly Speaking Films.
Will these movies advance to the top five? Find out when the Oscar nominations are revealed Jan. 24.
---
One of the biggest finds in Bay Area theaters this week is at San Francisco's premier indie movie house, the Roxie. Antonio Giménez Rico's underseen gem of a 1983 quasi-documentary "Dressed in Blue," which was not shown outside of Spain when it was first released, screens Jan. 3, Jan. 5 and Jan. 8.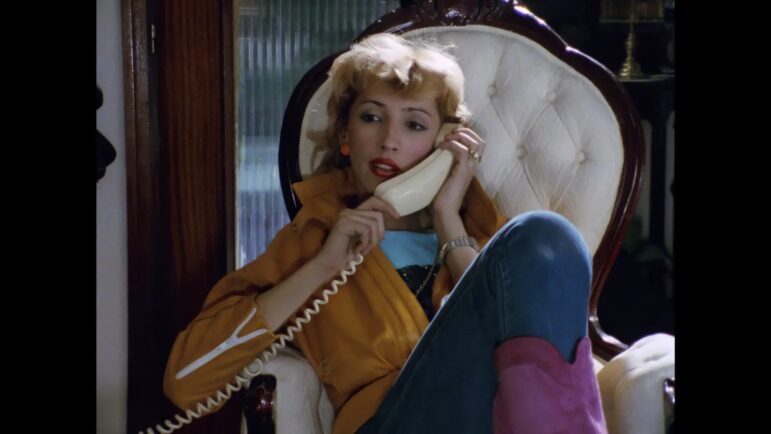 Way ahead of its time, Rico's gripping feature follows the lives of six trans women – many who work the streets – in Madrid, and it does so fondly.
A brunch gathering between this vivacious six unites intimate glimpses into the lives of Eva, Nacha, Loren, Josette, Reneé and Tamara. "Dressed in Blue" takes viewers to family gatherings, performances, intimate exchanges with boyfriends as well as other encounters, conversations and disagreements.
But be forewarned of a squirm-inducing sequence that graphically depicts a surgery. I had to turn away.
Regardless, "Dressed in Blue" serves as a powerful and alternately liberating and sobering testament to these women and to being trans. For details, visit https://www.roxie.com.