Former Piedmont High School star Mackie McDonald scored the biggest win of his professional career on January 18, defeating top-seed Rafael Nadal in the second round of the Australian Open, 6-4, 6-4, 7-5.
"In the locker room, I was like, 'Hey, that's actually really big for me because I hadn't beaten someone of that caliber,'" McDonald said in the post-match press conference. "Honestly, for me right now, which I think is good because I have matured in this sense, I don't feel like too much has changed… I'm going to keep going about how I've been doing things, I think I'm working really well with my coach. I can take some lessons away from that match. I'm grateful I had that opportunity to play on that court and play against him."
Nadal came into the match having struggled with injuries, and it was announced the next day that he would miss six-eight weeks with a hip flexor injury. Nadal had to take a medical timeout during the match with McDonald.
During the press conference, McDonald said Nadal's recent struggles did give him confidence leading into the match. Taylor Fritz had beaten Nadal at Indian Wells and Tommy Paul beat him in Paris – both of those matches came in November.
"It did," McDonald said. "I thought about Taylor taking him out. I talked to Tommy about it too last night. That definitely gave me some more confidence.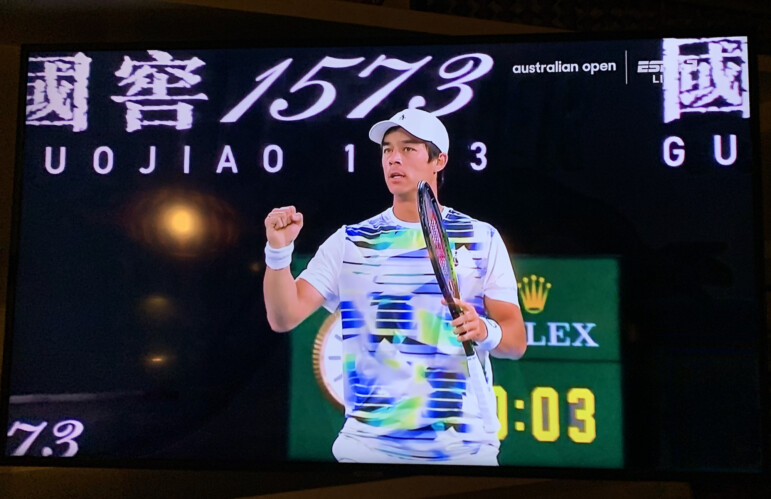 "I think today I had that belief and I kind of showed that. I took it to him. I didn't fear it this time. Last time (he faced Nadal) at the French (Open), I don't think I was quite ready to do anything against him."
McDonald said that Paul gave him a bit of a game plan that was similar to the one coach Robby Ginepri laid out.
"(Tommy's) one of my best friends," McDonald said. "He told me, 'Dude, you can do it. You've just got to believe it.'"
McDonald is 27. Current Piedmont Highlanders tennis coach Jim Landes has known him since he was a kid.
"I used to go to junior tournaments," Landes said. "And Mackie was a little prodigy. So we always knew he was going to be great."
Of the upset, Landes said, "It was great. It wasn't a complete surprise to me because he has been playing really well and Nadal has had a lot of struggles lately."
McDonald had outlasted Brandon Nakashima in the first round, 7-6 (5), 7-6 (1), 1-6, 6-7 (10), 6-4. After beating Nadal, he fell in the third round to Japan's Yoshihito Nishioka 7-6 (6), 6-3, 6-2. Since turning pro in 2016, McDonald has a 69-86 record in singles and is currently ranked No. 65 in the ATP rankings. He has earned over $3.7 million.
He rose to 57th in the rankings in 2019 before tearing a groin muscle at the French Open, where he lost a five-set battle with Nishioka. Landes said the injury, which required surgery, happened the next day in a doubles match. He played just one match in 2020 and has been working his way back since. He reached 48th in the rankings in August, 2022.
McDonald lives in Florida, but occasionally comes back to Piedmont, where his father still lives. Landes said McDonald will even come out to the Piedmont tennis courts once in a while.