Piedmont High School is looking for a new track and field coach after declining to retain Jeanine Holmlund. Highlander athletic director Bradley Smet said the school wants to go in a "new direction."
The decision came as a shock as Holmlund has led the track and cross country programs to high levels of success in her 10 years. Smet said no decision has been made on whether Holmlund will come back as cross country coach.
Holmlund said she was not given a specific reason for being let go.
"I told my team," she said. "They were sympathetic. I love my team. Did I do anything wrong? No."
Smet said, "We're looking for new direction at the head of the program. Jeanine has given so much time and work and effort into this program and I can't thank her enough for all that she has done. She has done such an amazing job. The number of athletes that she was able to get to come out and compete."
Why would the school not invite someone back who had been seemingly successful with the program?
"The reminder is we are educational-based athletics," Smet said. "Essentially winning comes second to making sure we have an environment that is inviting, is safe, a place that our athletes can come out and flourish, learning from their mistakes, and grow, not only as athletes but as young human beings.
"We're really looking forward to a new head of the program that is really going to be able to help continue to push those things along."
Smet wouldn't answer when asked if Holmlund was the subject of parental complains or if she had done anything wrong.
"It's just like any other position," he said. "We're not going to speak on the specifics when there are changes."
Holmlund led a program that was one of the best for a small school in the East Bay. Piedmont's boys team finished third at the North Coast Section Meet of Champions in 2022, behind Dublin and Pittsburg. Terrell Parker, Jack Stein, Cooper Downing and Ellie Black all qualified for the California Interscholastic Federation championships, as did the boys 1,600-meter relay team.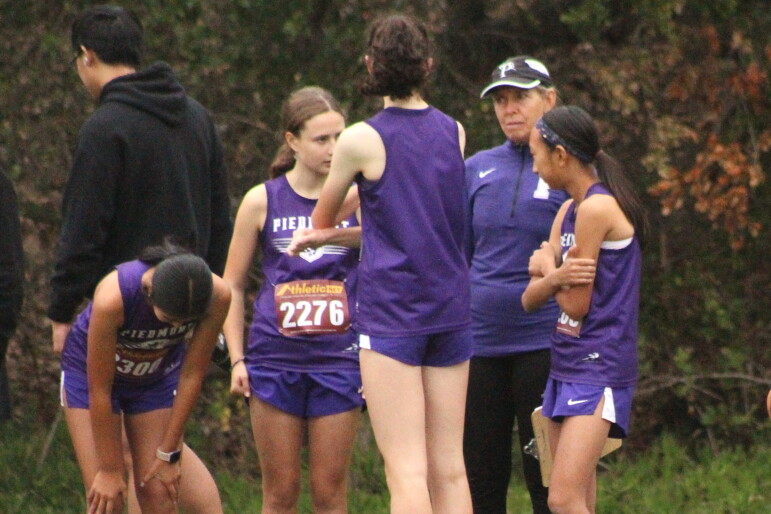 "Last year was amazing because it was so much fun," Holmlund said. "They wanted to be there, they were working their hardest to excel. The effort they put in was so impressive."
Holmlund always emphasized all her athletes, pushing the entire team to set personal-bests in their events.
"Any kind of improvement from anyone on the team is a big deal," she said. "We're all in one level. We don't have divisions (in track and field). We have people racing from large schools and small schools.
High school coaches are hired one year at a time. Although successful coaches are usually retained, it isn't guaranteed.
Smet said the position was posted on January 13. It will be open for 10 days and assuming there are applicants, interviews would start shortly after the position closes.
"Well be able to start the interview process so we can have that program locked down as soon as possible," he said.
Holmlund said she does not plan to work with another high school this season. She said she will spend her time skiing and also as a classroom volunteer at an international school in Temecula. She has studied multiple languages. She will also work some PARA meets as a meet official.
And she will continue running.
"I don't know how to be bored," she said. "I have my own training. I race the whole cross country season. And that's my favorite, running cross country."