Nearly everyone has experienced hellish air travel experiences, from grueling delays or cancellations to encounters with argumentative passengers, or terrifying turbulence.
Oakland native and actor-producer-screenwriter Daniella Pineda — familiar from Netflix's now-defunct "Cowboy Bebop," the CW's "The Vampire Diaries" and two "Jurassic World" films — has endured flight nightmares herself, on-screen and off.
Pineda, 35, costars in the action-disaster-throwback "Plane," opening Jan. 13. She portrays uber-capable flight attendant Bonnie, who holds it all together with Karen Black-gumption as she comes to the aid of pilot Brodie Torrance (Gerard Butler), co-pilot Samuel Dele (Yoson An) and more than a dozen passengers including a handcuffed fugitive (Mike Colter) on a rock-n-roll flight during a lightning storm.
The bad weather forces an emergency landing onto a dangerous island in the Philippines where all aboard tangle with outlaws and terrorists.
"Flying nowadays is such a gamble," says Pineda, who lives in Los Angeles with her longtime partner Andre Hyland, an actor, comedian, producer and writer.
"I feel if you flew Southwest recently, our movie might be quite timely for you," Pineda says. 
The R-rated "Plane" may resonate with stalled passengers frustrated by the Southwest Airlines meltdown over the holidays, and even make them grateful they didn't confront what "Plane" characters do.
To prepare for the high-flying roles, Pineda and the cast consulted with flight attendants and pilots. She said a Delta flight attendant was particularly helpful in illuminating details of the profession.
"You know what was funny though?" the engaging and very funny Pineda asks. "With the captains, we would ask them a question and they would be like 'Ah, we need to ask the flight attendants.' So they had flight attendants on speed dial. And at times it seemed like the flight attendants were more knowledgeable about certain things. They really have a wealth of knowledge on their protocols."
Applying what she learned from real-life crew didn't entirely help when she went through her own nightmare flight.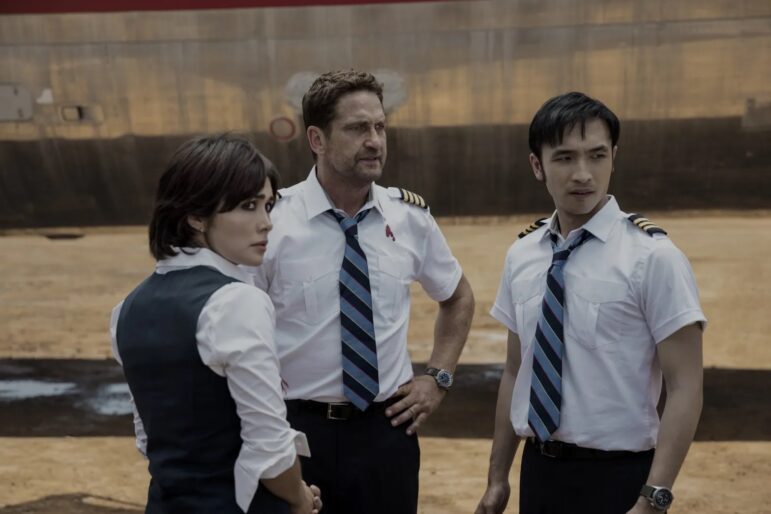 After the 2021 film shoot in a "hot as hell" Puerto Rico, she was bound for Washington, D.C., when her plane had to land in a lightning storm, then take off into a thunderstorm.
"It was no joke," she recalls, mentioning that she was sitting with two grown men. "We were all holding hands," she adds.
Pineda's experiences growing up in the East Bay encountered far less turbulence. The Mills College graduate (she studied sociology and radio journalism) fondly remembers visiting Oakland's Fentons Creamery ("Oh my God, so many cavities from that place"); being a frequent patron of the underage arts collective 924 Gilman; seeing movies at the Grand Lake Theatre; tuning into KMEL for hip hop; walking down the never-dull Telegraph Avenue and stopping in at Rasputin Music.
She's so devoted to the area, she's written a comedy pilot set in Berkeley.
One of her greatest memories while working at her parent's Viva Taqueria restaurant on Russell Street near the Claremont Hotel was when members of Green Day dropped by, perhaps for a burrito.
"I almost died!" she says.
The acting bug didn't hit Pineda from the start.
She says, "Acting was not only something that found me, but acting was courting me and I kept saying no to it and it just kept showing up and sending me flowers that I finally said OK to it." 
When she moved to New York and worked as an intern at Killer Films, an indie film production company, she wanted to steer her career into directing, screenwriting and producing.
Her comedy videos caught the eye of someone at the news and culture website Jezebel; and a coworker (who's now her manager), told her, "Hey, I think you should act." She responded, "And I said I don't want to do that. I mean, I like to do comedy, but I don't want to be an actress."
It was suggested that acting could be an entree point to doing what she ultimately wanted. Pineda decided to go for it: "Acting became my focal point until recently."
Although she's been in high-profile blockbusters including the summer 2022 megahit "Jurassic World: Dominion" (directed and written by Bay Area native Colin Trevorrow, who grew up in Oakland and whose mother also went to Mills College), it's her glossy part as Sophie Deveraux on the CW's steamy "The Vampire Diaries" and its spinoff "The Originals" that gets her recognized most.
She's grateful for it, a regular acting gig that earned her a reliable paycheck.
But she admits she felt weird on the show. She says, "I'm not the first person to say it, but it (had) like a high school-popular kids vibe. There were some really lovely people I got to work with but also, you know, it was a CW show."
As she pursues more work behind the camera, and continues acting in variety of genres, including action, sci-fi and horror (recently in "Tales of the Walking Dead"), she longs to land a part in a romance.
She's also a horror fan (she loved Ari Aster's "Hereditary" and Zach Cregger's "Barbarian"), who hopes her elevated horror screenplay will be greenlit, so she can direct rather than act.
Also wanting to return to comedy, she did so with the upcoming "In Town," a collaboration with Hyland which she executive produced. Shot in 2021 and set in Cincinnati, Hyland's hometown, it's a true indie film, done guerilla-style.
Pineda says, "A lot of people who were in the movie were like people who messaged us on social media who were like, 'Could I be in your movie?' I said, 'Could you be here in 20 minutes?!'" And they came.