Southbound state Highway 13 at Moraga Avenue was closed Monday morning after a tree fell and blocked the roadway, the city of Piedmont reported on its website.
The city proclaimed a state of local emergency on Jan. 4 at 8:30 p.m in order to be eligible for federal funds for disaster response reimbursement, should those funds become available. In a press release issued on Friday, Jan. 6, the city says it has incurred significant costs in responding to the storm, including overtime for Public Works, Police, and Fire Departments. The city says it has also retained outside contractors to assist with remediating damage to public property from landslides, downed trees on public property, and damage to city facilities.
A partial list of damages so far includes:
Multiple public and private fallen trees, including three street trees on the 400 block of Wildwood which were cleared by public works personnel overnight and two trees in lower Piedmont Park which will be cleared on Saturday.
AT&T and Xfinity communication wires and a utility pole were damaged at Wildwood and Wallace, forcing a road closure that lasted from Wednesday night until Friday morning.
A small landslide on Somerset Road around 10:45 p.m. on Wednesday, which forced a road closure until noon on Thursday.
A landslide on Huntleigh Road last week resulted in two homes being red tagged.
Many basements across Piedmont have flooded, and there has been storm damage to city facilities.
Since this series of storms began City staff have been working day and night to prepare, respond, and mitigate impacts from the intense rain and wind. Piedmont has received nearly 10 inches of rain in the past week, which is over 40% of the city's average annual rainfall.

City of Piedmont, Jan. 6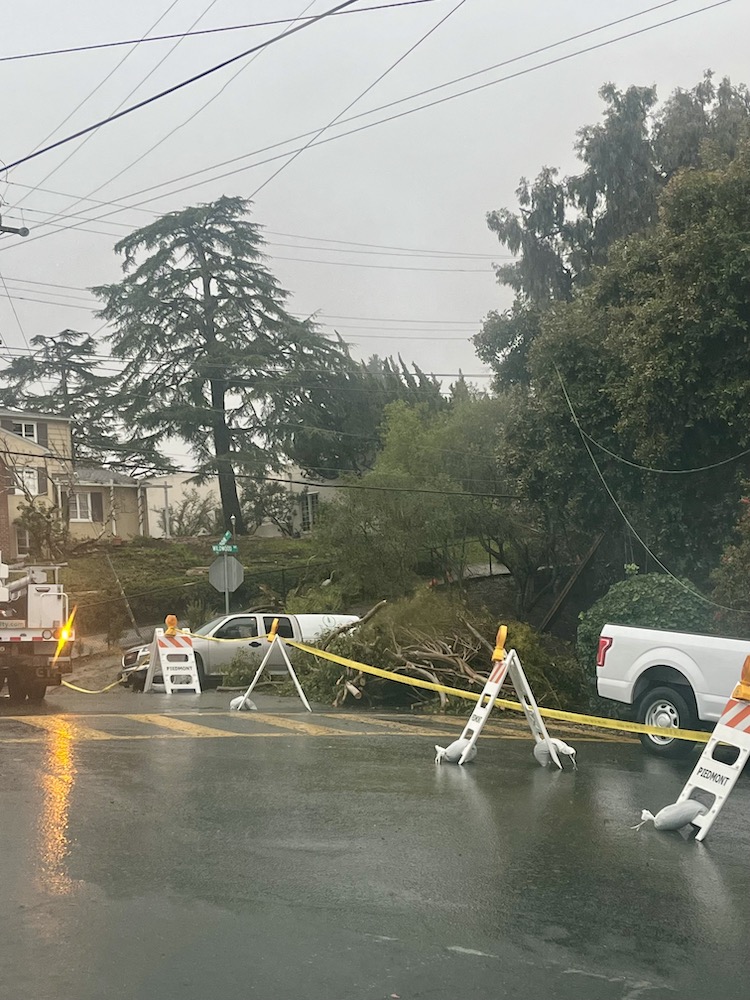 Heavy storms to continue into next week
Take steps to prepare your household this weekend; report downed power lines, clogged drains or fallen trees
With heavy rains expected to continue through next week, take steps to prepare your household and help us keep Piedmont safe by reporting downed power lines, clogged drains, fallen trees, and other issues.
Current forecasts show moderate rain for Saturday and continuing into Sunday, followed by intense storms on Monday and Tuesday similar to those experienced on Saturday, Dec. 31 and Wednesday, Jan. 4. The National Weather Service has issued a flood watch for the East Bay from Saturday, Jan. 7 through the afternoon of Tuesday, Jan. 10.
The City will post updates regarding road closures and other storm impacts at piedmont.ca.gov/storm.
Prepare your household
We encourage community members to take steps before the next wave of heavy rain arrives on Monday to prepare for possible flooding:
• Have insurance policies handy and take photos of each room in your home.
• Check submersible pumps and sump pumps to make sure they are operating properly.
• Clean on and around your property as needed: gutters, rain downspouts, driveways,
culverts, trash and debris around fences and gardens. Clear basement drains.
• Have sandbags on hand in case of flooding. Residents can get free sandbags at the City's Corporation Yard (898 Red Rock Road) 7 a.m. – 3:30 p.m., Monday-Friday.
• Keep flashlights and spare batteries on hand in case of power failure.
• Stock up on food, water, necessary medications, pet needs, and other essential supplies in
case of road closures or power outages that last for several days.
Call to report downed power lines, fallen trees, and clogged drains
During the periods of heaviest rainfall, currently forecast for Monday and Tuesday, please stay alert, avoid roads if possible, use extra caution when driving, and report issues:
• Call (510) 420-3000 to report downed power lines. If you see damaged power lines or electrical equipment, call (510) 420-3000 to report them to the City, then notify PG&E by calling 1-800-743-5000. Do not touch or drive over a downed power line. If you see a downed power line sparking or smoking, call 9-1-1 to report it.
• Call (510) 420-3050 during business hours or (510) 420-3000 after hours to report other issues. If you see clogged drains, fallen trees blocking roads, or other storm damage to City infrastructure, call the Public Works Department at (510) 420-3050 during regular business hours (8:30 a.m.-5 p.m.) or Police Dispatch at (510) 420-3000 after hours to let us know. Our crews are prepared to respond rapidly.