Funding for schools and community colleges will fall next year for the first time in a decade, under the first pass at the 2023-24 state budget that Gov. Gavin Newsom released Tuesday. 
Newsom projected a drop of $1.5 billion below the $110.4 billion the Legislature approved last June for Proposition 98, the formula that apportions how much of the state's General Fund goes to TK-12 and community colleges.
He said that the state would meet the statutory requirement to pay a projected 8.1% cost of living adjustment, the highest rate in four decades. School organizations have reiterated that funding COLA would be their top budget priority this year.
"That's a number I never expected to see…" Newsom said. "It's an expression of our commitment to equity."
At the same time, he said he would continue the big initiatives he funded during the past two years, including $4 billion for community schools, $12.5 billion for learning recovery from COVID and $4.7 billion for mental health needs. "We're going to continue these commitments, we're not backing off," he said during a lengthy budget presentation.
Schools would fare relatively well, compared with other areas in budget, with a projected $22 billion shortfall in the General Fund. While Newsom is proposing funding delays and cuts to climate change, transportation, housing and workforce development programs, he committed to keeping cuts away from schools.
Newsom's forecast does not assume there will be a recession, and much could change between now and May, when the governor issues a revised budget based on updated revenue forecasts, followed by negotiations with the Legislature.
The drop in Prop. 98 funding, several billion less than Legislative Analyst projected in November, follows 10 years of funding increases. Between 2019-20 and 2021-22, the minimum guarantee alone grew $31.3 billion to $110.3 billion – 39.5%. It was the biggest increase in any two-year period since the passage of Proposition 98 in 1988, according to the LAO. The drop in 2023-24, if it holds, would erode only a small portion of this gain.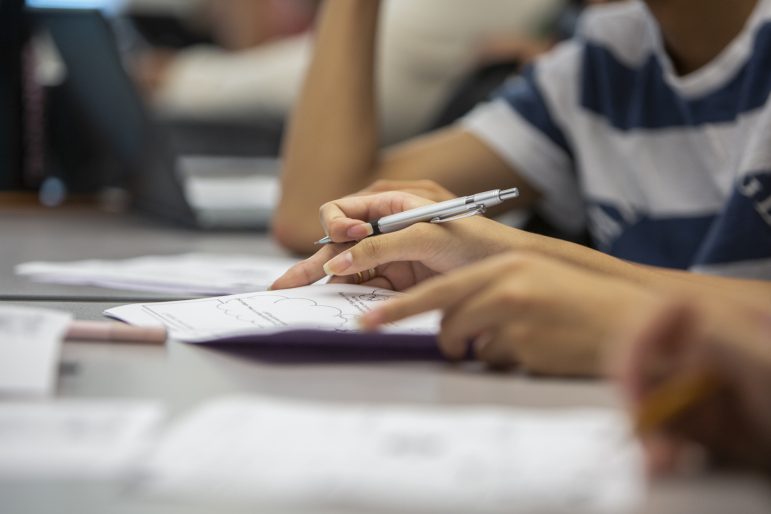 Despite less money, TK-12 per student funding under Prop. 98 would actually slightly rise to a record $17,519 in 2023-24. That's because of declining enrollment. Under Prop. 98, schools and community colleges will continue to receive 39% of the General Fund revenues, dividing it among a shrinking number of students. Total per student funding, with funding from federal government and other sources will be $23,723 next year, according to the Department of Finance.
Newsom is proposing new big-dollar new programs. However, he would broaden the Local Control Funding Formula by $300 million through what he is calling an Equity Multiplier, a new school-based funding concept that reflects a commitment he made last year to Assemblywoman Akilah Weber, D-San Diego. It would provide additional funding to the highest poverty schools to close the performance gap of their lowest performing students not already targeted for extra assistance. Black students statewide have been those students. Fewer than 1 in 6 Black students met standards in math, compared with one-third of all students, in the latest Smarter Balanced results.
Details of the program and methods of accountability need to be worked out, Newsom said.
He is also proposing:
$250 million more to districts with the lowest income elementary schools to hire and train literacy coaches. The number of schools with literacy coaches will double.
An additional $1.5 billion to continue other programs designed to increase the number of qualified teachers in classrooms including the Golden State Teacher Grant Program, which pays teachers with needed credentials up to $20,000 a year to work in schools that have a high number of foster youth, English learners and students from low-income families, and the Classified School Employee program, which helps classified staff earn a bachelor's degree and teaching credential. "These investments have begun to increase the number of fully prepared teachers graduating from California teacher education programs and entering the state educator workforce, and to reduce the number of teachers who are hired on substandard credentials," according to the budget summary.
Consistent with previous years, the governor's budget includes reforms for Special Education Local Plan Areas – the organizations that oversee services for disabled students in California public schools. The budget extends the moratorium on new SELPAs, increases transparency for SELPA budgets and governing plans, and limits the amount of money SELPAs can spend on services not directly related to children, such as fiscal support and monitoring.
But administrators will have to wait until May's budget revision for more details on what these changes will actually mean, said Anjanette Pelletier, director of management consulting services for School Services of California.
Newsom is projecting that Prop. 98 revenue for 2022-23 will fall $3.5 billion below what the Legislature approved last June. Rather than cut ongoing funding, he would make up the difference by delaying money for kindergarten facilities, cutting $1.2 billion from one-time discretionary funding for arts and instructional materials and applying other unused one-time funding.
CSU and UC
In higher education, the state's four-year university systems would both see a 5% increase to their base funding in 2023-24 despite the state's budget shortfall. That means an increase of $215.5 million in ongoing funding for the ten-campus University of California system and $227.3 million for the nine-campus California State University system.
Overall, Newsom's proposed level of funding for the state's higher education systems — which includes the college systems and the California Student Aid Commission — would be down about 2% to about $40 billion in 2023-24. That's the result of Newsom's proposal to delay funding for several capital projects, including affordable housing across the systems.
But by giving the 5% increases to CSU and UC, Newsom plans to fully fund the second year of his multi-year compacts with the systems. Under the agreements, the governor has pledged to give annual budget increases of 5% in exchange for the university systems working toward goals including improving graduation rates, growing enrollment of California residents and making college more affordable.
The state's community college system would also get an additional $652.6 million in Proposition 98 dollars for its general fund. Despite losing hundreds of thousands of students during the pandemic, the community colleges have not lost funding because the state has a "hold harmless" protection in effect until 2025.
Jolene Koester, CSU's interim chancellor, said the 23-campus system was grateful to see the increase in ongoing funding from the governor to help support Cal State's priorities.In a statement, Koester said: "This proposal, despite uncertainty surrounding the state's economic circumstances, reinforces the administration's commitment to the CSU, its belief in our mission and appreciation of our successes in transforming the lives of Californians."
EdSource reporters Ali Tadayon, Michael Burke. Ashley A. Smith, Carolyn Jones and Diana Lambert contributed to the article.