When December rolls around, I dig out my dog-eared Dec. 1995 issue of Gourmet for this oh-so-basic butter cookie dough that will divide and divide again — for nearly as long as you want to stay in cookie production for your holiday gifts, entertaining or just some very festive snacking.
Gourmet has you make 3 pounds of dough which you can use in any number of related recipes. In our household, however, it's the small crisp, buttery cookie (just the basic recipe!), cut into small stars and other assorted shapes, that we find so addictive. Long ago I tried the variations (almond butter crisps, spiced icebox butter cookies, spritzer wreaths…some of the recipes can be seen below), but why go to all that extra work when the original is so perfect? As my husband likes to say, never change a winning strategy. The only change I make, and I think it's winning anyway, is to add lemon zest and a bit of nutmeg — because, well, why not?
Gourmet's recipe is so basic, in fact, that they don't provide any baking instructions and you have to infer from reading the variations that you would likely heat your oven to 350 and bake them 7-10 minutes, depending on how thin you've rolled them.
TIPS: Parchment paper is your friend and has many applications here and makes handling the dough — rolling, chilling, storing — much easier than in memories of fraught cookie episodes from my youth. Regarding cookie cutters, simple shapes that are not too large work best. 1.5″-3″ stars or trees let you work quickly and efficiently while your dough is still chilled.
INGREDIENTS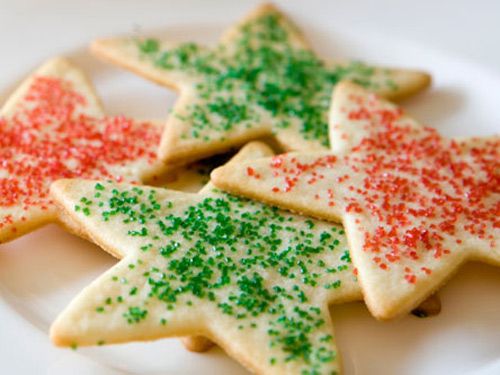 4 sticks (1 pound) unsalted butter, softened
1 1/3 cups sugar
3/4 tsp salt
3 large egg yolks (save your egg whites for an egg white wash to help the sprinkles adhere to cookies before baking)
2 tsp vanilla
4 2/3 cups all-purpose flour
Sprinkles (colored sugar sprinkles are easiest and most available, but nonpareils and chocolate sprinkles also work)
Optional: zest of 1-2 lemons; grating of fresh nutmeg
DIRECTIONS
In a large bowl of a standing mixer, beat together butter, sugar, and salt (also lemon zest and nutmeg, if adding) until light and fluffy.
Beat in yolks, 1 at a time, and vanilla and beat until smooth.
Beat in flour gradually, beating dough until just combined well.
Makes about 3 pounds dough, or enough for two batches of cookies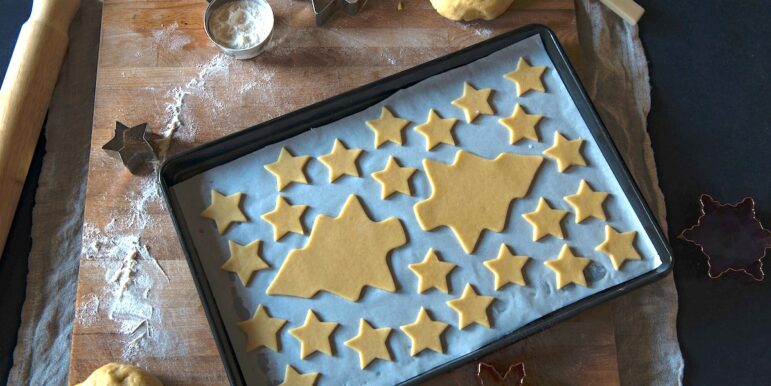 To roll out dough for cutting traditional cookies:
Separate softened dough into 4-5 batches and flatten into discs between sheets of parchment paper. NOTE: dough can also be wrapped in plastic at this point and frozen.
Between the parchment sheets, roll out sections of dough — we like 'em thin — and then put in the fridge to chill. You can stack up the rolled out discs (sandwiched in their sheets of parchment) on a cookie sheet in the fridge to chill for a few hours or overnight even.
Heat oven to 350
When chilled, remove from fridge, roll thinner if desired, and work quickly with your cookie cutters to cut and transfer cut cookies to trays before the dough becomes too soft to work with.
HINT: line your cookie pans with parchment paper (do not bother with greasing the pan); you can reuse the paper for the next batch
Make an egg white wash by mixing a two egg whites with two teaspoons of water.
Paint cut cookies with the egg white wash — and then quickly dust with sprinkles of choice.
Pop in oven and watch carefully — they will cook anywhere from 7-10 minutes depending on your oven and how thin you rolled your dough.
Remove when cookies are lightly browned and as soon as you can, pull the whole parchment sheet onto to a cookie rack to cool. When cooled and crisped, cookies are easy to slide off the paper.
Cookies will keep for a week-plus in a dry, cool, sealed container. Or in your freezer for longer.