Report came in early morning on Kingston
Three people were arrested in the early morning hours of Dec. 8 when a report came in that cars in the area were being burglarized.
One man and two women were taken into custody and transported to Santa Rita Jail in Dublin.
The report came in after 3 a.m. on Kingston Avenue. The three were in a black SUV reportedly trying door handles of multiple vehicles in the neighborhood.
A search of the suspect vehicle turned up "numerous stolen items" and tools that were used to commit other crimes, according to a post on the Piedmont Police Department's Facebook page. Shaved keys were also found.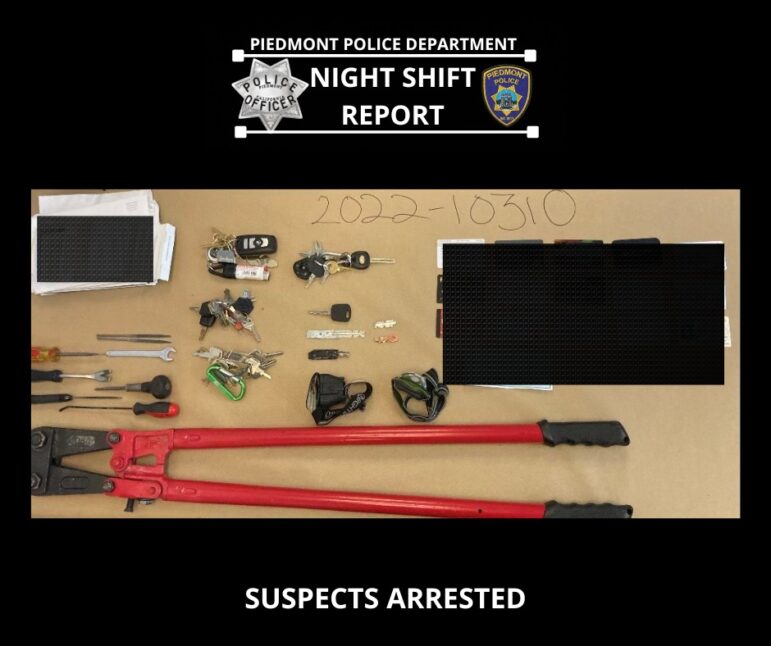 The suspects were charged with burglary, conspiracy, possession of burglary tools, possession of stolen property and probation violations.
---
A stolen red 2000 Dodge Neo was recovered in Piedmont on Dec. 6. The vehicle set off the Automated License Plate Reader (ALPR) at 2:45 p.m. It was found unoccupied in the Safeway parking lot on Grand Avenue at 2:47. The driver was found and arrested for possession of a stolen vehicle.
---
A driver was arrested for Driving Under the Influence on Dec. 6. A report came in at 12:51 a.m. that a vehicle hit the curb and drove onto a property near Cambridge Way and Grand Ave. The caller reported he had a brief conversation with the driver and asked if he was OK, according to the police log. At 1:14 a.m., the driver was found. A field sobriety test led to taking the driver into custody for suspected DUI. The vehicle was towed.