Saturday and Sunday, December 17 and 18, at 7:30 p.m.
After a performing exclusively online in 2020 and 2021, Piedmont Community Church will perform its popular annual Christmas concert in the Sanctuary, 400 Highland Avenue, this Saturday and Sunday, December 17 and 18, at 7:30 p.m. This marks the twelfth year for the concert.
The concert, which consists of the full choir and soloists accompanied by a full professional orchestra, is conducted by the church's Music Director, Stephen Main. Stephen, winner of the John Ness Beck Award for Best American Choral Composition, is a well-known composer. Among his many accomplishments, he has composed scores for several movies and wrote the Centennial Fanfare for the City of Piedmont.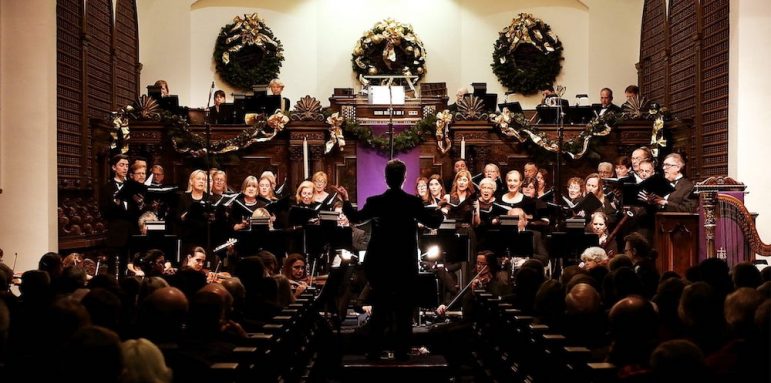 The beautiful interior of the church, which was designed by Piedmont's most prominent architect, Albert Farr, enhances the concert experience. Following the concert, the audience is invited to a gala reception in Guild Hall with hot and cold gourmet hors d'oeuvres served with wine and non-alcoholic punch.
The concert, For All this Night, will reprise the very first concert of the series. The text for the music comes mainly from the 15th and 16th centuries, "one of the first of several golden ages in English carol-writing", according to Main. 
"Carols were the music of common people rather than of liturgical professionals," Main said. "They offered an opportunity to flesh out the biblical stories, which by themselves are often quite spare in the details of Jesus' birth. For example, in one of the movements of For All this Night, there is an imaginative dialogue between Mary and her newborn son."
Inspired by these Renaissance era carols, Main composed fresh melodies for them.
All are invited to be part of this holiday tradition. Give yourself, or someone on your Christmas list, the gift of beautiful music, good cheer and good food this weekend. Tickets are $50 for general admission and $150 for patron tickets with seating in a reserved section.
To purchase, visit Piedmontchurch.org/concert.