Brit Burden stood on the court at Binks Gymnasium on December 23, two swabs in his nostrils, wearing an unfamiliar jersey late in Piedmont High School's boys basketball game. He was a walking, talking metaphor for the Highlanders night – a little bit bloodied but still standing as Piedmont traded punches with one of the East Bay's best teams.
The Highlanders came up just short, falling 59-56 to Campolindo. Piedmont had fallen behind early but stayed with the Cougars, who went to the California Interscholastic Federation Open Division championship game a year ago.
"I think we're just working our way up to being a high-level tier team," Burden said. "We fought hard. That's all you can ask for."
"This is a huge step in the right direction. Even though it was a loss."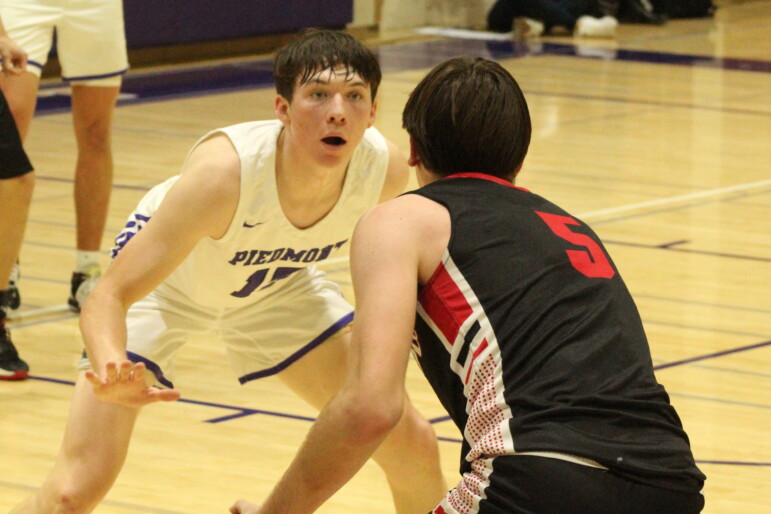 Campolindo (6-2) had beaten Piedmont (8-3) by 18 and 15 points the past two seasons. So when the Cougars jumped out to leads of 8-0 and 15-3 early, it looked like it might be more of the same. But the Highlanders regrouped during a timeout and were able to get rolling.
"We came into a timeout and we knew we just had to fight," Burden said. "We weren't fighting hard enough. We came out and trusted each other."
Said Piedmont's A.J. Harris, "We started off slow. They're obviously a great program, they're great every year. We knew it was going to be a tough game. I was really proud of our team, the resilience we showed. We got down 8-0, we were down 15-3. We battled all the way back and we lose by three. You're never happy with a loss, but it's a long season and we've got to keep getting better, keep improving, and I feel like this game is going to help us toward the end of the season, trying to achieve our goals."
Piedmont made just three of 11 shots in the opening period, but the Highlanders started to get the shots to go down from there on. Harris led the way with 26 points, 13 rebounds and four assists. Burden scored 15 points with six rebounds.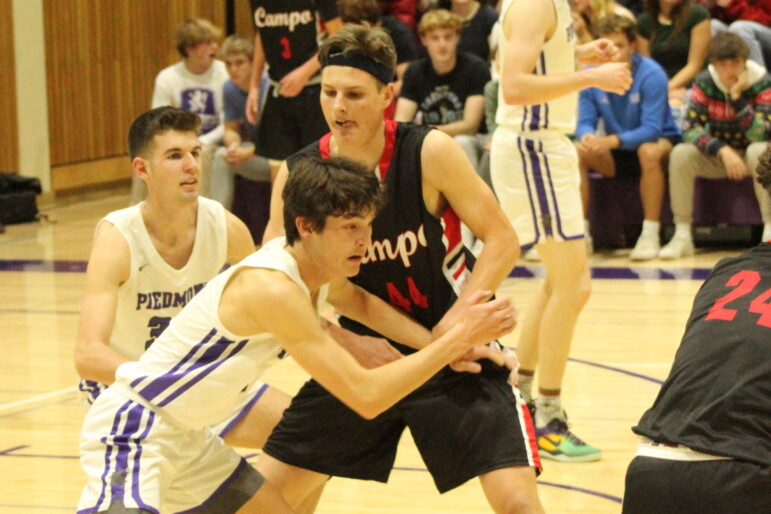 However, the Highlanders never had a good answer for Logan Robeson, who led Campolindo with 29 points and 12 rebounds. Robeson was consistent all night, scoring seven, six, eight and eight in the four quarters.
"I played AAU with him (Robeson) in third, fourth and fifth grade," Harris said. "He's a really good player and he was a tough cover and he played really well."
Harris said the Cougars' Shane O'Reilly also was on those teams – O'Reilly finished with 13 points in the game.
Piedmont was able to cut the deficit to three in the second half, but Campolindo responded with an 8-0 run early in the fourth quarter to regain control.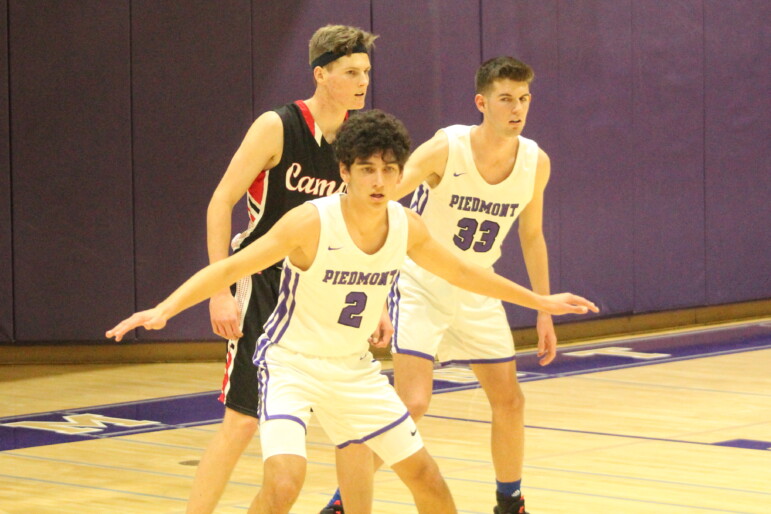 Piedmont coach Ben Spencer said his team will benefit from the game later in the season.
"I told them after the game, 'A loss like tonight is five wins later on in the season,'" he said. "That gets us ready for league. They're not going to be scared of anything. The best thing you can give a young, inexperienced team is reps and possessions."
Photos by Damin Esper