The Bay Area is a hub of artistic expression, attracting artists, writers and musicians from around the globe to live, work and create. We highlight some of the offerings here.
Freebie of the week: San Francisco is packed with eye-popping light installations year-round, but never so much as during the holidays. And that's even more so now that the Illuminate SF Festival of Light is an annual free attraction.
Through the end of January, the festival features more than 60 permanent and temporary sparkling, glowing and twinkling light installations from Bay Area and national artists. Sure, you can catch some of the attractions all year, hidden in plain sight. But there is nothing like the holiday season to enhance the thrill of taking in a blazing collection of multi-colored lights, orbs, sculptures and other art works.
The collection includes Leo Villareal's 2019 installation "Point Cloud" at the pedestrian bridge outside the Moscone Center; "The Wind-Baffles," a trippy new installation at The Parks at 5M on Mary Street; Jim Campbell's swirling "Helical Trace" at the LUMA Hotel on Channel Street; Cliff Garten's stately, Monarch butterfly-inspired, LED-bedecked sculpture "Monarch" outside Kaiser Permanente medical offices in Mission Bay; and Charles Gadeken's otherworldly " Entwined," one of three light installations in Golden Gate Park.
For a complete list of the installations and more information, visit www.illuminatesf.com.
---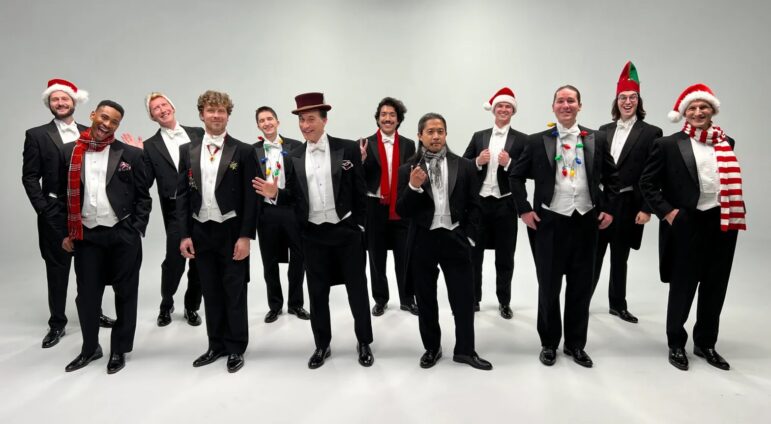 On the road again: For its 44th season — and a return to live performances scuttled by the pandemic — the Grammy-winning a cappella male chorus that justifiably calls itself "an orchestra of voices" is on tour nationwide in "A Chanticleer Christmas." Each concert begins with a candlelight procession to music by Renaissance masters and dips into jazz arrangements and holiday favorites before winding up with a hearty rendering of spirituals.
Remaining dates on the Bay Area and Northern California portion of the tour are: 5 and 7:30 p.m. Friday at St. Vincent's Church in Petaluma, 8 p.m. Saturday and Sunday at St. Ignatius Church in San Francisco, 8 p.m. Dec. 20 at the Cathedral of the Blessed Sacrament in Sacramento, 6 and 8:30 p.m. Dec. 21 at the Carmel Mission, 4 and 6:30 p.m. Dec. 22 at Mission Santa Clara and 7:30 p.m. Dec. 23 at the First Congregational Church in Berkeley.
Find tickets, $38-$80 at chanticleer.org and treat yourself to a video of the guys singing "Deck the Halls" to get yourself in the mood: https://youtu.be/tZl2uY1JbQE
---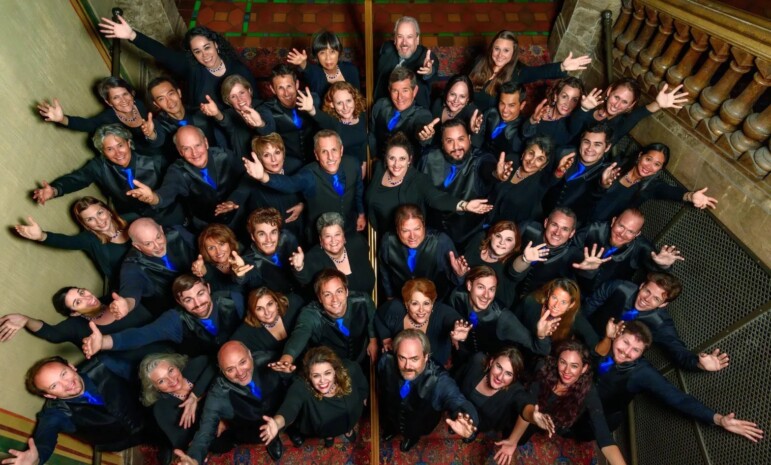 A musical wish for us all: The theme this year is a capitalized PEACE for the 18th annual "Winter's Gifts" holiday concerts mounted by Silicon Valley's The Choral Project and the San Jose Chamber Orchestra. Nearly five dozen musicians and singers join forces for a program that will include music by René Clausen, Joan Szymko, William Susman and more.
Of special note will be "Hope for Resolution," a song written by Paul Cadwell and Sean Ivory in honor of Nelson Mandela and F.W. de Klerk's joint efforts to put an end to apartheid. The song interweaves the "Divinum Mysterium" plainchant with the South African song "Thula Sizwe" ("Nation, Do Not Cry").
Performances are at 8 p.m. Friday at Mission Santa Clara and 8 p.m. Saturday at First United Methodist Church in Palo Alto, and proof of vaccination is required to attend. Find tickets, $10-$40, at wintersgifts.com or 408-295-4416.
---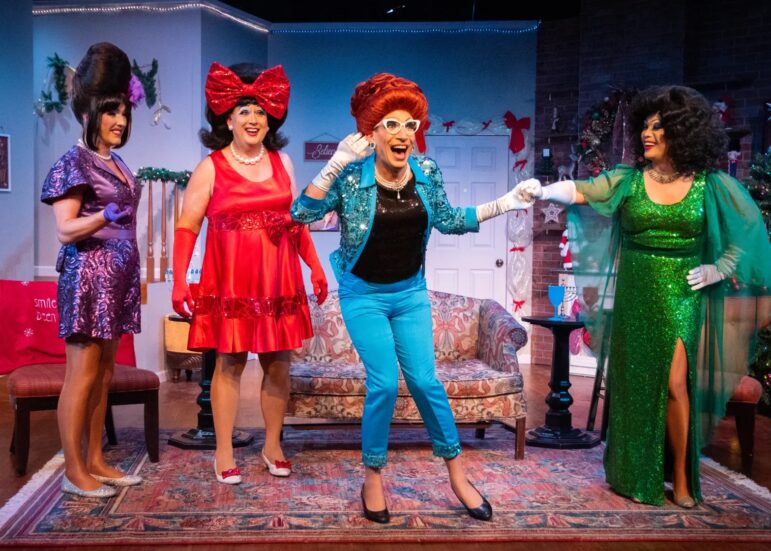 Oy, vey, it's the holidays: The Kinsey Sicks, whose name is a tongue-in-cheek ode to Alfred Kinsey's famed mid-20th-century hetereosexual-homosexual rating guide ("six" being "exclusively homosexual"), bills itself as "America's Favorite Dragapella Beautyshop Quartet." We're not sure what that means, exactly, except to note that a Kinsey Sicks performance entails gloriously goofy cross-dressing and razor-sharp harmonies delivered by truly talented singers.
The troupe owes its start to — what else? — a Bette Midler concert in San Francisco in 1993, when several guys showed up dressed in drag (as the Andrews Sisters), assuming other concertgoers would be doing the same thing. Turns out, they were the only ones who did, but, as the story goes, they were invited by an impressed Midler fan to perform at a birthday party. A year later, the Kinsey Sicks were born; the group, with a changing lineup through the years, has performed in shows, concerts and residencies around the Bay Area and across the country, including the holiday show "Oy Vey in a Manger" continuing at New Conservatory Theatre in San Francisco through Dec. 31.
The story line, which might strike some as sacrilegious, involves a foursome trying to sell the famed Biblical manger before it's lost to foreclosure. Or something like that. As NCT puts it, "crises arise, secrets are revealed, Jewish-Gentile tensions surface, and mayhem ensues — all in glorious four-part harmony." The naughty show, not appropriate for kids, may be just the ticket for those looking for a different sort of blasphemous holiday production with killer vocals.
The theater is located at Van Ness Ave. Tickets are $25-$65; go to www.nctcsf.org.
---
'Nutcracker' explosion: If you are a "Nutcracker" fan, this week is an invitation to Nirvana. Many of the Bay Area's productions of the classic holiday ballet are onstage this weekend, some for the last time this year. Here are a few of the offerings:
— San Francisco Ballet "Nutcracker": Helgi Tomasson's opulent and brilliantly performed adaptation is a nationally recognized gem. And if you are an artificial snow fan, know this production uses 150 pounds of the stuff. It runs through Dec. 27 at the War Memorial Opera House in San Francisco; $19-$465; www.sfballet.org.
— Mark Foehringer's Dance Project|SF: "Mark Foehringer's Nutcracker Sweets" is a popular and clever 50-minute production with younger viewers (and their grateful parents) in mind. It runs through Sunday at Cowell Theater at Fort Mason in San Francisco; $22.50-$44.50; mfdpsf.org/nutcracker-sweets.
— San Jose Dance Theatre "The Original San Jose Nutcracker": The production, celebrating its 57th year, runs through Sunday at the San Jose Center for the Performing Arts; $44-$95; www.sjdt.org/the-nutcracker.
— New Ballet: Another San Jose holiday treat: This company's "The San Jose Nutcracker" sets the action in Silicon Valley with several visual references to the area and its history. It runs through Sunday at the California Theatre. $25-$95; www.newballet.com.
— Oakland Ballet Company: Company artistic director Graham Lustig has put his own, revered stamp on the classic, basing the action on E.T.A. Hoffmann's original story. It's onstage at 1 and 5 p.m. Saturday and 1 p.m. Sunday at the Paramount Theatre in Oakland; $33-$127; oaklandballet.org.
— Valley Dance Theatre: The Livermore company's full-length, lavish production, accompanied by Valley Dance Theatre Pit Orchestra, is beloved in the Tri-Valley, where it has been part of the holiday scene for more than four decades. It plays through Sunday at Bankhead Theater in Livermore; $35-45; www.valleydancetheatre.com.