San Francisco opera has opened a dazzling new production of Christoph Willibald Gluck's "Orpheus and Eurydice," the classic tale of ancient Greek musician Orpheus and his travels to the underworld to bring back his lover Eurydice. It could be called "to hell and back in 90 minutes," as someone has put it, and it's an exhilarating ride all the way, with Polish countertenor Jakub Józef Orliński making an outstanding company debut in the lead role.
As the ancient story goes, the gods responsible for Eurydice's abduction have relented because of the musician's charm: he will be allowed to reclaim her as along as he avoids looking at her until returned to earth. Orpheus does look back, of course, and on that glance turns the heart-stopping plot.
Gluck's version of "Orpheus and Eurydice" is dated 1762. Baroque opera is difficult to stage in large houses such as the War Memorial, but with this outstanding cast, stirring choral work and dancing that doubles the singers with sheer verve, it comes through with shining colors. At the forefront is superb orchestral playing under the baton of Irish conductor Peter Whelan in his American debut.
The role of Orpheus, originally written for castrato, makes extraordinary vocal demands: He is onstage throughout the work and must express not only high-lined exuberance when he is reunited with Eurydice but extreme agony at their separation.
Orliński delivers all that and more. He is also the rare singer who can dance, a dervish of dark moves and spiky turns. His is a voice that never seems to tire. "Che faro senza Euridice" ("What shall I do without Eurydice") was magically detailed and powerful.
Meigui Zhang as Eurydice partners Orliński with a lovely, well-focused and bright soprano and dances as well, and soprano Nicole Heaston, who descends from above wrapped in a giant yellow satin riband, is a sprightly voiced Amore.
Dance is central to director Matthew Ozawa's concept: The relationship of the lovers is vividly explored by dancing pairs who represent different phases of Orpheus' and Eurydice's lives.
As choreographer Rena Butler defines it: "Movement is our soul's way of flushing out our deepest emotions."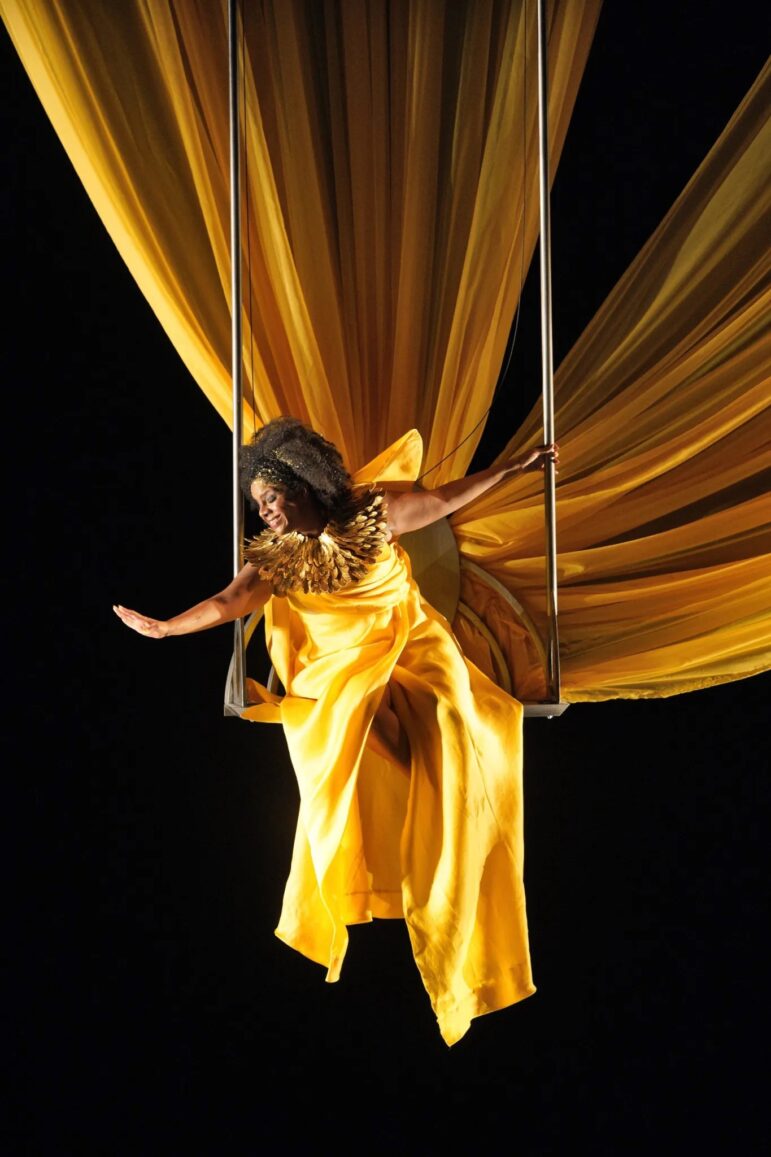 The six dancers — Alysia Chang, Brett Conway, Marian Faustino, Ivanna Maislen, Christopher Nachtrab and Maxwell Simoes — go deeply into both the sorrows and joys of the protagonists. Jessica Jahn's costumes too pick up with point on the varying emotions, and designer Alexander Nichol's projections are actual patient brain scans produced by University of California San Francisco trauma physicians, a design stretch that works to lend some grisly authenticity to the production.
There have been several "must-sees" already this season: this spectacular show caps them all.
"Orpheus and Eurydice" continues at 7:30 p.m. Nov. 18, 2 p.m. Nov. 20, 7:30 p.m. Nov. 26 and 7:30 p.m. Dec. 1 at 301 Van Ness Ave., San Francisco. Tickets are $26 to $408. The Nov. 20 performance will stream live, tickets cost $27.50. For more information, call 415-864-3330 or visit sfopera.com.