The artists of Sausalito's historic ICB Building are thrilled to raise a glass to one of their own. Ingrid Butler of Moth Marblers, will be receiving public recognition on Jan. 18, 2023 when 50 of her works will be added to the collection at New York's Metropolitan Museum of Art.  
Butler, 77, along with husband Dana Draper (1940-2018) created their paper and silk marbling practice in the mid 1980's after a workshop taught by Anna Wolff, who had studied under a Turkish Marbling master in Istanbul.
Marbled papers have a long history in Turkey, where they were first used as an anti-tampering device on legal documents. Over time, the beauty of marbled papers was applied in the book binding process and now appeals to artists who use the papers to create their own work.
In fact, it was in her grandfather Kilpatrick's library, complete with rolling ladder, that Butler first noticed marbled paper at age 10. Fascinated by the infinite patterns and colors of the book's pages and bindings, Butler, originally from southern New Jersey, traces her lifelong art career to that moment. After her studies at Rhode Island School of Design (RISD 1969), which included Color Theory with Josef Albers, but sadly not Paper Marbling, Butler traveled to Italy to work in Graphic Design.
Returning to the United States, Butler came to California. It was there on a fabled night at San Francisco's Tadich Grill that Butler tried her first Martini and met her future husband of over 30 years, Dana Draper. Draper, a fine art painter, was part of the famed Guggenheim family and held degrees in Art, Art Education and Anthropology. In 1985 Butler joined Draper in his studio at Sausalito's ICB Building and together they began Moth Marblers.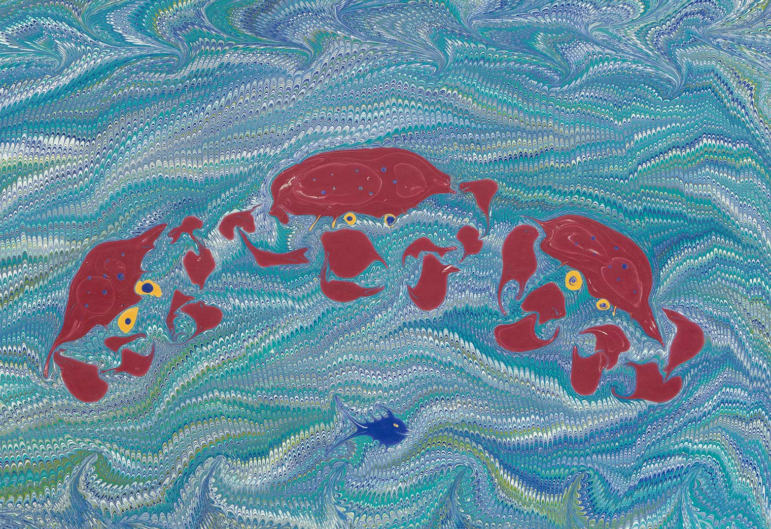 The name was based on the cocoons used in making silk, one of the materials the couple used when creating their unique marble patterns, which included silk clothing as well as paper. The marbling process involves a bit of wizardry to coordinate both the chemical process of soaking a special type of moss in a large water tank and the artistry of floating and shaping the colors before laying the paper on top. The labor intensive process is a two person operation, and while yielding exquisite results, can be quite messy.
Butler notes with a grin that the Met's collection will also include her clogs and apron, both 'marbled' by years of paint drips and splatters, as well as the tools used to create the many different modern and overprinted patterns she and Draper invented.  During the couple's long career they sold their paper designs to collectors and merchants around the United States, Europe and Asia. Especially gratifying was the inclusion of their up-to-date paper designs at specialty paper shops in Venice, Italy renowned for centuries of Italian paper marbling.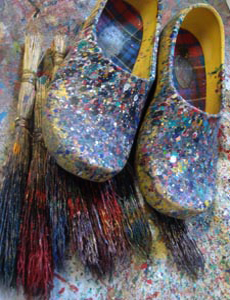 The Moth Marblers collection will be held at the Thomas J. Watson Library on the 1st floor of the Metropolitan as part of the "The Paper Legacy Project" which is dedicated to preserving American Decorated Papers.  A book accompanying the collection entitled 'Pattern and Flow: A Golden Age of American Paper, 1960's-2000's' by Mindell Dubansky is being published by Yale University Press.  The book will be available at the show's opening reception to be held January 18, 2023 and through major booksellers.  The show will be open January 18, 2023 – April 8, 2023 and will include the work of 53 Paper Legacy artists as well as rare books, objects, color recipe books, correspondence and photographs. The Metropolitan will host the show at two locations simultaneously; at the Thomas J. Watson Library at the Metropolitan in New York and at Manhattan's venerable Grolier Club established in 1884 for the purpose of studying and appreciating books and works on paper.
More about Ingrid Butler and Moth Marblers may be found here.
Ingrid Butler will have her studio (#302) open to the public during the ICB's Annual Winter Open Studios Event, Saturday, Dec. 3 and Sunday, Dec. 4, from 11 a.m. -5 p.m. both days. (Editor's note: Piedmont artist Paula Valenzuela will also have her studio open then.)
Examples of Butlers papers being shown at the Metropolitan may be available for viewing and sale during Winter Open Studios.