Marking a milestone in what Councilwoman Conna McCarthy described as a "long, sometimes painful process," the City Council voted unanimously Tuesday night to approve finalizing and submitting the Draft 6th Cycle City of Piedmont Housing Element — calling for the city to plan for accommodating 587 new residences by 2031 — to the state for review.
The draft covering the eight-year cycle from 2023 to 2031 was first published last April, and has since then had further input from the City Council — much of it this past June and August — and from the city's Planning Commission and city staff. The document, with 16 new revisions, will now be submitted to the California Department of Housing and Community Development for review.
Essentially, the Regional Housing Needs Allocation (RHNA) tells each city and county how many new residences it must plan to accommodate — not necessarily to build – by 2031. Piedmont's number is 587, almost 10 times the 60 residences the city was mandated to prepare for in the fifth RHNA cycle, covering from 2015 through 2022. 
Of the 587 housing units, 163 (28 percent) should be extremely- or very-low-income units; 94 of them (16 percent) should be low-income; 92 (16 percent) should be moderate-income; and 238 (40 percent) should be "above moderate" income.
Among the key council-directed revisions in Piedmont during 2022 are:
Expanding the Moraga Canyon Specific Plan study area to include all city-owned property along Moraga Avenue, including Blair Park, and initiate the planning process before the end of this year;
Study moving 74 planned lower-income units from the Civic Center (City Hall) area to 1221 and 1337 Grand Ave., where the Ace Hardware store now is;
Study moving 18 moderate-income housing units from the Civic Center to scattered parcels in zones C and D (multi-family and mixed-use/commercially zoned areas) as well as 801 Magnolia Ave., the Piedmont Center for the Arts building and its grounds;
Increase the number of accessory dwelling units (ADUs) allowed in the city, and make as many of them "affordable" as possible.
Overall, housing under this newly approved draft plan is "fairly well distributed," City Administrator Sara Lillevand said.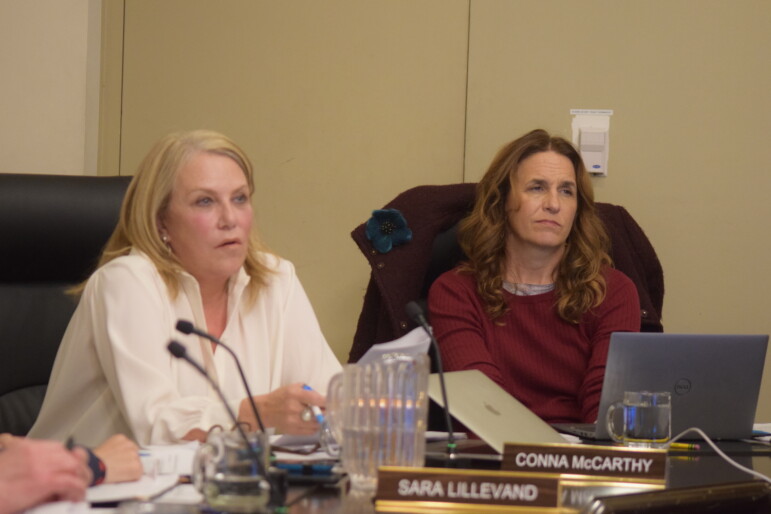 Tuesday night's vote was a key touchstone in the city's ongoing process to comply with the state-mandated housing element requirement – a process that has been going on for two years. There have been almost 20 public hearings and community meetings during that period centered on the Draft 6th Cycle housing element, though public interest (both opposition and support) has picked up substantially in the last four or five months.
Sixteen members of the public addressed the council Tuesday night. While many thanked the council and city staff for the long, arduous work needed to comply with the state housing mandates, several of them also criticized the city for removing the Civic Center — the area around City Hall, the police and for stations and the Corey Reich tennis courts — from consideration for at least some housing development, and possibly wholesale change.
"It would be a huge missed opportunity to forego that," said Deborah Leland, a member of the city's Budget Advisory & Financial Planning Committee. "Please add that back in."
While some commenters said building "affordable" units in the Moraga Canyon Specific Plan area near Blair Park was essentially isolating those units, Randy Wu said that location and the city center were both appropriate locations for affordable housing. "I really think you need to do both," he told the council.
Wu also implored the city to require developers of the Grand Avenue parcels, should that one day become housing, to make that housing to be offered at below-market rates, which he and others said likely won't happen otherwise at that highly visible and desirable location.
The council did not on Tuesday add the Civic Center area back into the housing mix or make any other significant changes to the draft. Piedmont, and all other Bay Area cities, are under deadline pressure to submit their draft housing elements, address HCD observations and late issues and questions and get the final drafts in by Jan. 31, and council members said moving fast at this point is crucial.
Cities who fail to submit approved housing elements face a number of potential punishments, ranging from fines and lawsuits to courts limiting those cities' decision-making authority in approving certain projects, and even appointing a receiver to ensure compliance with the law.
Compliance, on the other hand, makes Piedmont and other jurisdictions eligible to apply for housing-related funding and other categories of funding, from numerous state and regional sources.
Mayor Teddy Gray King, who called this Housing Element her "mayoral priority," said not having Civic Center development as part of the Housing Element doesn't necessarily mean it can't be part of city planning in the near future.
Councilwoman Betsy Smegal Andersen said this work has taken significant staff time, and a team of consultants, to bring to this point. She called the RHNA requirements a "largely unfunded state mandate" that has put a sizable burden on city staff and consultants.
Added King, "I wish everyone knew the volume of information we've all had to synthesize."
Photos by Sam Richards. Contact Sam Richards at sam.richards4344@gmail.com