Forget "twindemic" — California may be in for a three-headed Cerberus of respiratory illnesses this winter as the flu, respiratory syncytial virus and COVID-19 collide.
Orange County on Monday declared a local public health emergency over RSV, a common cause of pneumonia in babies that's contributed to a record number of pediatric hospitalizations and daily emergency room visits in the county.
Early phases of RSV can present flu-like symptoms, and young children and seniors are most at risk of complications, according to the U.S. Centers for Disease Control and Prevention.
San Diego health officials warned last week that "a sharp increase of flu and RSV cases" could have "a severe impact on people's lives and the county's medical resources this fall and winter." At one point in October, about 1,000 of 2,600 students at a local high school were absent due to an outbreak of respiratory illnesses.
CalMatters health reporter Ana B. Ibarra takes a closer look at where California stands on the RSV, flu and COVID fronts:
1. RSV: The state's surveillance shows that 15.3% of specimens tested in the third week of October came back positive for RSV, up from 9.8% during the same period last year.
Providers say the uptick could be due to the fact that children were less exposed to the normal circulation of respiratory viruses over the last two years due to such pandemic restrictions as school closures and mask mandates.
Dr. John Mourani, medical director of infectious disease at Pomona Valley Hospital Medical Center: "School got disrupted, we were social distancing and that means immunity goes down."
2. Flu: Influenza surveillance data reported by the state starting the first week of October shows flu cases trending up earlier compared to the last five years. More flu earlier in the year usually means a more severe season.
In the third week of October, 6.6% of flu tests came back positive. That's a higher rate than the state recorded during the same week of the 2017-18 flu season, which peaked in late December with a 41% positivity rate.
During that flu season, some hospitals were so overwhelmed they had to treat patients in tents and hire temporary staff from out of state. About 61,000 people died from the flu nationwide, according to the CDC. The California Department of Public Health tallied 329 deaths, though that's likely a severe undercount because providers were only required to report deaths for people under 65 and most flu-related deaths are among seniors.
So far this season, five residents have died of the flu, according to the state's latest surveillance report published Friday.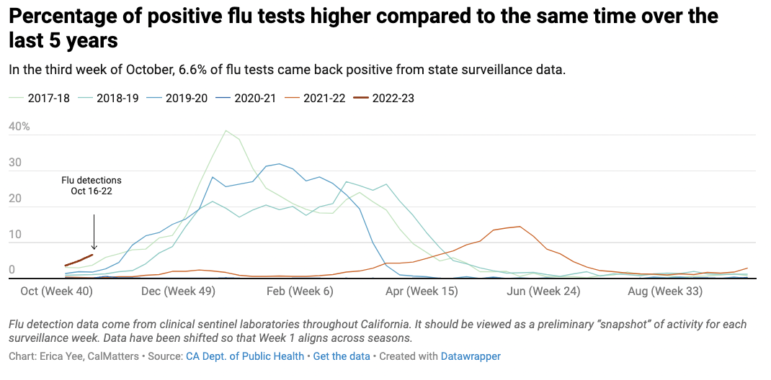 3. COVID: If the last two years are any indication, COVID infections tend to creep up soon after Halloween. 
Health experts said that while they certainly expect an uptick in COVID cases this winter, it's less clear what hospital admissions will look like.
Dr. Jess Mandel, a pulmonologist at UC San Diego Health: "I think we're in a much better position for COVID than we have been in years past. In terms of having more effective therapies, more access to vaccines and more exposure in the community from prior infections."
Still, Mandel recommends that people be cautious and protective of high-risk individuals.
California, anticipating a possible winter wave of infections and hospitalizations, plans to wait until Feb. 28, 2023 to end its COVID state of emergency. Hospitals, which have relied on provisions of the emergency order to better accommodate patients during surges, are warning that even this end date may be too soon because the flu can also affect capacity and flu season typically runs through May.
The best thing people can do to keep their local hospitals from maxing out is to get immunized against the flu and get an updated COVID booster shot, Mourani and Mandel said. There is no vaccine for RSV.
So far, only about 11% of eligible Californians have received the recommended bivalent COVID booster meant to provide better protection against the omicron variant.