Piedmont High School freshman Skylar Best finished 11th overall at the North Coast Section Division 4 cross country championships on November 19, qualifying for the California Interscholastic Federation championships. Best completed the three-mile course at Hayward High School in 19 minutes, 24.3 seconds.
The top three teams plus the next five individuals finishing in the top 14 qualified for state. The CIF championships will be held at Woodward Park in Fresno on November 26.
"It went really well," Best said. "I just wanted to go out fast and try to stick with the top group and that really worked out in the end. The pace was really good, it was comfortable, I felt confident."
Best said she wasn't thinking about the state meet at the start of the season, but that as the season progressed, she wanted to make it.
"I knew I could do it," she said. "I really wanted to make it. I'm excited about it."
She said the key was, "Continuing to place top-five in the majority of my races, continuing to PR, continuing to feel good after hard workouts, continuing to trust your training and work really hard during training and practice."
Said Highlanders coach Jeanine Holmlund, "Skylar came in strong. Skylar came in our heads with expectations. We're trying to just manage expectations because this is freshman year. Hoping we go in a positive direction through those four years."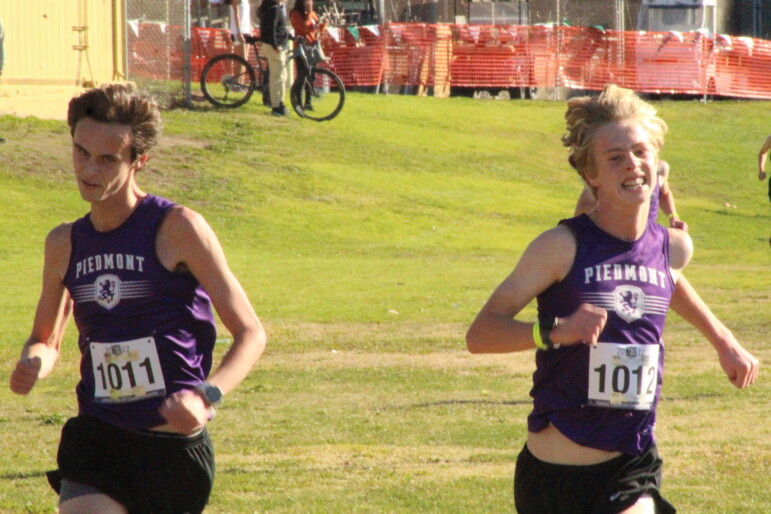 Holmlund mentioned the winner of the Division 4 race, Alhambra junior Renae Searls, as an example of an athlete who is developing over the course of her career.
Searls won in 17:53.1. She is the daughter of former NCS champions Kevin Searls (College Park, 1975) and Noreen Searls (formerly deBettencourt, Carondelet, 1983).
The Piedmont boys had been hoping to return to the state meet, where they finished 11th last year. However, the Highlanders finished tied for fifth with St. Mary's-Albany with 137 points. (Piedmont finished fifth place thanks to the better sixth runner tie-breaker).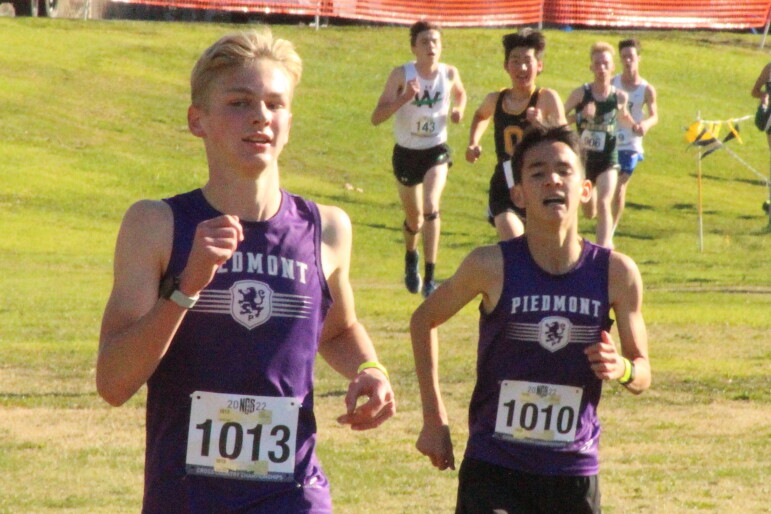 The top four Highlanders finished in a group in 21-24th places. But it wasn't enough. First place Albany had all five scorers in the top 17. Bishop O'Dowd had four in the top 25 and three in the top 13. Third place Archie Williams-San Anselmo had five in the top 30.
Parker Long led Piedmont's pack in 21st (16:16.4), followed by Xander Schulte-Sasse (16:16.5), Christian Taylor (16:21.1) and Julien Lee (16:22.4). Evan Byun was 47th in 17:07.2, with Alex Ware 50th (17:13.4) and Jasper Tripp 66th (17:39.7). The Highlanders had a strong corp of runners, and Long, Taylor, Ware and Tripp are all seniors.
Taylor said they ran alright at the NCS championships.
"A lot of us are pretty tired from training," he said. "Things didn't really come together as we would have liked today. I know we'll come back in track and do even better.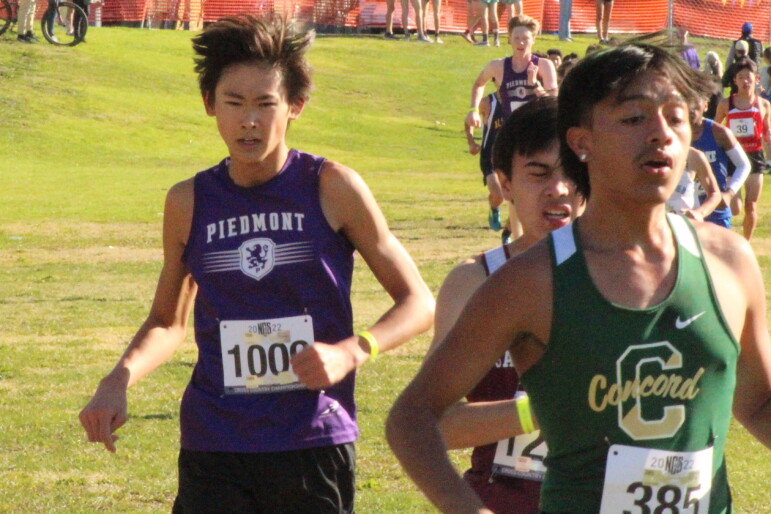 "It was a fun senior season."
He added, "Our boys team ever since COVID happened, we've formed a tight-knit group. And that has really helped us in our success. I'm definitely going to miss these boys. It has been a fun four years. I'm excited to see how they perform next year. I'll be cheering them on from wherever I am."
Said Holmlund, "It has been a magical season. We have a group of seniors that worked super-hard for all four years. They just came in strong, they were already friends, they worked together through COVID. We've had so much fun through the years. We have some really great memories. At the end of the day, what do I care about? I care about those memories."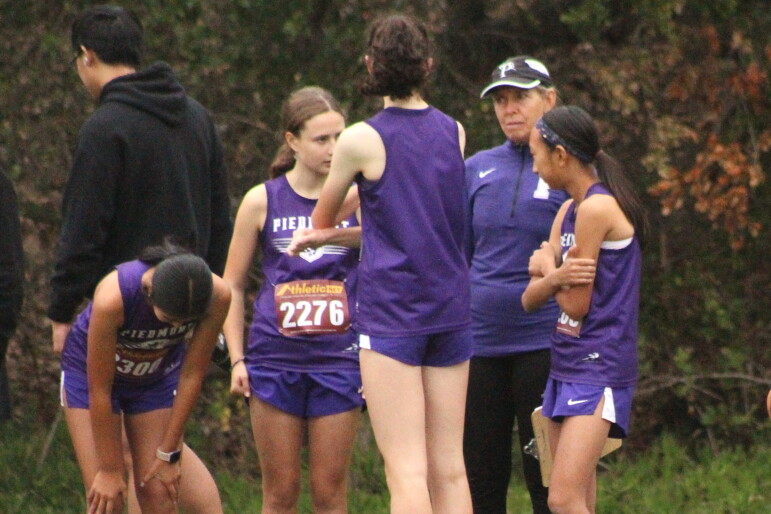 In the girls race, freshman Cora Chun was 26th for Piedmont in 20:13.2. Junior Jamie Schwarz was 51st in 21:17.9. Freshman Elia Kwong was 55th in 21:28.6. Sophomore Ella Yasar was 59th in 21:45.1. The Highlanders were eighth overall with 186 points. St. Mary's was first with 43.
Albany's Sean Morello won the boys Division 4 individual title in an impressive 14:58.2.
Photos by Damin Esper